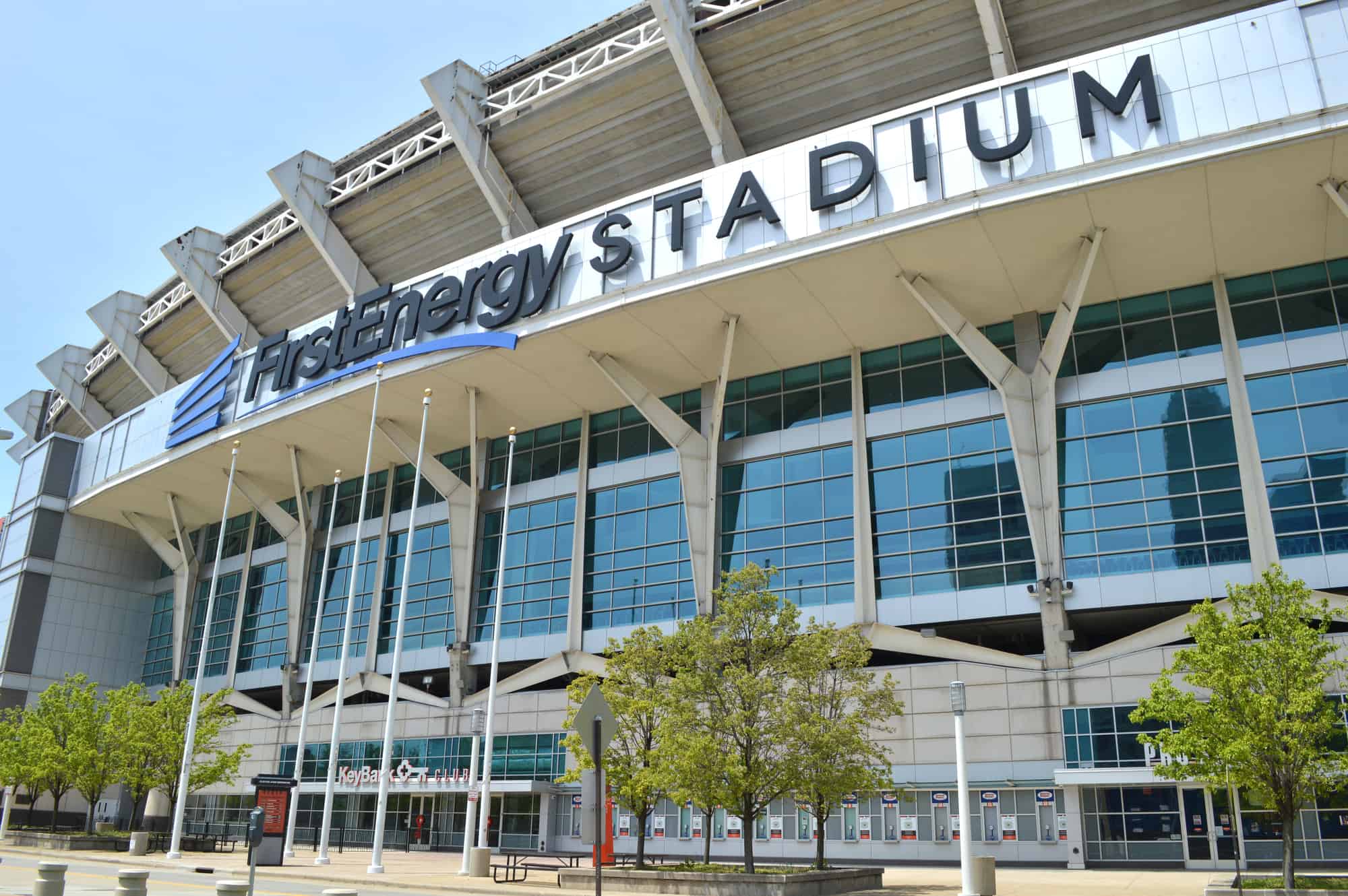 Every Thanksgiving, I try to find a moment or two of solitude to reflect on the matters most important to me.
And that is how I came to realize the Cleveland Browns still have as good a shot as anybody at making the playoffs.
Sure, peace and harmony don't appear to be major elements of the Northern Ohio sports scene lately.
But maybe that works to our advantage?
Baker Mayfield: "Turning point in the season. We have a winning record. Everybody else wants to throw us in the trash, but we know exactly what's in front of us and that's how we're going to handle it." #Browns

— Hayden Grove (@H_Grove) November 24, 2021
Because let's face it, an irate Baker Mayfield is a superior quarterback to "Let's have a yard sale" Baker Mayfield.
And his snide remarks to the press and laments about folks wanting to put the Browns in the trash… that's great!
In fact, after this weekend, we might all wonder why we didn't boo that guy back in Week 7.
Here is my optimistic take on predicting the Browns' final regular-season games.
Week 12: Browns 27, Ravens 24 
Back in the preseason, I tabbed this game as the loss in a home-and-home split.
But I also had the Browns at 8-3 by this point, and I didn't see fans booing Mayfield in a near-upset versus Detroit.
Things are not quite desperate, and the Browns can lose this game and stay in the playoff battle.
Word on the street is Kareem Hunt could return in Week 12 against the Ravens

In 2020, he averaged 95.5 total yards and a score against them

Browns get the Ravens twice in the next three weeks with a Bye in the middle

And then it's favorable matchups against LV, GB, and PIT 📈

— Adam Koffler (@AdamKoffler) November 22, 2021
But they are in dire need of an energy boost, something a win on national TV against a perennial nemesis can provide.
Angry Baker Mayfield will have moments, but he will not be the spark that kicks off Cleveland's playoff run.
Kareem Hunt is better suited for that role, and he will provide the emotional and play-making boost we need.
Week 14: Browns 38 Ravens 33 
Cleveland comes off a bye week feeling healthier and with time to add a few offensive twists.
Baltimore plays another division game in Pittsburgh in Week 13 and is desperate not to get swept by Cleveland.
It makes for another instant classic between Mayfield and Lamar Jackson.
#Browns Baker Mayfield said he expects to play Sunday against the Ravens and expects to be in better in condition than in the past weeks. Said he had no major setbacks and feels good about the plan.

— Camryn Justice (@camijustice) November 22, 2021
Sweeping the Ravens could put the Browns in first place in the AFC North.
But at the very least, it gives Kevin Stefanski's team a leg up on most wild card tiebreakers.
And a big game by a less-battered Mayfield and Jarvis Landry makes it happen.
Week 15: Browns 33, Raiders 23 
There is no stopping Baker Mayfield now… unless it's raining.
But what are the odds of that happening again?
Las Vegas is overdue for their late-season tent-folding, as evidenced by their Thanksgiving upset in Dallas.
The NFL has flexed two games to Saturday of Week 15:

4:30 PM ET: Raiders vs. Browns
8:20 PM ET: Colts vs. Patriots

— Field Yates (@FieldYates) November 23, 2021
But it will be December before they face the Browns and they should be slacking off by then.
Stefanski will try to instill a little revenge factor for Mayfield, rehashing the Raiders' 2020 victory in Cleveland.
But the running game and defense play just as big a role in another nationally televised contest.
Week 16: Browns 35, Packers 28
This is probably the game most folks expect to lose.
But I pegged this as a Baker Mayfield "I want $40 million!" breakout game back in August.
And despite Green Bay's surprising defense this season, I'll stand by it.
This Packers season is already one of the craziest damn things ever, imagine if they win the Super Bowl. It would be talked about forever. Immunization status, trading Aaron Rodgers, the unreal injuries, Covid Toe… Might as well cap it all off with a trophy. Why the hell not.

— Andy Herman (@AndyHermanNFL) November 24, 2021
What better negotiating point will Baker have than out-dueling Aaron Rogers, even if he only has 9 toes?
Mayfield is feeling better with every victory, and Cleveland will have the second-half-2020 version at the helm.
But despite his solid play, this Christmas Tale will end with the defense on the field turning away one last drive.
Week 17: Steelers 23, Browns 20 
This is the trap game, wrapped in too much emotion on the Steelers' sideline to overcome.
Both teams might have a defensive score in this game.
But Ben Roethlisberger, in what could be his final home game and final Monday Night Football game, does just enough.
Asked if he's mentally preparing for this to be QB Ben Roethlisberger's final year, #Steelers GM Kevin Colbert says, "2021 is all we're worried about w/ Ben… Beyond that, none of us know."

— Aditi Kinkhabwala (@AKinkhabwala) July 27, 2021
Statistically, everything points to a Steelers' win, whether it be Ben's MNF record or history versus the Browns.
And I know Cleveland beat the odds in the wild card game last season.
But that will only serve to add emotions to go along with some favorable officiating that does Cleveland in.
Week 18: Browns 45, Bengals 17 
Because, you know… it's the Bengals!
And also because the Browns will need this game to have a chance at the AFC North title and/or a bye.
An 11-6 record might not be enough for the top AFC seed if one of the other teams gets hot.
#Browns score another one 41-16 after a Baker to David Njoku for the touchdown.pic.twitter.com/nRN8J9hKBp

— Dov Kleiman (@NFL_DovKleiman) November 7, 2021
But winning 5 of their last 6 games might win them some tiebreakers for the division or wild card slots.
Fans can expect the defense to run wild and revel in Myles Garrett's record-setting sack of Joe Burrows.
This game could look a lot like the first matchup between these teams.
Week 19: Anything Can Happen! 
Despite improving their tiebreaker status, there is a chance 11-6 falls short of a playoff berth.
But if they get in, Cleveland is as big a threat as anybody to make a Super Bowl run.
Such a finish would help a lot of preseason prognosticators save face after a disappointing stretch.
#Browns Top 10 Plays of 2020‼️#8️⃣: In a stunning moment, Karl Joseph recovers a wild snap for a TD in the Wildcard Playoff Win vs the #Steelers. 🧨#NFL @Browns 😈 pic.twitter.com/Q7XedTslfF

— The Hottest Take (@Hottest_TakePod) February 23, 2021
And it would write another great, and lucrative, chapter in the Baker Mayfield story.
But there are limits to my optimism, and I don't see the fun going quite that far.
If they get into the postseason, I can see another victory, but not a conference title.