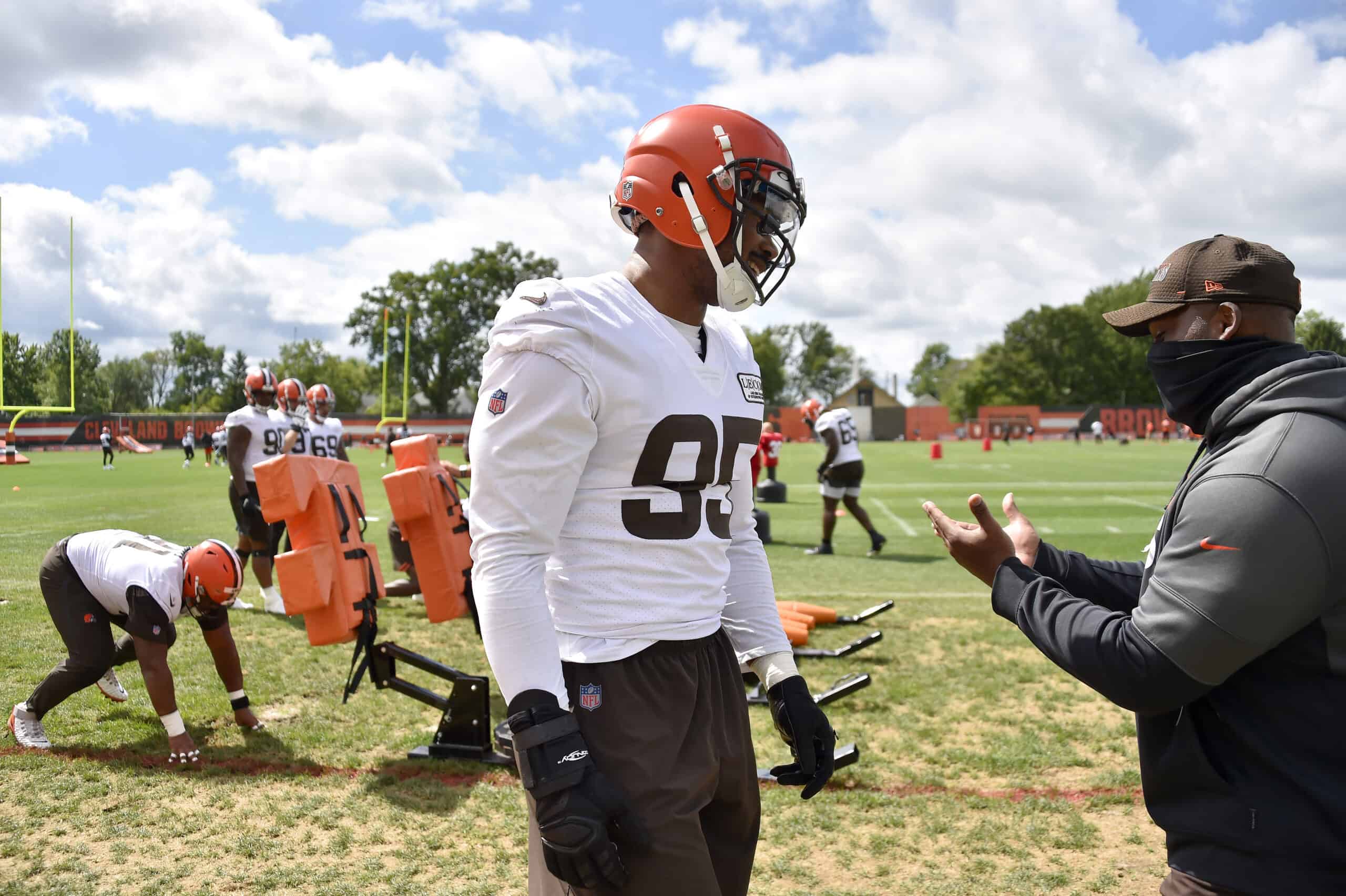 Excluding Cleveland Browns head coach Kevin Stefanski, his chief of staff, and the performance staff, the team has 21 coaches on staff.
There are 11 offensive coaches, 9 defensive coaches, and 2 special teams coaches.
It is difficult to rank the top three assistant coaches, and you may disagree with this list.
The main criteria for the ranking is each coach's success in the position with the Browns.
Here they are.
3. Alex Van Pelt – Offensive Coordinator
Van Pelt came to Cleveland last season.
His reputation preceded him.
In addition to being an accomplished quarterback himself, he worked with Aaron Rodgers.
That pedigree was welcomed at Berea given that Baker Mayfield is a young quarterback whose coaching prior to 2020 was inconsistent to put it mildly.
Van Pelt committed to working with Mayfield on his footwork which he believed was hindering his development.
In the midst of a pandemic, he was creative in using an interactive golf game to help Mayfield.
Mayfield improved not only his footwork, but also his accuracy, and Van Pelt deserves credit for it.
Haters will say its fake. @bakermayfield continues to grind and get better! pic.twitter.com/KRvNG8FJXV

— jarodgray (@jarodgray) May 25, 2021
Van Pelt ended up as the team's play caller in the wildcard win against the Steelers when Coach Stefanski was out with COVID-19, and he excelled in that area too.
His work with Mayfield is far from done, and they continue to refine things that the pandemic did not allow them to work on last year.
#Browns OC Alex Van Pelt said there were some pass concepts and progressions they had Baker Mayfield working on during this minicamp and that he owned them.

— Camryn Justice (@camijustice) June 17, 2021
2. Stump Mitchell – Run Game Coordinator/Running Backs Coach
Mitchell, like Van Pelt, knows what he preaches.
He is a former NFL running back and joined the Browns in 2019.
Stump Mitchell has been retained as Browns RB coach, here's his first NFL TD, 1981 as a rookie with the Cardinals #Browns pic.twitter.com/E8fICKltT1

— CleWest (@erjmanlasvegas) January 20, 2020
Coach Stefanski kept him on his staff when he joined the team in 2020.
Nick Chubb and Kareem Hunt work well together and individually in the Browns offensive scheme so some of the credit for this partnership should go to Mitchell.
#Browns RB Nick Chubb says he's learned to slow down, read and see things better when he gets the ball. Credits RB coach Stump Mitchell for helping in that area.

— Scott Petrak ct (@ScottPetrak) December 16, 2020
1. Bill Callahan – Offensive Line Coach
Much has been said and written about Bill Callahan and the Cleveland Browns offensive line.
This is a Bill Callahan appreciation post

Player grades per @PFF

Bitonio – 85.5 (Ranked #5)
Tretter – 81.0 (Ranked #2)
Teller – 92.3 (Ranked #1)
Conklin – 84.0 (Ranked #10)

Wills – 62.6 (Ranked #57) (rookie + learning new position)

And this OLine is just getting started 📈 pic.twitter.com/AsaHbFOyiA

— The Cleveland Pulse (@PulseCleveland) June 30, 2021
The reason Callahan tops this list is because he was able to work with Jedrick Wills in the midst of a pandemic where in-person practice time was limited and transition the rookie from right tackle (which he played at Alabama) to the Browns starting left tackle in Week 1 of the 2020 season.
Wills' rookie season was a success, and he protected Mayfield's blind side like a steely veteran.
Callahan is a former head coach who knows how to motivate players and keep them working to improve their skills.
Honorable Mention – Joe Woods – Defensive Coordinator
There are plenty of mixed opinions on Joe Woods' performance in 2020.
The fact remains his defense suffered a big blow in training camp when free safety Grant Delpit went out with a season-ending torn Achilles.
COVID-19 and injuries continued to hamper the Browns defense during the season, but Woods found a way to keep the Browns competitive.
Andrew Berry addressed last year's defensive issues by:

Signing
• John Johnson III
• Troy Hill
• Anthony Walker
• Jadeveon Clowney
(and more)

Drafting
• Greg Newsome
• JOK (stole)
(and more)

If there was a "GM of the Offseason" award, the winner would be unanimous pic.twitter.com/JizzWHx8IM

— The Cleveland Pulse (@PulseCleveland) June 17, 2021
With a loaded defensive roster in 2021 and hopefully no significant injuries, this is the season for Woods and the Browns defense to shine.