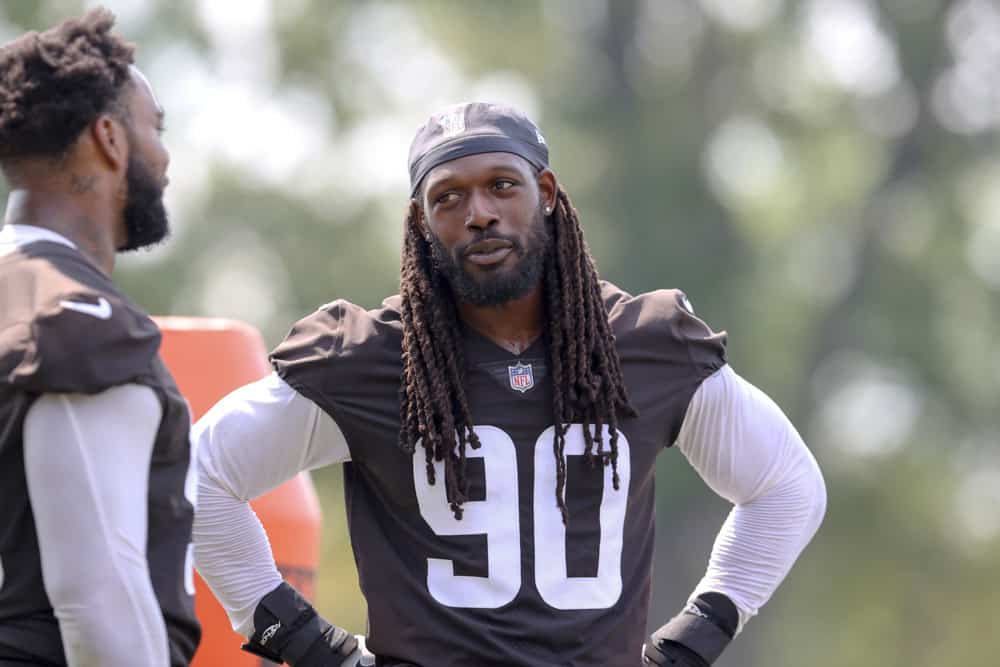 The Cleveland Browns pursued defensive end, Jadeveon Clowney, for about a year before officially signing him in 2021.
He was touted as the capable and talented defensive end that could make offensive coordinators stressed as they had to figure out how to deal with both Clowney and Myles Garrett.
Clowney had a good year and proved to be a smart addition to the Browns' defensive roster.
He signed a one-year deal for 2021 so he is now a free agent.
Clowney's career resurgence in Cleveland means that he will be sought after by other teams in 2022.
His 2021 production was impressive.
He had 2 forced fumbles, 9 sacks, 19 quarterback hits, 11 tackles for a loss, and 24 solo tackles,
Here are three possible reasons why the Browns may want to move on from Clowney this offseason.
1. Money
Clowney's 2021 contract was considered a bargain deal.
It was for $8 million.
In 2019 and 2020, he was playing for $15 million under the Houston Texans franchise tag (before being traded to Seattle) and $13 million with the Tennessee Titans respectively.
He could conceivably demand a significant pay raise from the Browns or request a long-term deal.
Spotrac has estimated that a 4 year $51 million contract could be market value for him.
Jadeveon Clowney is coming off a 9 sack season with the #Browns

Who is going to pay him when free agency rolls around?#NFL

Go here for all 50: https://t.co/b54zAWPL41 pic.twitter.com/TddIBWnXsE

— Pro Football Network (@PFN365) February 19, 2022
There are pros and cons to making this investment, but from a strictly financial standpoint, the Browns could plug in another defensive end for fewer dollars.
Browns' Jadeveon Clowney asked if money will talk most in his free agency: "Always."

Said he felt like she showed he was healthy and productive this year. Said he won't necessarily take the highest offer, but money is definitely a factor.

— Ben Axelrod (@BenAxelrod) January 9, 2022
2. Age
Clowney is 29 years old.
His best season was in 2017 when he had 2 forced fumbles, 9.5 sacks, 21 quarterback hits, 21 tackles for a loss, and 41 solo tackles.
The question remains was 2017 his peak and will diminishing returns come from signing a big-money deal with Clowney this offseason.
Jadeveon Clowney is perhaps one of the most over rated NFL players.

— dan72ros (@dan72ros) February 23, 2022
3. Injuries
Clowney has always been plagued with injuries.
That 2017 career-best season is the only year he played and started in all 16 regular-season games.
Through 8 seasons, he has appeared in 97 games starting in 88 of them.
That is an average of 12 games per season.
With a 17 game regular season now the reality in the NFL, should the Browns expect only to have Clowney in 75% of the games.
In 2021, he missed 3 games and dealt with multiple injuries including elbow and knee issues.
#Browns DE Jadeveon Clowney limps off field after making tackle.

— Scott Petrak ct (@ScottPetrak) November 29, 2021
Conclusion
Clowney does not appear to be tied to Cleveland.
He mentioned that he liked playing for the Browns but commented that money is a factor in his 2022 decision.
The Browns, during Andrew Berry's tenure, have tried to sign top players at slightly below market level to scrupulously manage the salary cap situation.
Those who stay are tied into the Browns culture and have an affinity for the city as well as a strong desire to play for this team.
Clowney appreciated the chance the Browns gave him to reset his career in 2021 but would be satisfied playing anywhere in 2022 if the price is right.
This could be the main reason he does not stay in Cleveland.
We will not have to speculate about his future much longer.
The free agency signing period begins on March 16 so we will know what the Browns' plans for Clowney are within weeks.