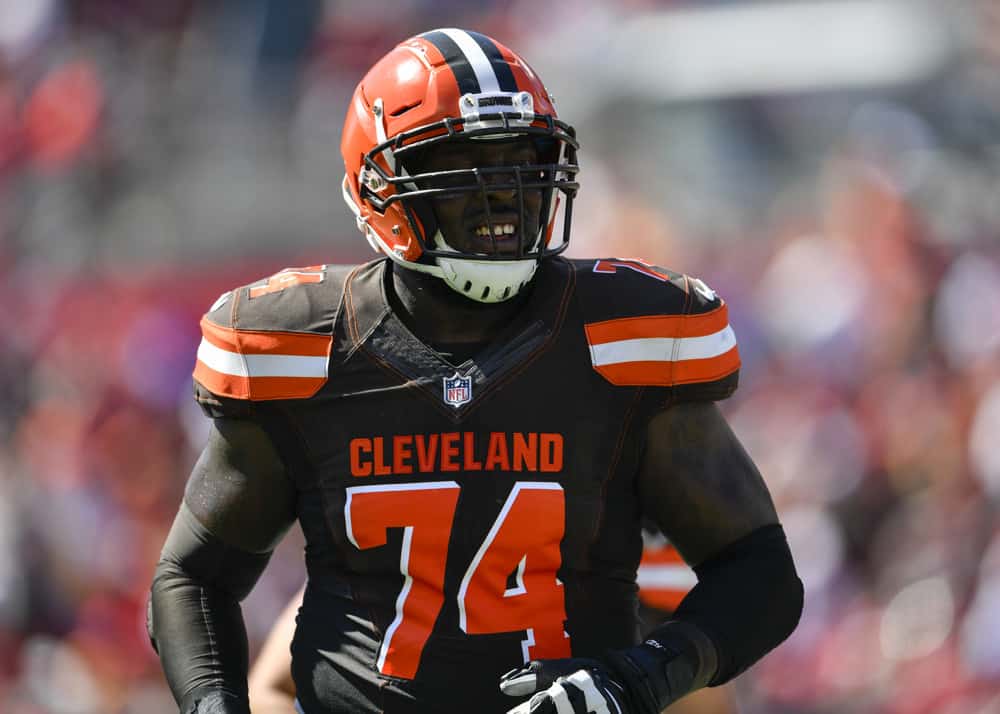 Chris Hubbard played at least 14 games from 2016 to 2019 with two years each coming in Pittsburgh and Cleveland.
Unfortunately, season-ending triceps surgery cut his 2021 short:
#Browns OL Chris Hubbard having surgery today to repair triceps. This from his Instagram account. pic.twitter.com/zpH0sSJagL

— Scott Petrak ct (@ScottPetrak) October 14, 2021
The offensive lineman out of UAB had some very good seasons with the Browns in his first two years in Cleveland.
He signed a five-year contract with Cleveland in 2018: the contract was for $37.5 million and included $15.15 million guaranteed and a $4 million signing bonus.
According to Pro Football Reference, his approximate value was at career highs in 2018 and 2019.
Then prior to the 2020 season, the Browns signed Pro Bowl offensive tackle Jack Conklin.
Hubbard went from being a starter to taking a backup role.
Conklin took over the starting right tackle position from Hubbard, and since then, Hubbard has been a reserve in Cleveland.
The drafting of Jedrick Wills solidified the Browns' offensive line as well.
So, are there free agents out there to replace Chris Hubbard?
There are plenty of offensive linemen, so the Browns will have a ton of options.
Here are the top options in free agency:
1. Orlando Brown Jr.
This may be a long shot, but three-time Pro Bowler Orlando Brown Jr. would be a tremendous addition:
Only 1 offensive tackle has made the Pro Bowl in each of the last 3 seasons.

Orlando Brown #Chiefs pic.twitter.com/X0CaWAm0t5

— Jeff Kerr (@JeffKerrCBS) February 25, 2022
Cleveland finished 2021 with the eighth-best offensive line, according to Pro Football Focus.
He is just 25 years old and has been a strong offensive tackle since his days with the Oklahoma Sooners.
Brown was a two-time Big 12 Offensive Lineman of the Year and two-time First-Team All-Big 12 selection in addition to being a unanimous All-American in 2017.
He was PFF's 28th-best tackle with a 75.3 grade last season.
However, Orlando Brown Jr. was apparently at Patrick Mahomes' bachelor party, along with Travis Kelce, Jerick McKinnon, and Clyde Edwards-Helaire.
So, unfortunately, Brown may not be available to the Browns.
There are other options though.
2. Brandon Scherff
Brandon Scherff is 30 years old and was the No. 5 overall selection in the 2015 NFL Draft.
He is hitting free agency for the first time:
Hitting FA for the first time is Brandon Scherff, who hit an elite #RAS back in 2015. pic.twitter.com/x4mPz3hZgE

— Kent Lee Platte (@MathBomb) February 21, 2022
He has made five Pro Bowls, including each of the last three years.
Additionally, Scherff was first-team All-Pro in 2020.
He was also impressive in college.
Scherff received many accolades at the University of Iowa, including being a unanimous All-American in 2014.
Then, in 2021, PFF ranked him as the 13th-best guard with a 73.6 grade.
Scherff received a non-exclusive franchise tag before the 2021 season, so we will have to see how he wants to maximize his contract this offseason.
3. Terron Armstead
Here may be another long shot for Cleveland.
It is worth a shot though.
Terron Armstead is PFF's No. 2 overall free agent this offseason.
He achieved a 75.9 PFF grade last year, which ranks 26th out of the 83 qualified tackles.
Armstead is also 30 years old and has made all three of his Pro Bowls from 2018 to 2020.
Even though he is the same age as Scherff, Armstead has been in the league longer than his fellow free agent.
Armstead, who went to Arkansas–Pine Bluff in college, has the fastest 40-yard dash time for an offensive lineman all-time.
A knee injury prevented Armstead from playing a full 2021, but the hope is he is healthy to play all 17 games in 2022.