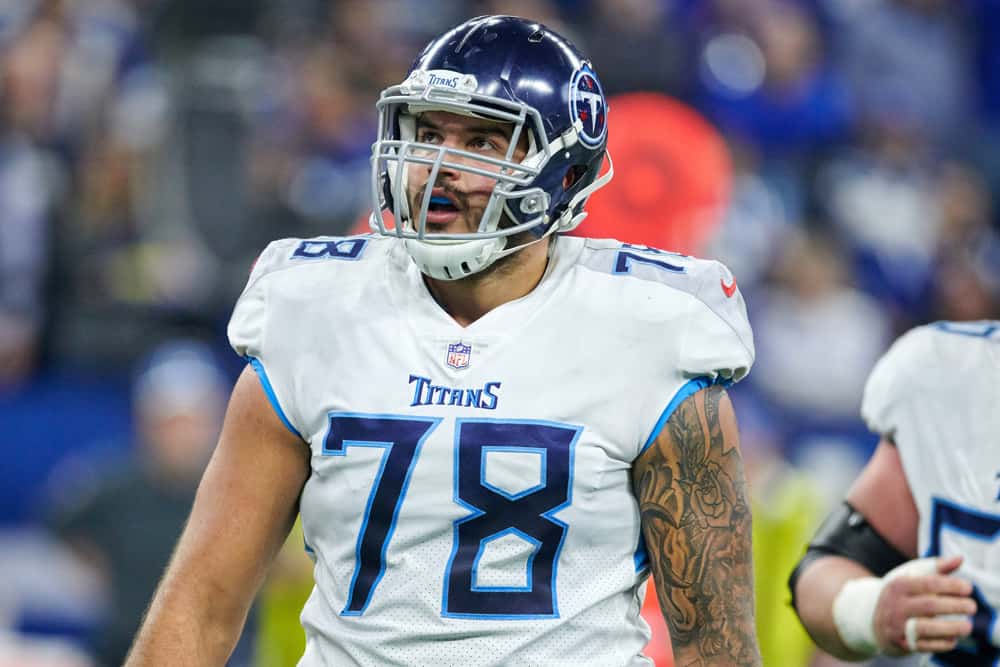 At this point, it would be pretty same to assume that Cleveland Brown's offensive lineman Greg Robinson will not be joining the team moving forward.
With that being said, the Browns will surely be looking to upgrade the offensive line.
According to Jake Trotter of ESPN, the Browns do in fact have their sights set on a replacement upgrade, and his name is Jack Conklin.
Conklin is definitely on Cleveland's radar, and the Browns have $13 million in additional cap space from the moves they made earlier in the week. Signing Conklin and drafting a starting-caliber OT would shore up the biggest holes in an offense that still has top 10 potential https://t.co/KhsuIOxg17

— Jake Trotter (@Jake_Trotter) February 20, 2020
Browns will not be re-signing Greg Robinson. Their first call in free agency should be to Jack Conklin, one of the most captivating free agents in the eyes of NFL sources. Time to adequately protect Baker. https://t.co/rHYwiBfx5q

— Jeremy Fowler (@JFowlerESPN) February 20, 2020
Conklin was drafted by the Titans in 2016.
An interesting note, the Browns could have drafted Conklin.
The Titans drafted Conklin with the pick the Browns traded them to drop to 15 and take Corey Coleman in the 2016 draft https://t.co/aCPknLuNLw

— Ben Axelrod (@BenAxelrod) February 20, 2020
In his first year, he was selected to the All-rookie team and selected as an All-Pro
He has been solid since being drafted.
Among the 62 OTs with at least 800 pass-blocking snaps played since 2016, #Titans' Jack Conklin ranks 24th in pressure percentage allowed at 5.7%.

Conklin's three-year run-blocking grade (73.3) ranks inside the top-20 among qualifiers, as well.https://t.co/RFbJYCiXQP pic.twitter.com/DwtnSuL9sk

— PFF TEN Titans (@PFF_Titans) May 1, 2019
Conklin was strong in 2019 and was one of the better right tackles in the NFL.
He is known to be a very solid run blocker and that would help out the Browns immensely with Nick Chubb and Kareem Hunt.
Pro Football Focus graded Conklin a 78.3 overall that placed him 12th among tackles in 2019.
The 25-year old also had the 5th-highest run-blocking grade (81.0) among all tackles.
He was a big part of helping running back Derrick Henry win the 2019 rushing title.
He is likely to command big money in free agency.
• OT Jack Conklin: 2nd highest graded OT of the 2019 playoffs (82.1)

• RB Derrick Henry: League-best 70 avoided tackles (2nd: Josh Jacobs, 69)

S Kevin Byard: 2nd highest graded S of the 2019 playoffs (79.0, trailing A.Harris)

— PFF KC Chiefs (@PFF_Chiefs) January 19, 2020
The Tennessee Titans did not pick up his 5th-year option.
It seems the Titans are already committed to re-signing tackle Dennis Kelley, allowing Conklin to leave.
The Titans also have to worry about paying both quarterback Ryan Tannehill and running back Derrick Henry.
With the Browns having plenty of cap space this offseason, upgrading the offensive line would prove to be a wise investment for the run game and Baker Mayfield.
They surely will not be the only team that will be vying for Conklin's service though.