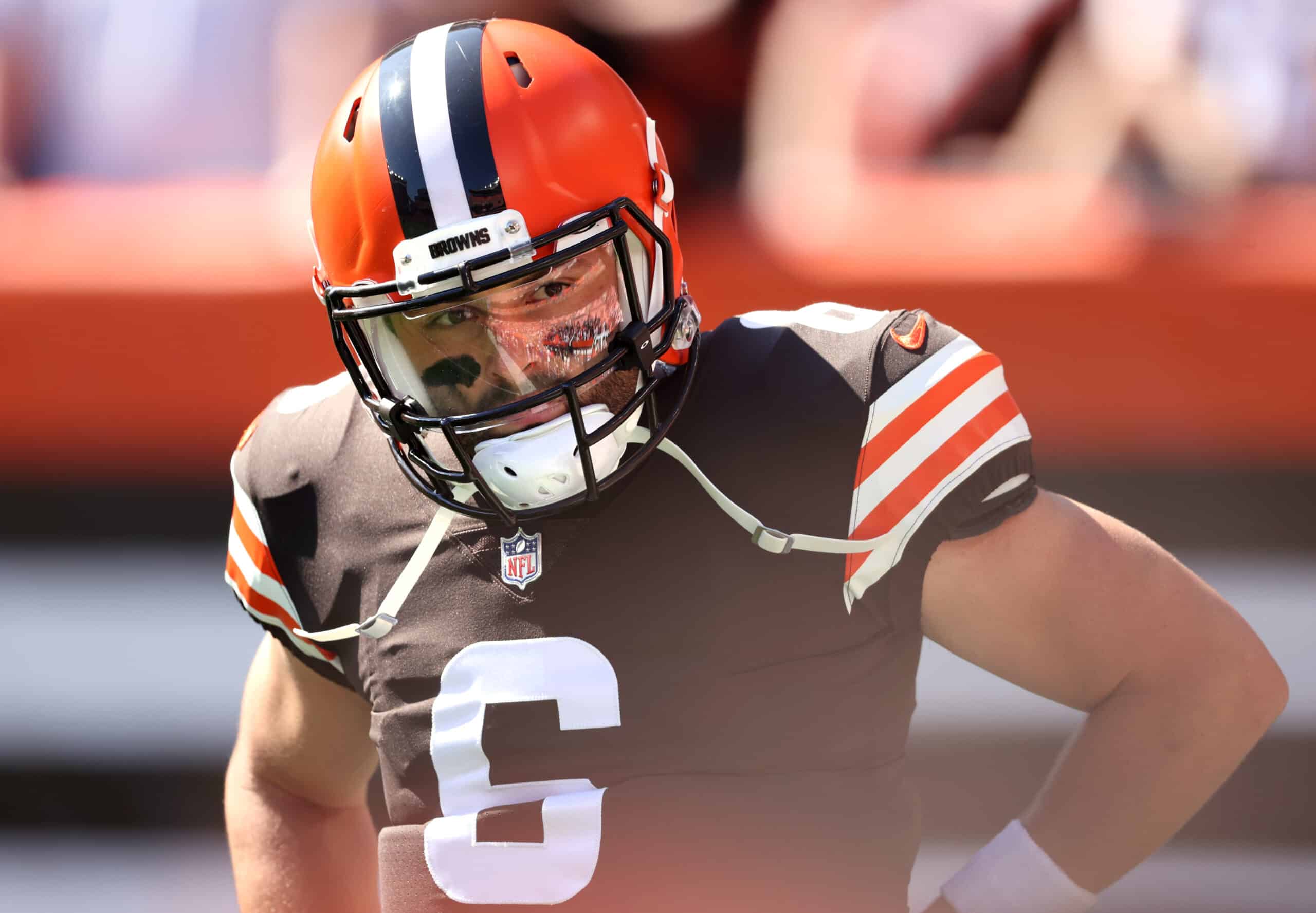 Cleveland Browns quarterback Baker Mayfield is swimming in a sea of unknowns.
To begin with, the durable quarterback who escaped injury since becoming the Browns starter in 2018 is now dealing with two issues in his non-throwing shoulder.
That caused him to sit out the Week 7 game against the Denver Broncos.
And it also leaves his status questionable for Week 8 against the Pittsburgh Steelers and beyond.
Injuries never come at a good time, but this is particularly bad for Mayfield who is in the fourth year of his rookie contract.
The Browns exercised his fifth-year option, but there has always been belief that the Browns want to strike an extension deal sooner rather than later, meaning sometime next summer as compared to after the fifth-year option ends and he is a free agent.
As a reminder, fifth-year options per the CBA are now fully guaranteed, which makes these decisions, for the first time, binding. Two have been picked up so far …

• Browns QB Baker Mayfield at $18.858 million.
• Browns CB Denzel Ward at $13.294 million.

Deadline is May 3.

— Albert Breer (@AlbertBreer) April 23, 2021
Current reporting is indicating that the Browns are still very much interested in signing Mayfield.
The dollar value would not quite be in the Patrick Mahomes, Josh Allen, and Patrick Mahomes $40+ million range.
$43m per year average over the next 6 years of Josh Allen is a steal for the #Bills, especially with the projected salary cap increases

— Rob Quinn (@RobQuinn619) August 6, 2021
But it would be a more than respectable over $30 million per year salary perhaps in the mid to high 30s.
Per @DanGrazianoESPN #Browns remain open to extending Baker Mayfield on a long term deal in the mid to high $30m's per year pic.twitter.com/bW7WuhROVp

— MoreForYouCleveland (@MoreForYou_CLE) October 25, 2021
Dan Graziano of ESPN is reporting this information.
"I still think — actually, I know — that the Browns would bring Mayfield back for the right price. I don't think they want to pay him at Patrick Mahomes/Josh Allen levels, but they believe they can win with him and would pay him in the mid-to-high $30 millions per year to stick around."
It appears Graziano is working with internal knowledge.
Denzel Ward Is In The Same Situation
GM Andrew Berry has a lot of decisions to make.
In addition to Mayfield, the Browns have cornerback Denzel Ward in the exact situation Mayfield is in.
His fifth-year option has been exercised.
Denzel Ward thoughts:

2018 – 13 games started, Pro Bowl

2019 – 12 games started, 69.9 grade

2020 – 12 games started, 72.8 grade

2021 – 7 games started, left last night with an injury, 67.3 grade

Do the #Browns pay him? What does a contract look like? I'm so torn. pic.twitter.com/alj5sKSbFI

— Mike (@big_mike9169) October 22, 2021
Ward's injuries could be an issue.
The offseason is still months away but expected to be very eventful for the Browns.