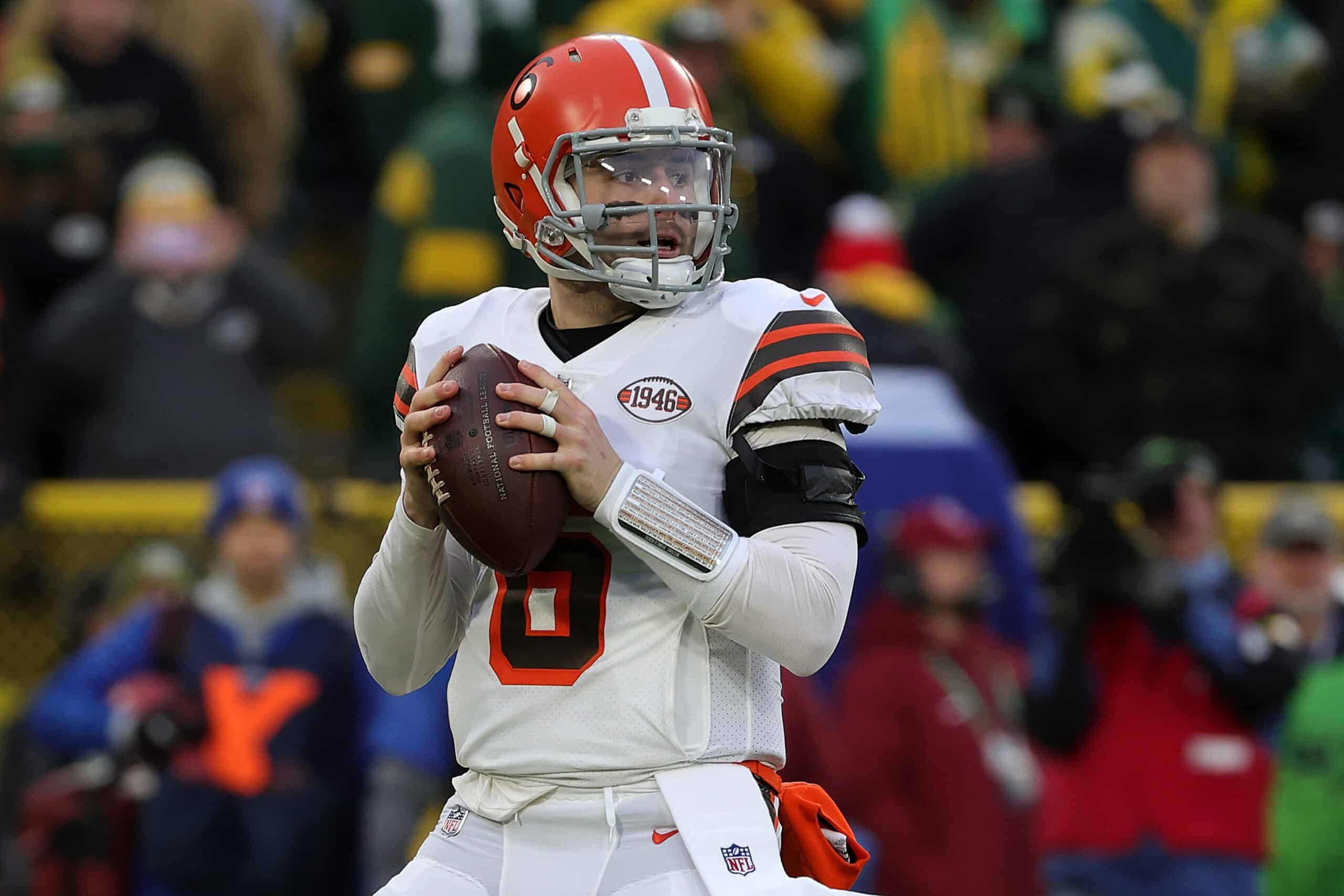 Baker Mayfield had Aaron Rodgers and the Green Bay Packers flat-out beat.
His Cleveland Browns out-gained, out-defensed, and out-hustled the home team enough to pull off the upset.
Except it didn't happen, and when most folks analyzed why not, their fingers pointed to one player.
#Browns HC Kevin Stefanski on Baker Mayfield: "We expect him to play at a high level. With the QB position, you get too much credit and too much blame. He'll bounce back and be better for it."

— 92.3 The Fan (@923TheFan) December 27, 2021
Unless they were wont to blame NFL officials for the outcome, which in this case, wasn't far-fetched.
But that was Mayfield getting tagged for 4 interceptions and a couple of badly-timed sacks.
And a pair of short passes to an open David Njoku on the potential game-winning drive highlighted a slew of misfires.
#Browns coach Kevin Stefanski said there was a bit of a miscommunication between Jarvis Landry and Baker Mayfield on third interception, but ultimately Baker probably thinks he should have thrown the ball away

— Nate Ulrich (@ByNateUlrich) December 27, 2021
It was only a football game, but when Rasul Douglass caught Mayfield's final pass, Browns Nation took it hard.
Mayfield's big chance to complete a fourth-quarter comeback with a game-winning final scoring drive fell short.
As did an opportunity to add millions to a potential contract extension.
Instead, Cleveland came home to a growing whirlwind of "what ifs" and "why nots" raging around Berea.
"Even More Minuses" on Mayfield's Player Eval 
Marla Ridenour of the Akron Beacon Journal tried to push a bright spot into the Browns Christmas disappointment.
Mayfield is likely to be back in 2022, but he will probably face some competition for the starting job.
And one of the most desirable trade targets got an upfront and personal demonstration of what the Browns offer.
.@MattFontana83 "With a 100% healthy @bakermayfield I think this team CAN win a Super Bowl."#Browns pic.twitter.com/geId5A0Kzw

— ESPN Cleveland (@ESPNCleveland) December 28, 2021
Acknowledging it is a longshot Aaron Rodgers actually leaves Green Bay, Ridenour says Cleveland gave him something to think about. 
"Chubb is under contract through 2024, Kareem Hunt through 2022. Joel Bitonio and Wyatt Teller signed contract extensions, left tackle Jedrick Wills Jr. is in his second year. Tight end Austin Hooper is signed through 2023, Harrison Bryant was drafted in 2020, and David Njoku wants to stay. The receiving corps needs upgrades, but there is youth to build with in Donovan Peoples-Jones and Anthony Schwartz."
The writer went on to mention the rapidly improving defense and the young studs starting to fill out that side of the ball.
Best of all, those players played very well Saturday and had the Browns in a position to win.
Baker Mayfield is tossing out gifts more efficiently than Santa

— NFL Memes (@NFL_Memes) December 25, 2021
And Rodgers knows if he was the Browns quarterback, the visitors would have won going away.
He would have hit Landry in the red zone, and again down the sideline (and not coming back to the defender) after he got behind the defense.
And he most certainly would have gotten both of those DPI calls.
But There Are More Likely Options For 2022
Browns fans can dream about Aaron Rodgers accepting a new challenge to end his career.
Certainly, he can duplicate Tom Brady's Tampa Bay success story with the Cleveland Browns' roster.
Russell Wilson and Deshaun Watson are as unlikely to wind up in Cleveland.
QBR and QB Rating finally agree on something!

25. Baker Mayfield

— Anthony Lima (@SportsBoyTony) December 27, 2021
But what if Las Vegas' new management team decides they want to rebuild with youth?
Derek Carr and his 23 career 4th-quarter comebacks could attract Andrew Berry's attention.
Such a move probably spells an end to Mayfield's run in Cleveland, which moves the odds against it.
Mayfield will come off non-throwing shoulder surgery and a slew of other maladies with a guaranteed $19 million contract.
Browns' Kevin Stefanski: Baker Mayfield will "bounce back and I think he'll be better for it"https://t.co/QqPTCDdjla pic.twitter.com/IaH9PY8S79

— Around The NFL (@AroundTheNFL) December 28, 2021
Trading him away, especially knowing he could be a free agent after the season, will be a tough task.
Thus, a better plan is to further motivate him in what is essentially a contract season with real competition.
Mayfield knows Case Keenum is not a potential successor, but a draft pick or younger passer with upside might be.