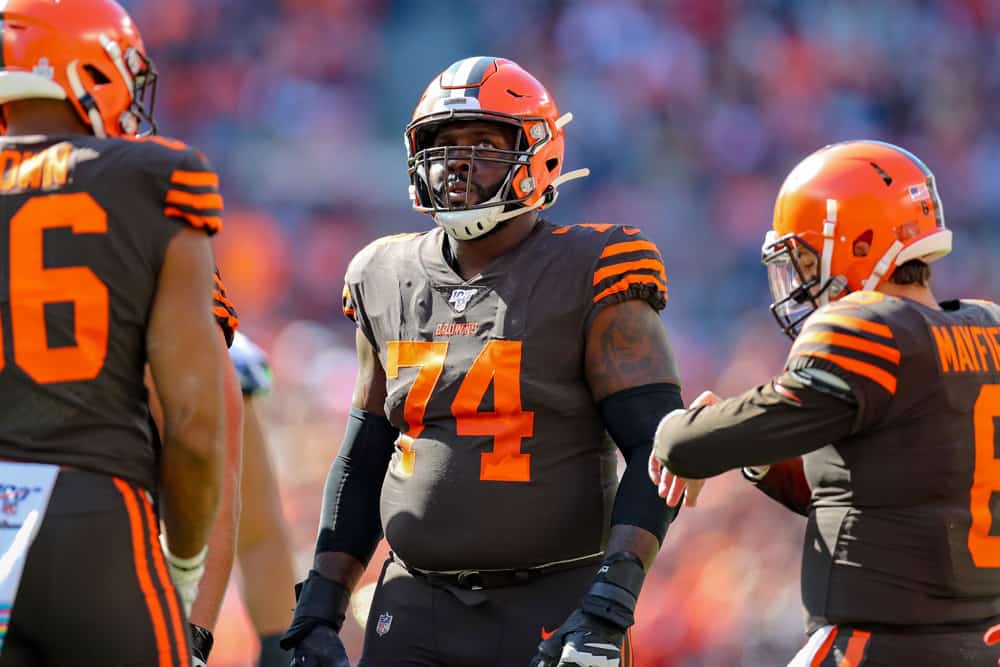 Andrew Berry threw significant guarantees into Jack Conklin's renegotiated contract.
While the goal was to clear cap space, the Cleveland Browns made it clear they think Conklin is fully healthy.
Now the Browns are reportedly convinced swing tackle Chris Hubbard will be ready to play, too.
#Browns Chris Hubbard getting in work at camp, just in a leg sleeve and wrap after tearing ligaments in his knee last season. pic.twitter.com/5UEuTJd23e

— Camryn Justice (@camijustice) July 28, 2021
According to Mark Kay Cabot of Cleveland.com, the Browns are looking to re-sign the free agent.
Hubbard missed almost all of last season with a torn tricep and continues his post-op rehab.
Cleveland's interest in Hubbard reflects how his value increased during his 4-year tenure.
#Browns Kevin Stefanski said everyone excited to have OL Chris Hubbard back after serious knee injury in December. pic.twitter.com/B0HNmVd2jZ

— Scott Petrak ct (@ScottPetrak) July 29, 2021
It was a somewhat inauspicious start after Hubbard signed a free agent deal prior to the 2018 season.
He played almost every snap on a fairly stout offensive line, but things got shaky as the 2019 season rolled on.
Hubbard was reborn under Bill Callahan, turning himself into an invaluable swing tackle for the Browns.
What It Means For The Browns 
Hubbard's veteran presence and versatility were invaluable to the 2020 playoff Browns.
One could argue his injury was more devastating than those to starting tackles, Jedrick Wills and Conklin.
Blake Hance did a yeoman's job filling in at both tackles, as well as at guard and tight end during the season.
But opponents were able to take advantage of his learning on the fly at some key moments.
Chris Hubbard is someone the Browns would die to have healthy right now. Quietly one of the biggest losses this season.

— Brandon Little (@BrandonLittleSI) December 14, 2021
With a healthy Wills, Conklin, and Hubbard flanking the Browns' solid interior linemen, it could be 2020 all over again.
Cleveland owned the top-ranked pass-blocking and run-blocking line, according to PFF.
And of course, the team won a playoff game and came tantalizingly close to a Conference Championship game.
Getting the gang back together will certainly help the confidence of quarterback Baker Mayfield.
Will It Happen?
Hubbard could get some interest as a starter from other teams.
Reliable and versatile 8-year veterans don't grow on trees, especially if a team can get one on the cheap.
Besides the tricep that cost him most of 2021, Hubbard ended 2020 on the injured reserve, too.
He completed an 8-month rehab on a torn quad and dislocated kneecap before the 2021 camp.
#Browns Kevin Stefanski said losing Chris Hubbard to season-ending surgery is tough but they'll make sure he's around the team as much as possible through his rehab.

— Camryn Justice (@camijustice) October 11, 2021
Even though Hubbard showed no ill effects, coming off consecutive major injuries still raises concerns.
Hubbard could settle for a one-year prove-it deal loaded with incentives for games played.
That makes him a potential bargain at a position in which the Browns already invested heavily.
But it could make him a bigger bargain for a team in need of a starting tackle.