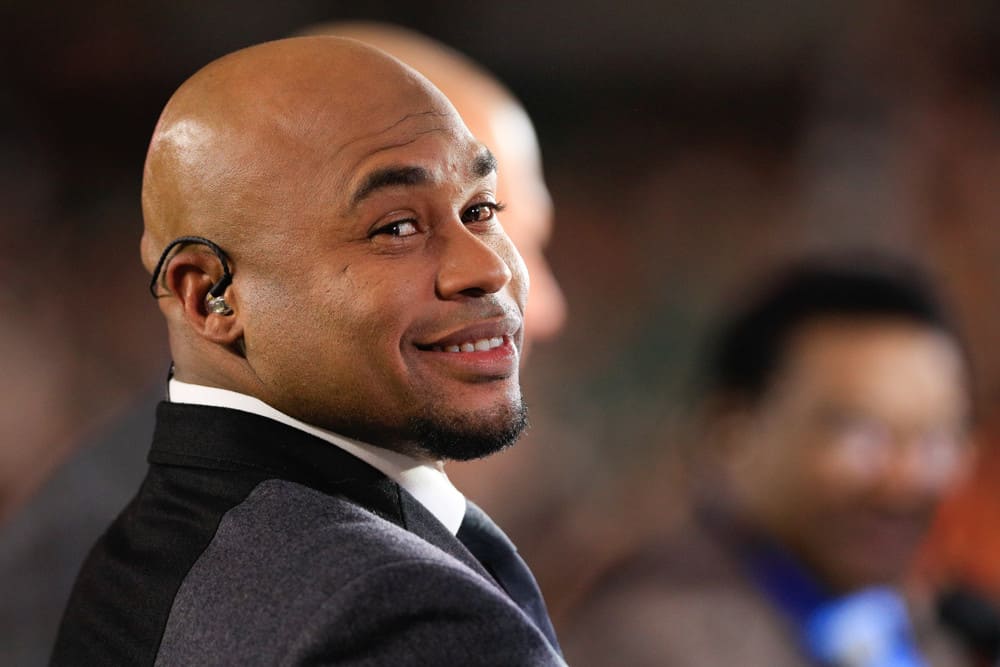 Even though the Cleveland Browns were not playing on Thursday Night Football this week, they naturally came up as a conversation topic.
This debacle with Odell Beckham Jr. started on Tuesday and is still unresolved.
Current reporting from ProFootballTalk indicates that the Browns will release OBJ on his 29th birthday on Friday.
With the obvious caveat that plans can change, the Browns currently plan to release Odell Beckham Jr. on Friday. The move hinges on an agreement to reduce the money the Browns would owe him if he's not claimed on waivers. https://t.co/1qrFkRvPrl

— ProFootballTalk (@ProFootballTalk) November 5, 2021
OBJ's pending release was not discussed on TNF, but former Panthers and Ravens wide receiver Steve Smith certainly had an opinion that he did not hesitate to share.
What Smith Said
Smith stared right into the camera and blamed the entire OBJ situation on Baker Mayfield.
"Focus here, folks. You're average. You're not very good, and Odell is moving on because of you, bro."
He said the reason Beckham is moving on is because Mayfield is not good.
Steve Smith looking in the camera and telling Baker Mayfield he isn't very good and OBJ is moving on because of that. pic.twitter.com/OKIpiPEkfi

— EJ (@BourbonAndBeer) November 4, 2021
Felt More Personal Than Professional
Former players turned media professionals do have an interesting perspective because they have been in the trenches.
Certainly, Smith played a lot of years in the NFL as a wide receiver so he understands the frustrations of the position and the relationship between WR and QB.
It just seemed like a low blow because Smith has been known to be anti-Mayfield in the past.
Social media had varying opinions on Smith's take of the situation.
Steve Smith made it work with Jake Delhomme who was average as hell. He should tell Odell his secrets 😂🤣 https://t.co/uh3viyFjKH

— John (@JohnHillbery) November 5, 2021
Steve Smith Sr. is a punk for getting on National Television and saying what he said…Doesn't matter who he was talking about. Completely unprofessional and ignorant.

— Brandon Wolf (@BrandonWolfCLE) November 5, 2021
Time Will Tell
The thing is that time will prove out where the disconnect was.
If OBJ goes to another team and accumulates amazing stats, the argument is definitely made that the issues were on Mayfield's end.
The other side of the argument will play out if OBJ joins a team and continues to be injured or a nonfactor.
Conclusion
This OBJ saga just opened the doors for more people to take personal shots at both Mayfield and OBJ.
That is an unfortunate byproduct of this mess and yet another reason the issues between the two players should not have been aired out on social media.
In the confines of the Browns' locker room or in the head coach's office is where this entire thing should have played out.