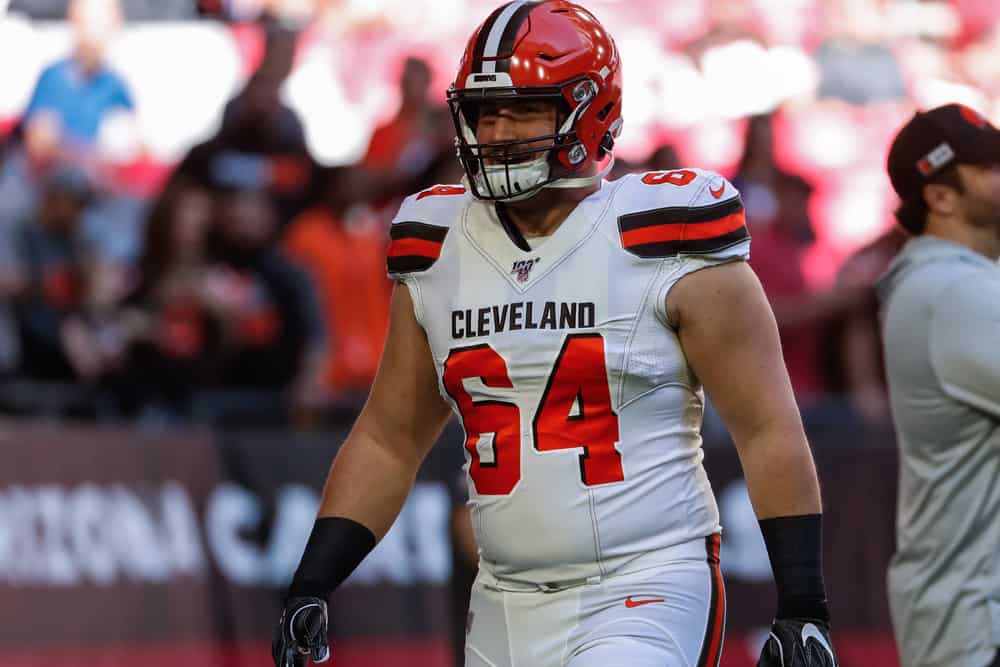 Cleveland Browns center JC Tretter wears two different hats.
In addition to being the Browns center, he is also the President of the NFL Players Association.
He takes both roles very seriously and has juggled the latter remarkably well given how the COVID-19 pandemic changed the world (and the NFL) last year.
Because many players are opting to skip their team's organized training activities (OTAs), Tretter may catch the blame for this as he urged players to boycott OTAs this year.
NFLPA President JC Tretter told players on a call today the union is pushing for an all-virtual offseason — and would urge players to boycott if teams conduct in-person OTAs this spring, per sources.

Said Tretter: "We've been telling them, it's voluntary and we're not gonna go."

— Tom Pelissero (@TomPelissero) April 9, 2021
I'll take no JC Tretter slander. Thank you #Browns pic.twitter.com/6fUE4pLi2g

— CleWest (@erjmanlasvegas) May 25, 2021
That is unfair to him; he should not be criticized.
Here's why.
1. OTAs Are Voluntary
These are voluntary workouts.
Of course, coaches would probably like a large turnout as they begin instituting new offensive and defensive schemes, but players make their own choices.
Tretter himself suffered a serious injury at OTAs which still sticks in his mind.
In 2013 as a rookie with the Packers, Tretter suffered a broken leg 10 minutes into his first OTA session that cost him the season.
"OTAs have been out of hand for a long time. They're full speed, full contact, nonpadded practices, and guys are getting beat up in them."
There are factors and situations where players would be willing to assume the risk of being at OTAs.
Young players and those with workout bonuses tied to their contracts may be more willing to go to OTAs.
Also, when players work out on their own away from team facility while boycotting OTAs and suffer an injury, they have zero salary protection. If injured at the facility, they're covered.

— ProFootballTalk (@ProFootballTalk) April 13, 2021
Players are expected to work out in the offseason to be ready for training camp, but the Broncos situation with Ja'Wuan James highlights a big problem for players working out away from OTAs and team facilities.
So they are going to take his contract for working out in the off-season??? https://t.co/rJK7xrqpv6

— Patrick Mahomes II (@PatrickMahomes) May 4, 2021
In this context, players would be motivated to not work out at all in the offseason and do everything onsite.
In general, veteran players are less motivated to attend.
For example, the defending Super Bowl Champion Tampa Bay Buccaneers starters are not going to OTAs.
All Bucs starters were absent from OTAs today…but Giovani Bernard was there!https://t.co/XnzJuuUTss

— Jon Ledyard (@LedyardNFLDraft) May 25, 2021
2. Less Injuries Last Season With Virtual Preparations
As President of the NFLPA, Tretter is motivated to protect the safety of the players.
One of the select few benefits of last season's offseason virtual preparations is that players had less injuries.
"Over the past five years, the average number of missed-time injuries annually for all NFL teams was 3,524. For the 2020 season, the number of missed time injuries decreased to 2,716."
Pat McAfee, a media personality who is also a former player, can speak more candidly about how players really feel about OTAs.
The NFL & NFLPA are negotiating on keeping virtual offseason programs #PatMcAfeeShowLIVE pic.twitter.com/14LNgi0JkF

— Pat McAfee (@PatMcAfeeShow) March 24, 2021
Players need to preserve their bodies for a 17 game regular season in 2021.
The need to preserve their bodies over a longer regular season likely plays into the decision of whether to attend OTAs.
3. COVID-19
Though the United States seems to be turning the corner on COVID-19, OTAs are also a time where large groups of people gather at the team facilities.
While teams are doing everything necessary to keep the players safe, some feel it is an unnecessary risk of COVID-19 exposure in a voluntary training situation.
With all of the backlash over voluntary OTAs, it is hard to say what we can expect when mandatory minicamps start in June.