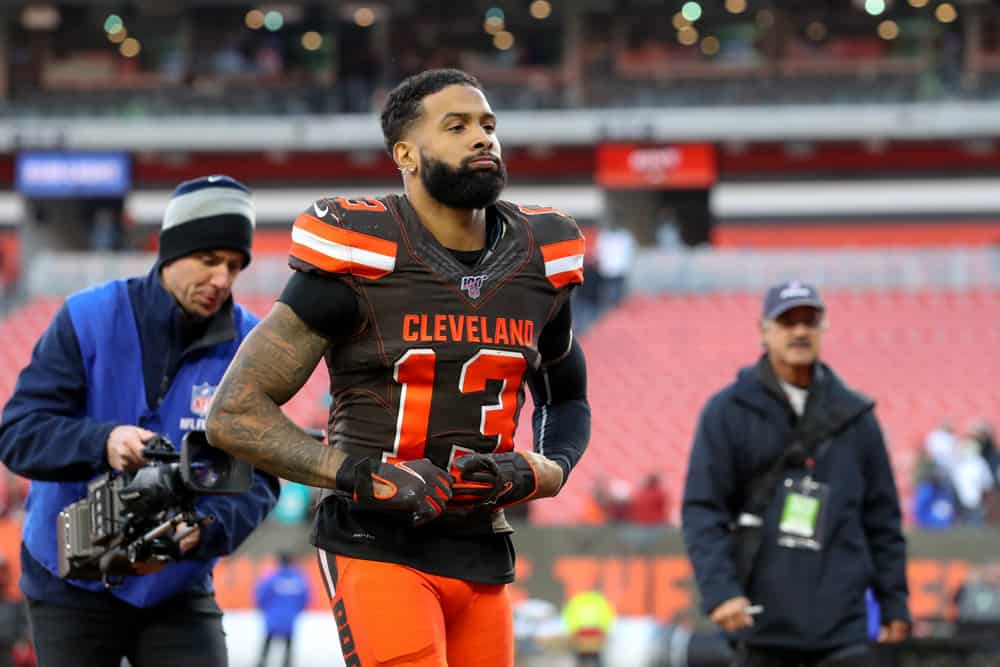 Odell Beckham Jr. put himself in a bad situation when he decided to slap a cop's butt in the locker room following LSU's win over Clemson in the National Championship Game.
The cop overreacted and originally decided to press charges against the Cleveland Browns receiver and an arrest warrant was issued.
Context and common sense have now prevailed and it appears both sides will just move on.
New Orleans PD could withdraw arrest warrant issued for Odell Beckham Jr. as early as this weekend after an officer signed an affidavit saying he did not want to pursue charges, via @MikeTriplett https://t.co/8mtDH6IUDP

— Jake Trotter (@Jake_Trotter) January 18, 2020
Moving Forward
Beckham should not have slapped the cop and the cop should have realized he was in a winning locker room and cooled down a bit.
Both were in the wrong and it is good to see the cop will no longer press serious charges for something that was not actually battery or assault.
Signing an affidavit to drop charges should make all this go away.
Charging the LSU alum would not go over well in Louisiana.
The incident being caught on video showed it was nothing extreme and there was no malicious intent.
Odell Beckham Jr was potentially facing a misdemeanor charge of simple battery for slapping the buttocks of a Superdome police officer.

The officer signed an affidavit saying he did not want to pursue charges, a source told @MikeTriplett. https://t.co/yLvxGMtnkB

— SportsCenter (@SportsCenter) January 18, 2020
Beckham handing out cash to NCAA athletes after the game is arguably worse than playfully slapping the cop's butt.
Unnecessary Distractions
This is yet another example of the dysfunction Kevin Stefanski needs to clean up in Cleveland.
Right now the coach is the top authority with no general manager in the building.
He has not even met the team yet and already has to deal with a distraction involving one of his best players.
That all comes with the job, no matter who has gotten it since 1999.
Not a Big Deal in Cleveland
The Browns organization could not have been too happy seeing Beckham acting ridiculous in New Orleans.
Though it was the cop who blew the whole thing out of proportion by pressing charges.
The Browns didn't seem too concerned when a statement was put out.
Statement regarding Odell Beckham Jr. incident: pic.twitter.com/7cN3jOLCj6

— Cleveland Browns (@Browns) January 16, 2020
Quick and to the point.
The team surely made a few phone calls and were probably just as confused as fans as to why the cop was acting like he had been attacked by Beckham.
The Two Sides
There are two ways for Browns fans to look at this situation.
The first is to declare Beckham a distraction and want him traded.
The second is to just move on and forget about all of this.
The latter is likely to happen even for those who want Beckham traded because things like this blow over.
A huge game for the receiver to open next season will also wash away any hate thrown his way.
Right now he is coming off a down year and has done nothing to show off his superstar potential.
Then he pops up in the news for doing something stupid, though silly, and becomes a distraction for a team dealing with too many at any given time.
The good news is that he is not going to face criminal charges in the state of Louisiana.
All he was really doing was stopping the cop from checking the cups of players just trying to celebrate a win.
Is that so bad?