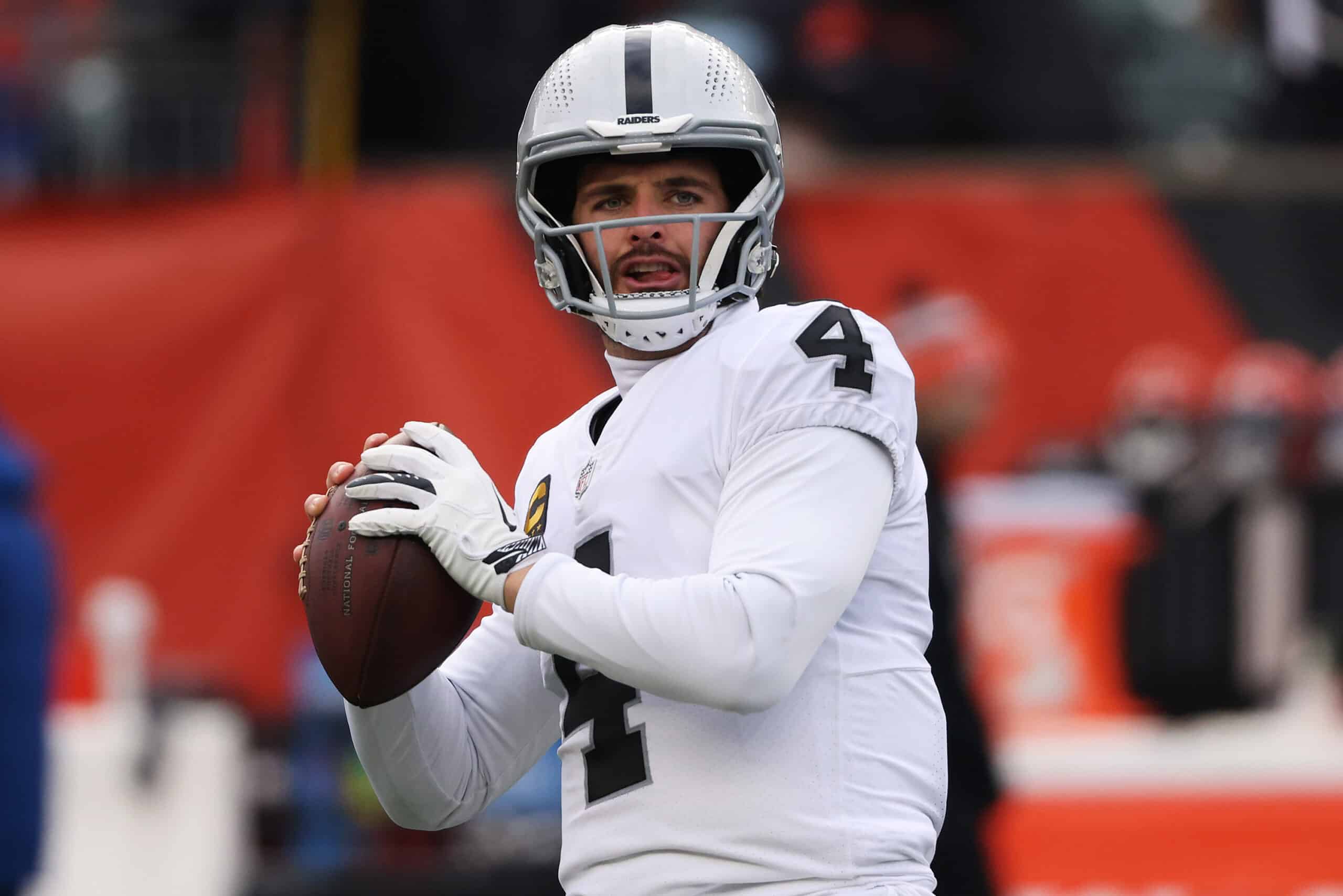 The blockbuster quarterback trades might not be over just yet.
The Cleveland Browns could be looking to add to their quarterback room this offseason.
The front office continues to back current quarterback Baker Mayfield.
Despite that, it sounds like the front office has also done their homework on veteran quarterbacks.
One name that continues to pop up is Las Vegas Raiders quarterback Derek Carr.
According to Mary Kay Cabot of Cleveland.com, the Browns have Derek Carr on their radar.
Report: #Browns have had QB Derek Carr on their radar, per @MaryKayCabot

— JPA Football  (@jpafootball) March 10, 2022
Both the Browns and the Indianapolis Colts could make a major push for Carr.
The new leadership group in Las Vegas has said Carr is their Week 1 starter.
However, possibly the Browns or Colts can make a big enough offer to pull Carr away from the Raiders.
Carr Coming To Cleveland?
There is significant concern that Mayfield isn't the answer for Cleveland.
The fifth-year quarterback has been inconsistent since entering the league.
He'll now enter the final year of his rookie deal, so the Browns are going to be forced to make a major decision soon.
That being said, it's not surprising that the Browns have been looking into adding a veteran quarterback.
The front office feels like this roster is ready to compete, but it has been held back by bad quarterback play.
An addition such as Carr would be an upgrade to the Browns roster.
Derek Carr had the 2nd-highest Accuracy Rating (8.01) in the NFL last year, behind just Patrick Mahomes (8.05). #Raiders #NFL pic.twitter.com/lb1u4lE7Zr

— FantasyData (@FantasyDataNFL) March 9, 2022
The three-time Pro Bowl quarterback is coming off another strong season with the Raiders.
He threw for a career-high 4,804 passing yards and helped the Raiders make the postseason.
Despite that, the 30-year-old signal caller could be on his way out of Las Vegas.
The 2022 season is Carr's final year of his contract, in which he'll make $19.7 million.
Possibly, the Raiders aren't ready to commit to Carr and trade him while his value is high.
That would force another organization to pay significant money to the veteran quarterback.
A Bold Move
The Browns front office would need to be prepared to offer Carr a long-term deal, assuming he comes to Cleveland.
Also, there's no indication that Carr would want to stay in Cleveland for the long haul.
Cleveland would likely be forced to give up Mayfield, significant draft capital, and a young player or two in return for Carr.
It's a tough decision to make because Carr has put together stretches of excellent play throughout his career.
Derek Carr's last 12 games:

▪️282/404 (69.8%)
▪️3,213 passing yards
▪️21 touchdowns
▪️2 interceptions
▪️108.6 passer rating
▪️7.95 yards per attempt
▪️268 yards per game pic.twitter.com/i7p3tYG0Zk

— Brad Kelly (@CoachBKelly) November 9, 2020
Although, it's also worth noting that he has less playoff experience than Mayfield.
Last season was the first year that Carr was able to play in the postseason.
That being said, it's hard to know if Carr could really put this team over the top.
On paper, he's a better quarterback than Mayfield and would certainly be an upgrade.
He also cost $19 million for one season and could very well be gone after 2022.
It all comes down to whether or not the Browns believe Carr is their long-term answer.
Honestly, the Colts might be more desperate and offer a better package than Cleveland.
The Browns shouldn't leverage the future of their team and overbid for Carr.
The Raiders are likely going to keep Carr unless they receive a deal that blows them away.