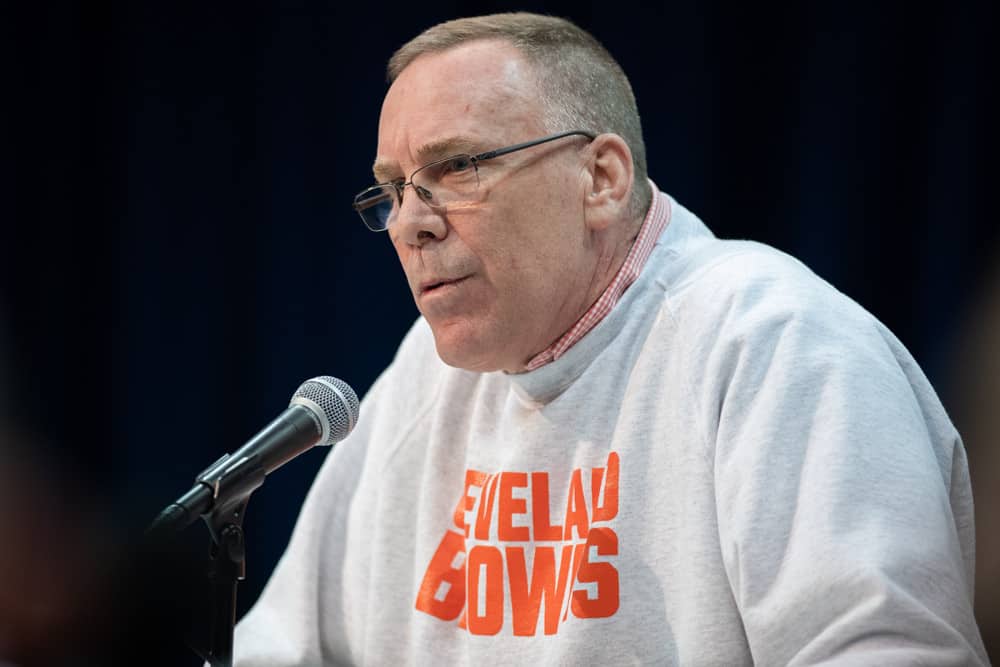 Yesterday, a report surfaced from Michael Lombardi of The Athletic that more than a head coaching change could be on the horizon.
Two NFL sources told me last night that they expect more than just a head coaching change in Cleveland. 2020 will be interesting.

— Michael Lombardi (@mlombardiNFL) December 28, 2019

Today, according to Mike Florio of Pro Football Talk, there could be some steam to that report.
As Freddie Kitchens closes in on likely closing out his tenure in Cleveland after only one season, is G.M. John Dorsey safe? "Not completely," one source says https://t.co/bIJ5NaQfLX

— ProFootballTalk (@ProFootballTalk) December 29, 2019
Florio is reporting that Browns GM John Dorsey could be involved in the changes:
As the Browns prepare, by all appearances and indications, to part ways with coach Freddie Kitchens as soon as tonight, the question becomes whether that will be the end or the beginning.

Questions have emerged regarding the status of G.M. John Dorsey. As one source with knowledge of the dynamics in Cleveland explained it to PFT on Sunday morning, Dorsey is "not completely safe."
While firing Dorsey would come as a surprise, the disappointment of this year's Browns team is not
When Dorsey arrived in 2017, he emphasized that the Browns would focus on winning now and not the future.
He went all-in when he drafted Baker Mayfield with the first pick in the 2018 Draft, also selecting Denzel Ward 4th overall, and Nick Chubb in the 2nd round.
Dorsey also created the biggest buzz of the offseason when he traded for Odell Beckham Jr with the Giants.
He also was responsible for bringing in running back Kareem Hunt who has been a key addition to the Browns backfield since his return from suspension.