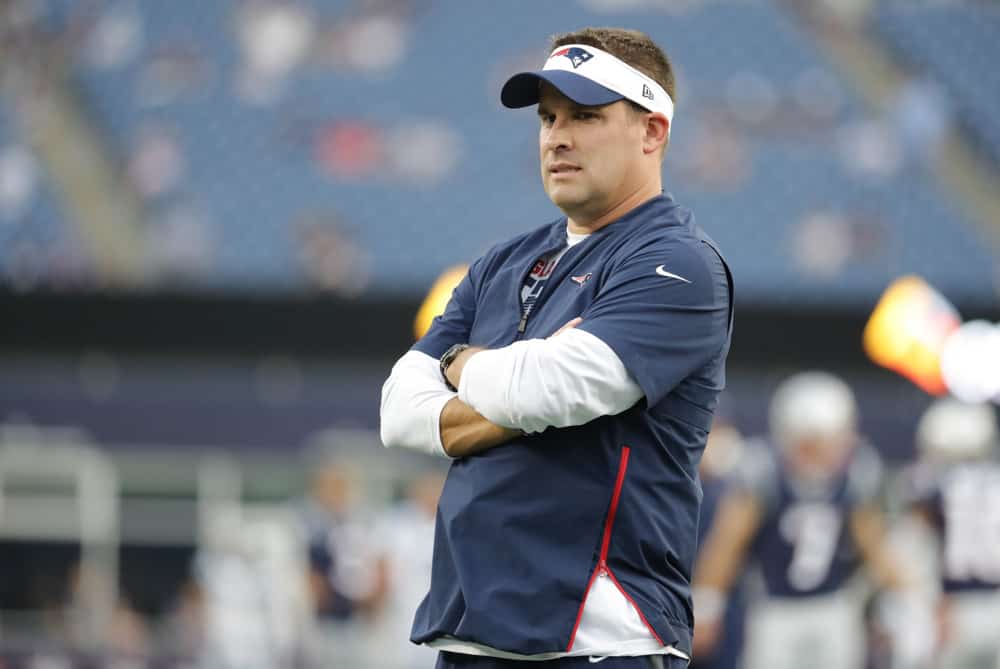 With the Patriots 20-13 loss to the Tennessee Titans on Saturday, head coaching candidate Josh McDaniels now has a free schedule.
NFL Network's Ian Rapoport is reporting that Josh McDaniels is "emerging as a top candidate for the Browns and Panthers."
From @NFLGameDay: Could #Patriots OC Josh McDaniels be coaching his last game in New England? Once again, he's emerged as a top HC candidate — notably for the #Browns and #Panthers. pic.twitter.com/M1dFWvdWI1

— Ian Rapoport (@RapSheet) January 4, 2020
The Browns have been moving quickly in their head coaching search.
They finished up their 4th interview on Saturday with 49ers defensive coordinator Robert Saleh.
Sunday, they will interview Bills offensive coordinator Brian Daboll after the Bills lost to the Texans in the Wildcard round on Saturday.
According to a recent report, Josh McDaniels will start interviewing for head coaching vacancies on Monday.
Hearing the interview time line for Josh McDaniels has been moved up now starting on Monday with Cleveland, NY and Panthers.

— Michael Lombardi (@mlombardiNFL) January 5, 2020
Before the Patriots loss on Saturday, McDaniels wasn't expected to interview with the Browns until near the end of next week.
The Browns have shown interest in the northeast Ohio native Josh McDaniels for years, but have failed to connect with him.
McDaniels is mostly known for his work with Tom Brady.
His offenses are known to be very creative, flexible, and good at adjusting to the talent he is given.
An interesting thing to watch will be on who gets the first interview on Monday with McDaniels.
If the Browns identify McDaniels as their guy after the interview, will they offer him a contract right away?
Or will he interview with the Panthers and Giants before taking any offers?
It will be something interesting to watch.
The Browns are also expected to conclude their interviews this week by meeting with 2019 finalist Kevin Stefanski.