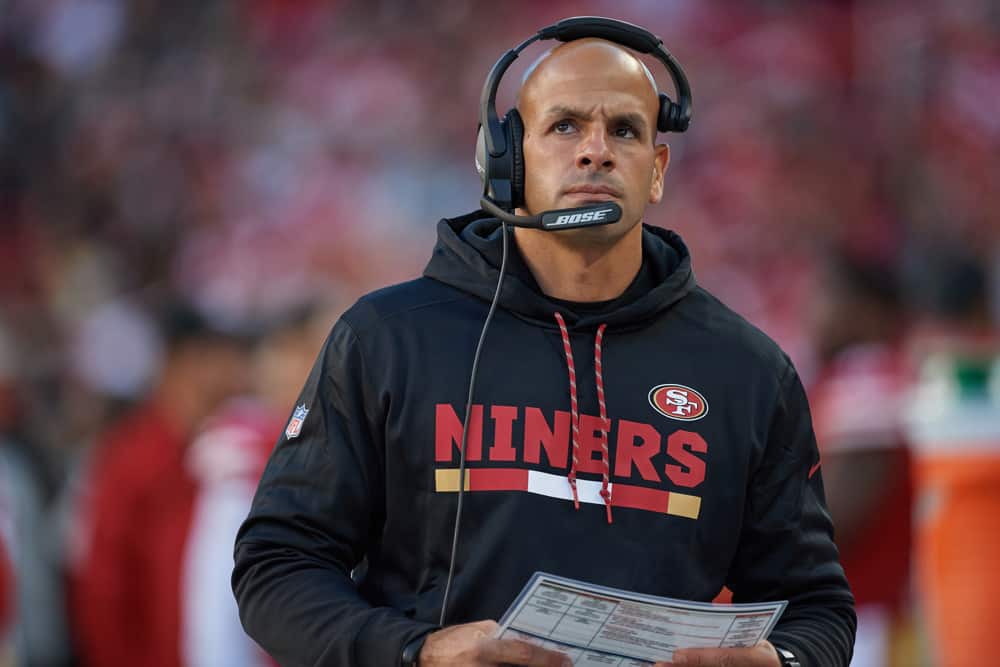 Following the firing of Freddie Kitchens, the Cleveland Browns have hit the ground running in looking for a replacement.
They are already going after interviews for Patriots OC Josh McDaniels, former Packers coach Mike McCarthy, Ravens OC Greg Roman, Vikings OC Kevin Stefanski, and 49ers DC Robert Saleh.
And now the Browns have requested permission to interview 49ers' defensive coordinator Robert Saleh for their head coaching job, per source.

— Adam Schefter (@AdamSchefter) December 30, 2019
Four of those five coaches all come from an offensive background.
The one coach that is on the opposite side of the ball is the man in charge of the NFL's 2nd-best defense in Saleh.
Robert Saleh (pronounced SAH-luh) is probably the least-known of the aforementioned coaches, which is due to his relatively late rise.
His current job, which began in 2017, is the first he's had that isn't a position coach.
Saleh is a native of Dearborn, Michigan where he is an alum of Fordson High School, class of 1997.
He then played tight end at Division II Northern Michigan University for four years.
His coaching career began in the college ranks, as he was a defensive assistant for Michigan State, Central Michigan, and Georgia from 2002-2005.
He then made his jump to the NFL in 2005, in which his first position was a defensive intern working for the Houston Texans.
He worked under head coach Gary Kubiak for nearly four years as an intern, defensive quality control, and then assistant linebackers coach.
Following the Texans, Saleh was hired in 2011 by Pete Carroll and the Seahawks to be defensive quality control coach again, where he was a part of the 2013 Seahawks Super Bowl winning team.
Saleh then found his first head position coach as a Linebackers coach for the Jaguars heading into the 2014 season.
At Jacksonville, he was the head of the corps which featured guys like Paul Posluszny and Telvin Smith.
Kyle Shanahan was named head coach of the 49ers in 2017, and he brought Saleh over to San Francisco from Jacksonville as his new Defensive Coordinator.
Saleh and Shanahan worked together as assistants on Kubiak's staff at Houston from 2006-2009.
Saleh inherited a pretty thin roster when arriving at San Francisco, but has helped remake the defense into one of the best in the league.
#49ers defensive coordinator Robert Saleh is getting in his traditional pregame stadium workout. pic.twitter.com/9BAKqbd5oq

— Matt Maiocco (@MaioccoNBCS) December 29, 2019
If the Browns are looking for a defensive-minded coach, Saleh is definitely the best option out there to replace Kitchens.
However, considering he's the only defensive coach on the shortlist of interviews, I'm sensing the brass is looking for an offensive-minded coach to help revitalize Baker Mayfield and best take advantage of the weapons they have him around him.
4 of the last 5 coaches the Browns have hired have been a first-year head coach with no prior head coaching experience, and that doesn't seem to have worked well in their favor.
Hiring Saleh wouldn't be bucking the trend, but I don't know how much of a priority that is for the ownership when looking at new candidates.