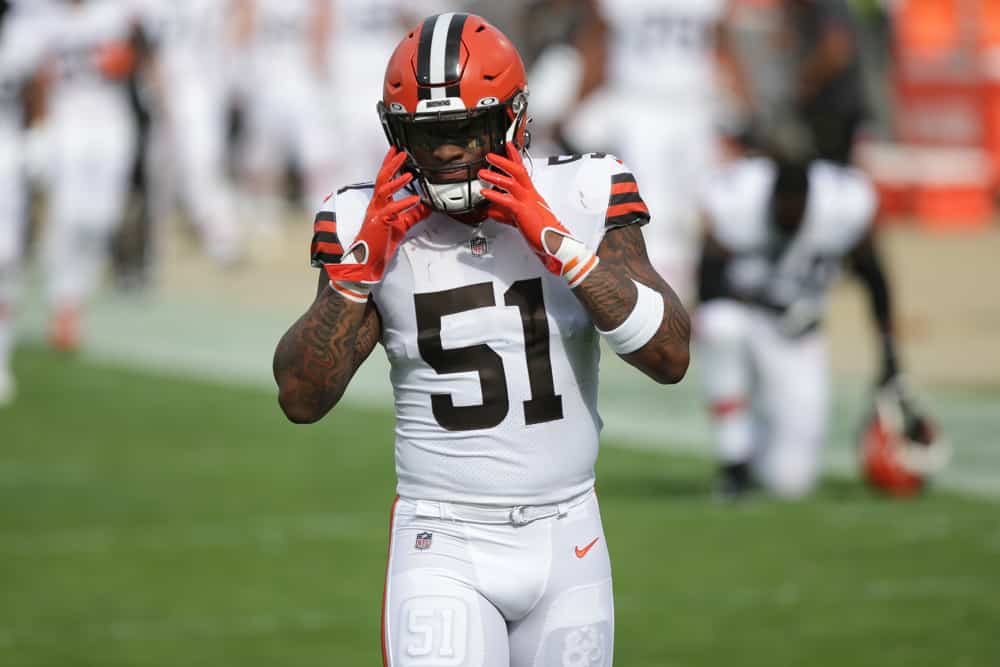 One of the Cleveland Browns feel good stories thus far in training camp is linebacker Mack Wilson.
Injury and disappointment were themes that followed Wilson throughout 2020; the knee injury happened during last preseason, and it lingered.
These issues clearly weighed on Wilson, so much so that he reportedly even considered retirement during the offseason.
#Browns LB Mack Wilson said he thought about quitting the game last year because he wasn't same player because of injuries.
Spent offseason getting in better shape, motivated by son born this week.

— Scott Petrak ct (@ScottPetrak) August 6, 2021
Unexpected Opportunity At Training Camp
Wilson's future has been questioned by many after the Browns signed free agent Anthony Walker (from the Indianapolis Colts) and the team drafted Notre Dame's star linebacker Jeremiah Owusu-Koramoah (JOK).
Opportunity has struck early for Wilson because of Walker's injury and JOK's delayed arrival at camp because he was on the Reserve/COVID-19 list.
Wilson has used the time wisely to show that he is fitter and more committed.
He changed his mindset reverting back to his college ways.
Mack Wilson: "I've gone back to my college mentality. I feel free. Like I'm the baddest one out there."

— Nick Karns (@karnsies817) August 6, 2021
The 23-year-old Wilson has been leaning on Walker as a mentor also.
Mack Wilson on Anthony Walker: "Awalk has been great for me. I'm sure he's going to be great for this organization…. I came back (to Cleveland) and we worked out. Ever since then we built a relationship. He's a leader I'm grateful to have him here."

— Nick Karns (@karnsies817) August 6, 2021
All of these changes are paying dividends on the field.
Mack Wilson INT pic.twitter.com/iWdWpTylEa

— Jake Trotter (@Jake_Trotter) August 3, 2021
Wilson Is A New Dad
His son is just days old, and Wilson could not be happier.
"It was a humbling experience for me just being able to see my girl go through all of that pain and stuff like that. It was crazy. I was mind-blown."
Congratulations to #Browns linebacker @5mackwilson1, who announced on Instagram his girlfriend, Kayla Williams, gave birth today to the couple's son, Mack Wilson II. "Knowing that I've got a little guy depending on me, my life has changed," Wilson told me last month. https://t.co/HlkEjRSHFD

— Nate Ulrich (@ByNateUlrich) August 4, 2021
This life change has spurred him to work harder.
"I was down. I wanted to quit at times, but I found a way to keep myself motivated to get through last season. This offseason I just had a lot of time to think. Finding out that I had a son on the way, it really motivated me to work extremely hard this offseason. That's what I did."
Wilson's growth personally and professionally is obvious in his demeanor with the media and his teammates.
It also is translating to success on the practice field which makes the Browns depth at the linebacker position even more fun to watch in 2021.