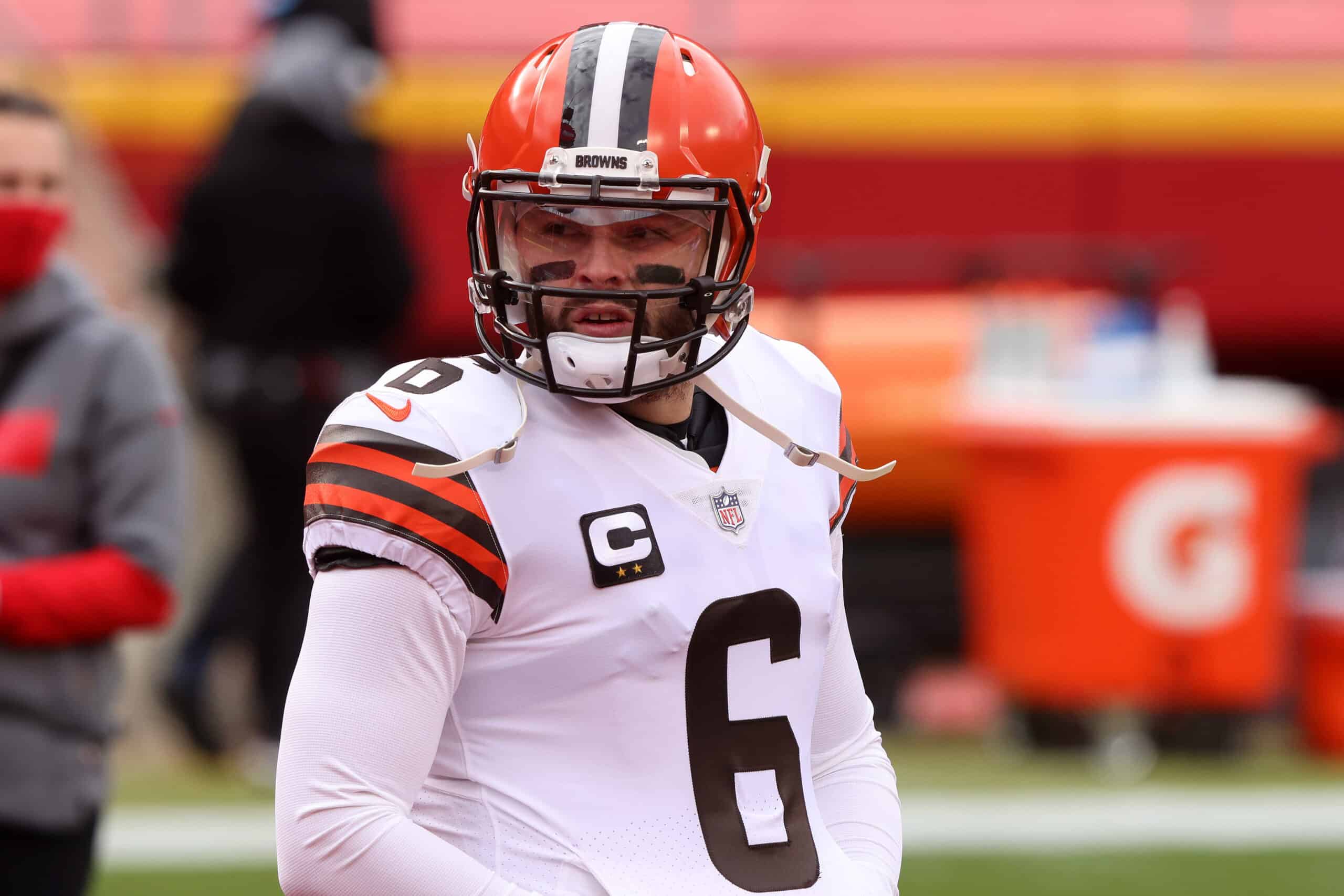 Josh Allen became the first quarterback from the 2018 NFL Draft class to sign an extension today.
Buffalo inked their star passer for 6 more years at a cost of $258 million, or $43 million per season.
They guaranteed an NFL record of $150 million to Allen, who made his first Pro Bowl in 2020.
Josh Allen has signed a 6-year contract extension worth $258 million, per @AdamSchefter

QB1 just got PAID 💰🤑 pic.twitter.com/vSaMsfIjNd

— PFF Fantasy Football (@PFF_Fantasy) August 6, 2021
Allen also led the Bills to an AFC Championship game, losing to the Kansas City Chiefs.
And of course, the first question on Cleveland Browns fans' minds is simple.
What does Josh Allen's contract mean for Baker Mayfield?
Josh Allen is the first QB from the 2018 draft to sign a long-term deal. Lamar Jackson and Baker Mayfield are next on line.

— Ari Meirov (@MySportsUpdate) August 6, 2021
Social media exploded with news of the big deal, and Browns Twitter quickly pondered Mayfield's next move.
Previous speculation that Mayfield would wait until next year faded into a debate on price tags and discounts.
But at the end of the day, what has changed in Mayfield's situation?
Is Mayfield Worth Allen's Price? 
Nothing sparks a fierce debate like a discussion of Baker Mayfield's quarterback ability.
The former number one overall draft pick sports a mixed array of statistical and visual evidence.
Allen ranks higher in most mainstream statistical categories, including top-5 in yards, touchdowns, and passer rating.
Mayfield finished above the upper half in most of those categories but excelled in more specific measures.
Let's talk facts….🤫 #Browns @bakermayfield 🦴🟠🟤⚪️🦴 pic.twitter.com/3WWQryZpM6

— BrownsUK🇬🇧 (@DawgPoundEast) August 6, 2021
Baker Backers point to his play-action and deep passing stats, among his stronger skills.
Fans also point out the adversity Mayfield had to overcome, specifically ever-changing coaches and game plans.
But results might decide whether Mayfield lands a contract close to the value of Allen's.
Waiting until next year in hopes of adding a deeper playoff run to his resume might pay off for Mayfield.
But for now, Allen's Championship Game appearance and 2 playoff seasons give him the edge.
Is Mayfield Worth Allen's Price to Cleveland? 
Here is the $268 million question for Andrew Berry and the Browns.
Most objective analysts believe Mayfield is better than his statistics and record reflect.
But few will say he is better than Allen, or the third of the "Big 3" from the 2018 draft, Lamar Jackson.
This is despite many similar or superior passing stats compiled by Mayfield.
Delivering on his promise to pull the Browns out of their dismal 1-31 funk has to be worth extra money, too.
Baker Mayfield has increased his income with endorsements Josh Allen hasn't had.

Baker idolizes Tom Brady who has never been paid his full value.

John Johnson took a discount

Nick Chubb took a discount.

Baker Mayfield will take a discount. pic.twitter.com/30TwC4Okhn

— Nick Karns (@karnsies817) August 6, 2021
Along the way, Mayfield has become synonymous with Cleveland football in a very positive way.
It is quite possible he will own several major franchise records by the end of this season.
And signing an extension all but assures he will set the remaining records before he leaves.
Last season's playoff victory over Pittsburgh breathed new life into the Cleveland football world.
How much value does that all of that add to Baker Mayfield's deal?
Does Mayfield's Timeline Change? 
Baker Mayfield told reporters several times he is not worried about signing a new deal yet.
He correctly points out the team has him locked up for two more seasons.
Berry also has the franchise tag to buy more time to renegotiate… but is that a good idea?
As long as the Browns keep making playoff appearances, it is probably a good idea for Mayfield.
Even with mediocre personal statistics, it is hard to justify short-changing a perennial playoff quarterback.
Which QB deserves the next monster contract extension?

🔁 Lamar Jackson
❤️ Baker Mayfield pic.twitter.com/k8ErnpGyo5

— PFF (@PFF) August 6, 2021
Repeat appearances will allay fears of a one-year wonder among Baker's detractors.
The Carson Wentz fiasco is still fresh in some minds, warranting a more cautious approach.
Mayfield will cost himself millions with a subpar, or non-playoff 2021 campaign.
But the confident passer always bets on himself and this is not likely to be different.
Unless Cleveland is ready to offer a top-dollar deal, each side will probably agree to wait on Mayfield's extension.
Does Mayfield's Price Tag Change? 
Allen's $43 million per season puts him right between Dak Prescott's $40 million and Patrick Mahomes' $45.
While it is not Mayfield's fault he plays on a run-first team, his statistics don't quite justify that price.
On the other hand, the extension is Cleveland's gamble that Mayfield will continue to do the job under changing circumstances.
There will be seasons when Mayfield won't be surrounded by 10 elite offensive players.
Baker Mayfield has just five less career wins than Josh Allen.

Mayfield has 1,400 more yards than Allen with 8 more touchdowns. They have identical completion percentages.

— Nick Pedone (@NickPedone12) August 6, 2021
Salary caps will rise, but possibly not to the level that Berry can pay 5 Pro Bowl linemen and top-notch skill players.
Kevin Stefanski promises a more explosive offense in 2021, and rumors of an altered passing attack abound.
Berry might let Mayfield prove he can carry an offense when needed, as opposed to relying on big plays.
But the team results will still drive the price more than anything else.
Even if Mayfield remains a barely above-average statistical passer, it does not mean he is easily replaceable.
Expect Mayfield to come in between $38-40 million per season, especially after another playoff appearance.
Other Factors For Mayfield To Consider 
If there is one factor that could derail a wait-and-sign strategy, it is the pending Lamar Jackson contract.
Jackson depends on his running to make him a formidable offensive threat, at the cost of his passing reputation.
Baltimore went out and built Jackson a top-notch receiving corps to prove people wrong.
Perhaps the Ravens believe this will justify a large deal they plan on offering their star.
Or perhaps both sides will wait until Jackson proves he can sit back and throw like a traditional QB.
Just a reminder Tweet that the #Browns dropped 28 points in the 1st quarter of a playoff game against the Steelers, in Heinz Field.

(This will NEVER get old) pic.twitter.com/t3uULKjMAr

— NOT The Same Old Browns Podcast 🎙 (@NOTSameBrowns) March 14, 2021
But a $43 million-per-season deal for Jackson all but assures $40 million for Mayfield.
While a short (4-year) deal for anything less sets a lower opening bar for Cleveland's negotiations.
Mayfield also has to worry about injuries if he puts off signing a guarantee-laden contract.
But he has not missed any games so far, and he knows he has an extra year to recover in a worst-case scenario.
My guess is that Mayfield will eventually sign for 6 years and $240 million, now or later.