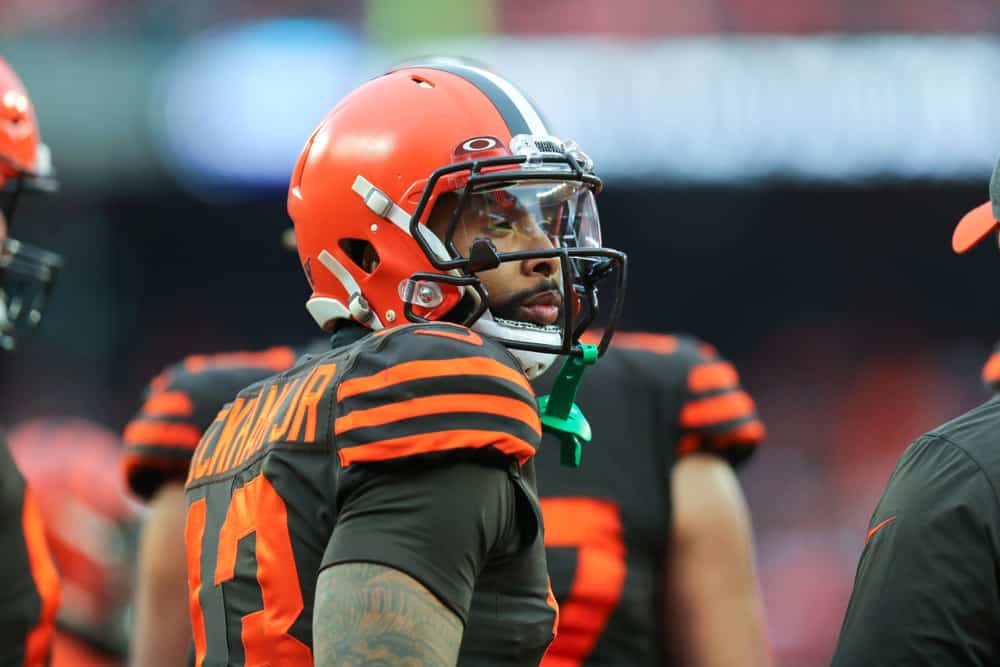 Timing is everything in life.
So it happened that the WSJ. Magazine published an article based on an interview with Odell Beckham Jr. of the Cleveland Browns this week.
In it, Beckham is quoted as questioning the NFL´s motives for playing the 2020 season during the Covid crisis.
"It´s obviously for their money. And that bothers me because there´s always been this- and I hate to say it like that- but the owners´ (attitude is), ´ Oh we own you guys´ and just that kind of unfairness going on that they don´t see us as human."
In case that left any doubt as to whether Beckham wanted to play, he ended the statement like this:
"I just feel the season shouldn´t happen and I´m prepared for it to not happen and I wouldn´t mind not having it.¨
Reporters immediately sought comment from Beckham once WSJ.com published the piece.
But they found the star receiver in the Browns facility, apparently content with the situation.
And as reported by Mary Kay Cabot, he has no plans to opt-out at this point.
Odell Beckham Jr. has no plans of opting out for 2020 despite his comments to the @WSJ, sources tell me. The interview was 2 weeks and he sees how safe the #Browns facility is now https://t.co/XOQpnCt8GP

— Mary Kay Cabot (@MaryKayCabot) August 3, 2020

Beckham´s statement that led to the WSJ Magazine article was recorded two weeks ago.
This was days before the NFLPA and NFL reported significant progress on a Covid plan for the players.
Most articles reporting his comments noted Beckham reported to camp on time before it came out.
Did Something Change Beckham´s Mind? 
Odell Beckham went through the full regimen of Covid testing upon reporting to Berea last week.
Now that he sees the ongoing effort to keep players safe, he feels more secure.
Head coach Kevin Stefanski talked about the Browns´ plan on a recent Zoom call with Browns media.
Kevin Stefanski said among some of the extra protocols to help prevent spread of COVID-19 are plans to split in half and workout on two teams—brown and orange—and not having in-person meetings until Aug. 9.

— Camryn Justice (@camijustice) July 30, 2020
He claimed the team is going above and beyond the recommendations of the NFL.
Stefanski cited split sessions and allowing players to go home instead of a hotel during the training sessions.
"I am optimistic,'' Stefanski said. "I believe in this bubble. You may say that we are not a bubble; I feel like I am in a bubble. Wearing a mask everywhere, staying away from everybody and here is my Kinexon, which blinks red when I am within six feet of people, it certainly feels that way.
But even Stefanski admits much of the responsibility lies with the players.
"We just have to make sure with that shared responsibility as (players) leave this bubble that you maintain and you follow the protocols."
#Browns HC Kevin Stefanski said 1st team meeting covered "shared responsibility" of avoiding COVID risks. Said he told his players, "One of the ways to be a good teammate is that when you leave this bubble and go into your bubble, you're making sound decisions."

— Aditi Kinkhabwala (@AKinkhabwala) July 30, 2020
Garrett Gilbert became the first Browns player to be placed on the Covid restriction list after clearing the initial screening.
Daily testing continues for two weeks and one of those repeat tests flagged the backup quarterback.
It shows no system outside of total isolation can completely protect the players.
But for now, Stefanski has Beckham convinced the 2020 season is playable.