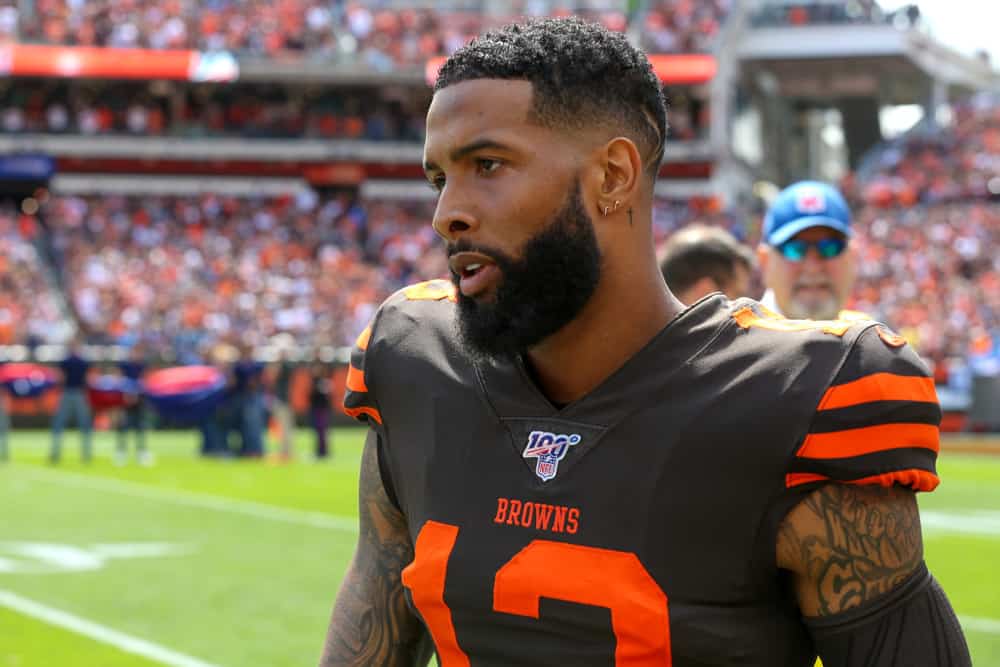 Cleveland Browns wide receiver Odell Beckham Jr. can't get out of his own way.
WSJ Magazine staff writer Lane Florsheim published a Q&A with Beckham on Monday, in which the star receiver said he doesn't think the 2020 NFL season should happen.
Here are Beckham's comments in full:
"That's how I feel. Obviously with everything that's going on, it doesn't make sense why we're trying to do this. I can understand basketball was already in the playoffs. Five-on-five basketball in an arena is going to be more intense than regular-season games. Hooping is different than playing an eleven-on-eleven contact sport where there's 80 people in a locker room. We're not ready for football season. So why are we trying to push forward? It's obviously for their money. And that bothers me because there's always been this—and I hate saying it like that—but the owners' [attitude is], Oh we own you guys, and just kind of that unfairness going on that they don't see us as human. I just feel like the season shouldn't happen and I'm prepared for it to not happen and I wouldn't mind not having it."
In Beckham's defense, the interview with Florsheim and the WSJ took place before the NFL-NFLPA agreement on July 24, which includes increased COVID-19 precautions.
However, Beckham's comments are absurd regardless of when the WSJ decided to publish the Q&A.
The NFL is notorious for figuring out how to play in the 11th hour.
It's unclear why the WSJ decided to publish Beckham's Q&A nearly two weeks after the initial interview because the NFL's circumstances changed.
Beckham, 27, also reported for training camp on July 28.
It appears he isn't opting out of the 2020 season, but the league has not set an opt-out deadline yet.
So far, Browns offensive linemen Drew Forbes and Drake Dorbeck are the only two players on the team to opt out of the 2020 season.
As of Monday night, three Browns players have been placed on the reserve/COVID-19 list: running back Dontrell Hilliard, safety Jovante Moffatt and punter Jamie Gillan.
Beckham is right that billions of dollars are at stake, but there is an important distinction to make about NFL owners: They own equity in a team, not the players they pay millions of dollars to each year.
OBJ is due to make an average salary of $18 million per year through the 2023 season.
If Beckham believes he's included in the group of players not considered "human" by owners, what should anyone who makes less than OBJ be considered? Pond scum?
Also, if Beckham was or is truly concerned about players' health pertaining to coronavirus, how does he explain his attendance at a pool party earlier this summer with dozens of people?
It's clear the video was below was taken this summer too because OBJ is sporting his blond hair again.
It's not the first time this offseason Beckham has spoken out about playing amid the pandemic.
In July, Beckham participated in a roundtable discussion called "The Bigger Picture" with New England Patriots quarterback Cam Newton, Atlanta Falcons running back Todd Gurley and former NFL wide receiver Victor Cruz.
Beckham has had an eventful offseason, which includes undergoing core muscle surgery and his downright strange behavior after LSU's victory over Clemson in the College Football Playoff title game.
Perhaps Beckham is more concerned about his personal brand after he seized his five-year, $90 million contract with the New York Giants in 2018.
Beckham has failed to understand what many athletes fail to realize: Their athletic excellence is their brand.
Despite many people's concerns about what the 2020 NFL season looks like amid the pandemic, the sportsbook BetOnline AG lists Super Bowl 55 as likely to happen on Feb. 7, 2021.
Will the Super Bowl take place on February 7th, 2021?
Yes: -200
No: +150
It means a $200 wager on "yes" would win $100, while a $100 wager on "no" would win $150.
The NFL could shorten its season, but it's likely on-field play will happen in some capacity.
Here are some facts and what Beckham should spend his energy focusing on:
For as many headlines as Beckham's production or lack thereof make, his teams have a 9-17 record in games where he has at least 100 yards receiving.
Beckham lost in his lone postseason appearance when the Giants suffered a 38-13 loss to the Green Bay Packers in January 2017.
The Browns haven't made the playoffs since the 2002 season, which is the longest active playoff drought in North American professional team sports (MLB, NBA, NFL and NHL).
The Browns will continue to employ Beckham as long as his on-field production exceeds any problems he brings to the table.
We'll see whether Beckham chooses to continue to toe that line.