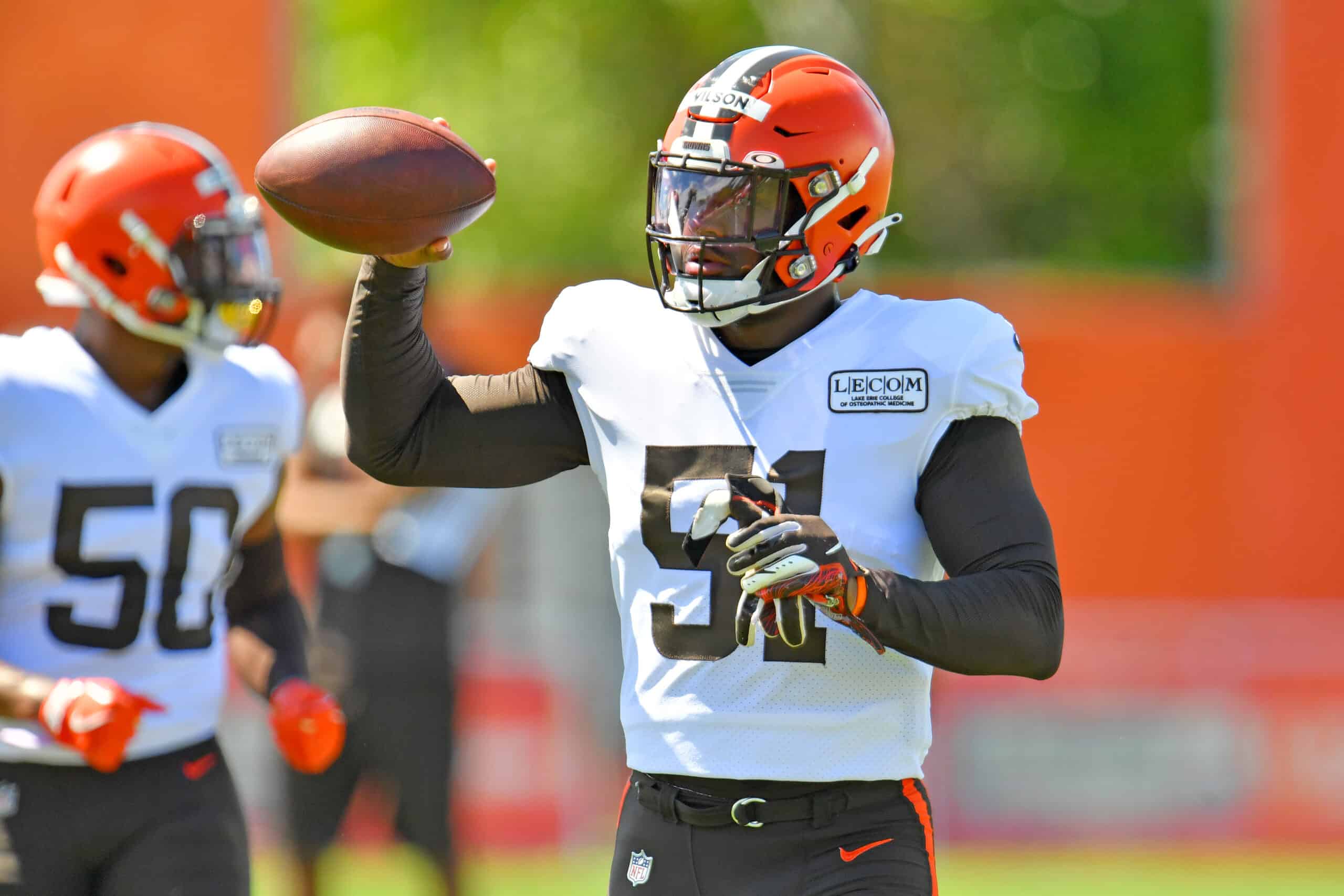 Five weeks into the regular season, fans and professional NFL analysts are watching reality play out.
And reality exposes some holes and some excesses that fuel the next round of armchair GM discussions.
With less than 3 weeks to go before the 2021 NFL Trade Deadline, Cleveland Browns social media is full of ideas.
.@TonyGrossi on OBJ trade talks and @Browns "I think they would listen, but I don't think they'd make calls." pic.twitter.com/pyWxnWOxbP

— ESPN Cleveland (@ESPNCleveland) October 13, 2021
Who wouldn't want Aaron Rodgers straight up for Baker Mayfield?
What team doesn't need Odell Beckham Jr, except, apparently, the Cleveland Browns?
Why not let Kareem Hunt start for another team?
But more than half of the NFL teams have just $5 million or less available under the salary cap.
Early NFL trade deadline buzz: Will Mack, Maye and Ertz get moved? Is Carolina still not done? Which teams are looking for upgrades? It's all in here. https://t.co/IhlhYk2JCU

— Jeremy Fowler (@JFowlerESPN) October 12, 2021
And some teams would rather promote a player familiar with their schemes than add a new candidate.
That's not to say there won't be moves made before the deadline.
And ESPN's Jeremy Fowler discusses some more realistic possibilities this week including Mack Wilson.
Team are still monitoring the Mack Wilson situation in Cleveland, and it is believed he could be dealt if the #Browns can find a deal they like, per Jeremy Fowler. pic.twitter.com/kRvsnspRyT

— MoreForYouCleveland (@MoreForYou_CLE) October 12, 2021
Fowler Says Feelers Still Out on Mack Wilson 
Mack Wilson was the subject of trade rumors as the preseason wound down.
He was a prime candidate to be the odd man out in a crowded linebacker room.
But Wilson made the roster, and that allowed Cleveland to ease Jeremiah Owusu-Koramoah into the mix.
And now Owusu-Koramoah is officially a starter, moving ahead of Wilson on the Week 6 depth chart.
#Browns unofficial depth chart against the Cardinals. LB Jeremiah Owusu-Koramoah moves ahead of Mack Wilson as the starter at WILL. pic.twitter.com/C9U4CtZOHI

— Camryn Justice (@camijustice) October 12, 2021
Wilson can't expect much more than the handful of snaps he's gotten recently.
But memories of his rookie season and a solid preseason effort piqued the curiosity of several teams.
Most believe injuries played a role in his subpar 2020 season and see him as a potential contributor elsewhere.
Andrew Berry can do right by Wilson and garner another 2022 draft pick in the coming weeks.
Can Andrew Billings Be Shopped? 
Andrew Billings signed as a free agent before the 2020 season.
He opted out with Covid concerns, but said all the right things before camp and showed up as strong as ever.
But he hasn't done much of anything on the field for the Browns.
Billings was expected to start opposite free-agent addition, Malik Jackson.
#Browns DT Andrew Billings has played only 43 defensive snaps this season.

— Brad Stainbrook (@BrownsByBrad) October 13, 2021
But he is now firmly behind the surprising Malik McDowell and the developing Jordan Elliott.
Cleveland expects good things from rookie Tommy Togiai, too.
And there is a reason they keep protecting veteran Sheldon Day on the practice squad.
If Billings sees more snaps this week, it might be only to showcase him for potential suitors.
Trades That Won't Happen Despite Rumors
Odell Beckham Jr's dismal statistics don't match his ability, to be certain.
And if Andrew Berry is blown away by an offer, there is always a chance he'll take it.
But OBJ helps the offense move, and his 2021 salary makes him difficult to trade.
There is lots of outside talk about trading David Njoku, probably based on his pending free agent status.
Baker Mayfield threw for over 300 yards today. Odell Beckham had 20 yards. 20! Just trade him. Browns don't need him, Baker doesn't target him.

— Michael Fabiano (@Michael_Fabiano) October 10, 2021
But he is arguably the best of 3 tight ends on a team that uses 3 tight ends a lot, so this makes no sense.
It is more likely the Browns take advantage of Njoku's interest in re-signing with the team.
Kareem Hunt is a former rushing champion perfectly content with a backup role in his hometown.
Despite outside calls to cash in on his trade value, there is no interest in Cleveland to do so.