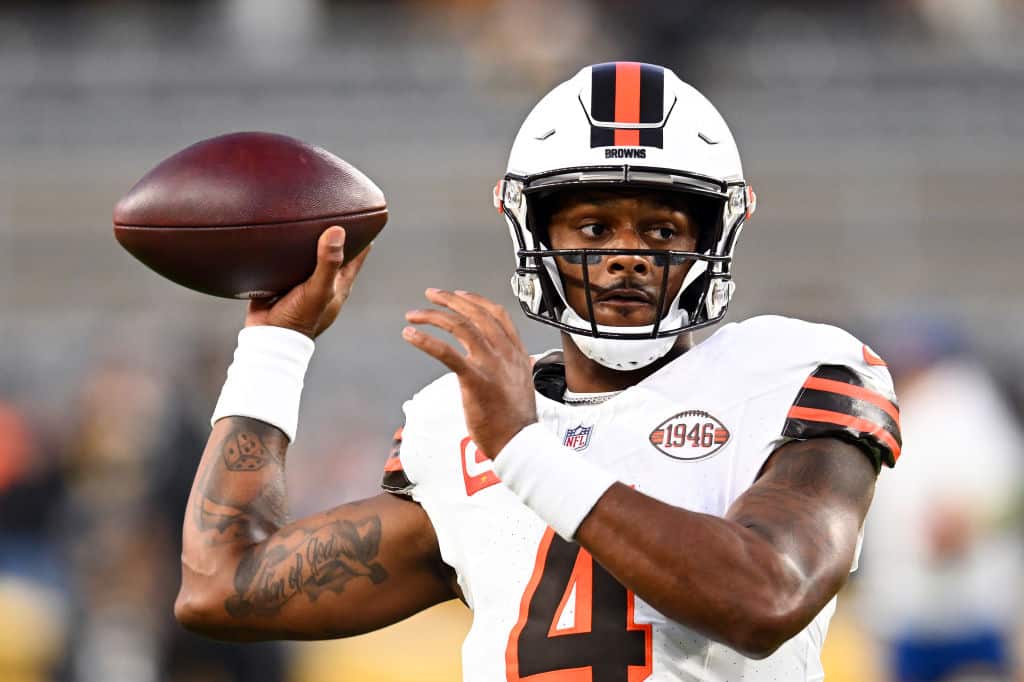 If you tuned into Monday Night Football's doubleheader to see some quality quarterback play, you were disappointed.
Carolina Rookie Bryce Young scrapped his way to a 60.7 QBR, while Derek Carr fought his way to a 37.8 rating.
And they were absolutely stellar compared to the Cleveland Browns and Pittsburgh Steelers' passers.
As noted by Brad Stainbrook, Deshaun Watson barely beat Kenny Pickett to avoid the worst QBR of the weekend.
#Browns QB Deshaun Watson ranked 30th in QBR week 2. Kenny Pickett ranked 32nd.

— Brad Stainbrook (@StainbrookNFL) September 19, 2023
Watson's QBR of 16.5 reflects his overall impact on the game, including fumbles, runs, and overall success.
Cleveland's defense held Pickett to an equally miserable 12.3 mark on the 1-100 scale.
But Pittsburgh's young passer got the best of Watson when it comes to passer rating.
Passer rating is the NFL's official scale, and Watson limped to a 70.3 rating compared to Pickett's 71.8.
Whichever scale you prefer to utilize, Watson failed to make the grade.
Cleveland's franchise quarterback was off-kilter all night long.
There were plenty of emotional blows to the Browns' offensive leader.
Miscommunication or a bad throw led to a gut punch in the form of a pick-6 on the game's first play.
QB off-target rate (overthrows/underthrows, not including spikes/throwaways) rankings through 2 games:
1. Dak (8.1%)
28. Richardson (21.7%)
29. B. Young (21.9%)
30. Pickett (22.2%)
31. Love (23.1%)
32. Watson (27.6%)

— Jake Trotter (@Jake_Trotter) September 19, 2023
But it was Nick Chubb's tragic and grotesque knee injury that took any remaining life out of the offense.
Pittsburgh's defense played angry, determined to erase a poor showing in Week 1.
They regained their status as a game-changing unit with a brutal assault on the Browns quarterback.
And Watson was not up for the challenge they presented.