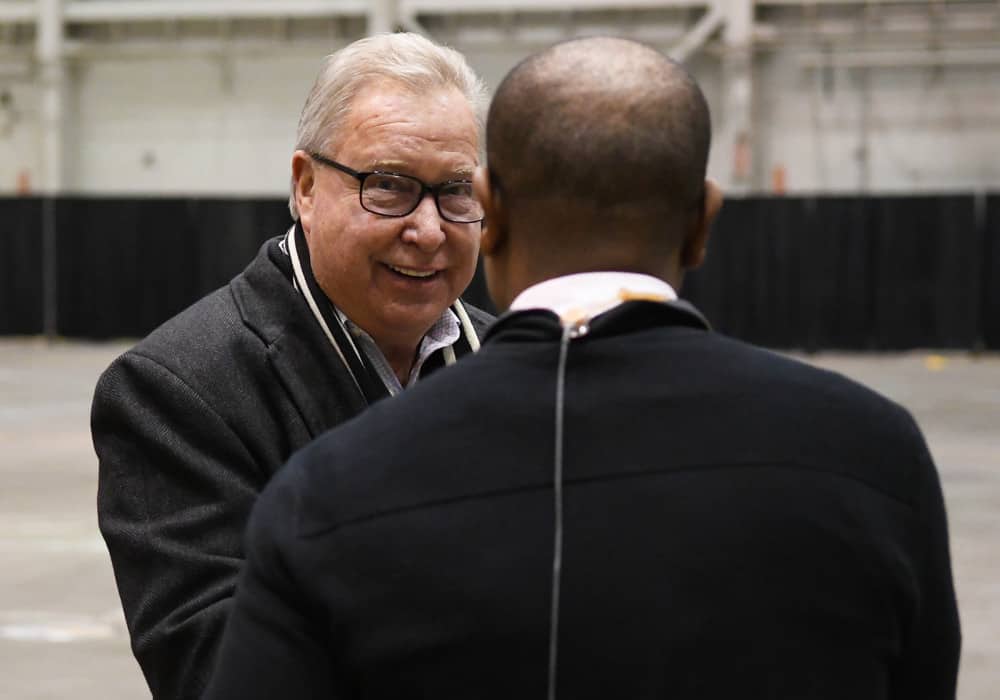 Former Philadelphia Eagles QB and current broadcaster Ron Jaworski joined the Bull & Fox Show to talk about the Cleveland Browns.
He had plenty of things to talk about with the Browns, including the organizational changes that have taken place.
Here are the highlights:
1. Reaction To The Browns Loss To The Raiders
Jaws remarked that the time of possession was particularly significant in the game given the weather conditions.
The Raiders managed to control the clock and the ball for 38 minutes of the game.
Making key 3rd and 4th down conversions was a big part of their success.
Every element of the game was affected by the gusting 50 mile per hour winds.
Jaws felt Baker played well enough to win the game but was hurt by dropped balls.
Most notably, Jarvis Landry had 3, and David Njoku had 1.
He commented that the first game after a significant weather change always results in drops; he never understood why, but he has seen it firsthand.
#Browns HC Kevin Stefanski on loss to Raiders: "I don't think it was a lack of focus. The guys were ready to play. They did have a good week of preparation. We got beat. I can't tell you it was a lack of focus that led to some of those things."

— Keith Britton (@KeithBritton86) November 2, 2020
2. Evaluation of Kevin Stefanski's Performance
Coach Stefanski was born in Philadelphia so not surprisingly Jaws has known him for many years.
Jaws also mentioned he knows his father.
He believes Stefanski has a lot to do with how different the Browns organization looks in 2020.
Jaws said the Browns look professional, organized, and definitely appear to be going in the right direction.
"You have to BELIEVE! I believe in the men in this room."

Kevin Stefanski speaks to the team following our win over the Bengals ⤵️ pic.twitter.com/B93DV7vQYw

— Cleveland Browns (@Browns) October 26, 2020
Regarding Stefanski's game plan for the Raiders, Jaws did say that it was the coach's first time dealing with weather.
While he is certain that Stefanski had two game plans; a regular one and an alternate if the weather became an issue, he said Stefanski now has bad weather experience under his belt and will learn from it also.
3. Belief in Baker Mayfield
Jaws thinks Baker hasn't arrived as the franchise quarterback yet, but he is ascending.
He believes if Baker listens and learns in Stefanski's system, he will continue to get better.
Jaws noted a maturity about Baker this year; the usual distractions and noise that surrounded him other seasons are not there.
Baker Mayfield through 7 games in 2019:

132-227 (58.1%) – 1,690 yards – 6 TD – 12 INT

Baker Mayfield through 7 games in 2020:

125-198 (63.1%) – 1,392 yards – 15 TD – 7 INT #Browns

— Hayden Grove (@H_Grove) October 25, 2020
4. Opinion on Nick Chubb/Kareem Hunt
While Kareem Hunt is playing well, Jaws believes the Browns are certainly missing Nick Chubb's presence on the field.
He is explosive and powerful.
Chubb is one of the best in the league.
#Browns Kevin Stefanski said it's a possibility that Nick Chubb returns after the bye.

— Camryn Justice (@camijustice) October 28, 2020
5. The OBJ Discussion
I dont buy the theory bakers better without OBJ. I believe Odell would have had a monster game sunday. And feasted on the bungals. #Browns

— Koka33 #D4L (@Fiainkoka) October 28, 2020
Jaws isn't buying the argument that Baker Mayfield is a better quarterback when Odell Beckham Jr. is not on the field.
He believes coaches put the best players on the field to maximize the offense's success.
Jaws cautions people that stats can be misleading.
The level of competition and defensive schemes are not factored into those stats.
He does express concern for OBJ's persistent injuries.
While OBJ is an incredible talent, his injuries have been often and serious.
Adding to that, Jaws notes that the average length of a NFL player's career is 3.1 years.
The game is difficult physically, and some players are more injury-prone than others.