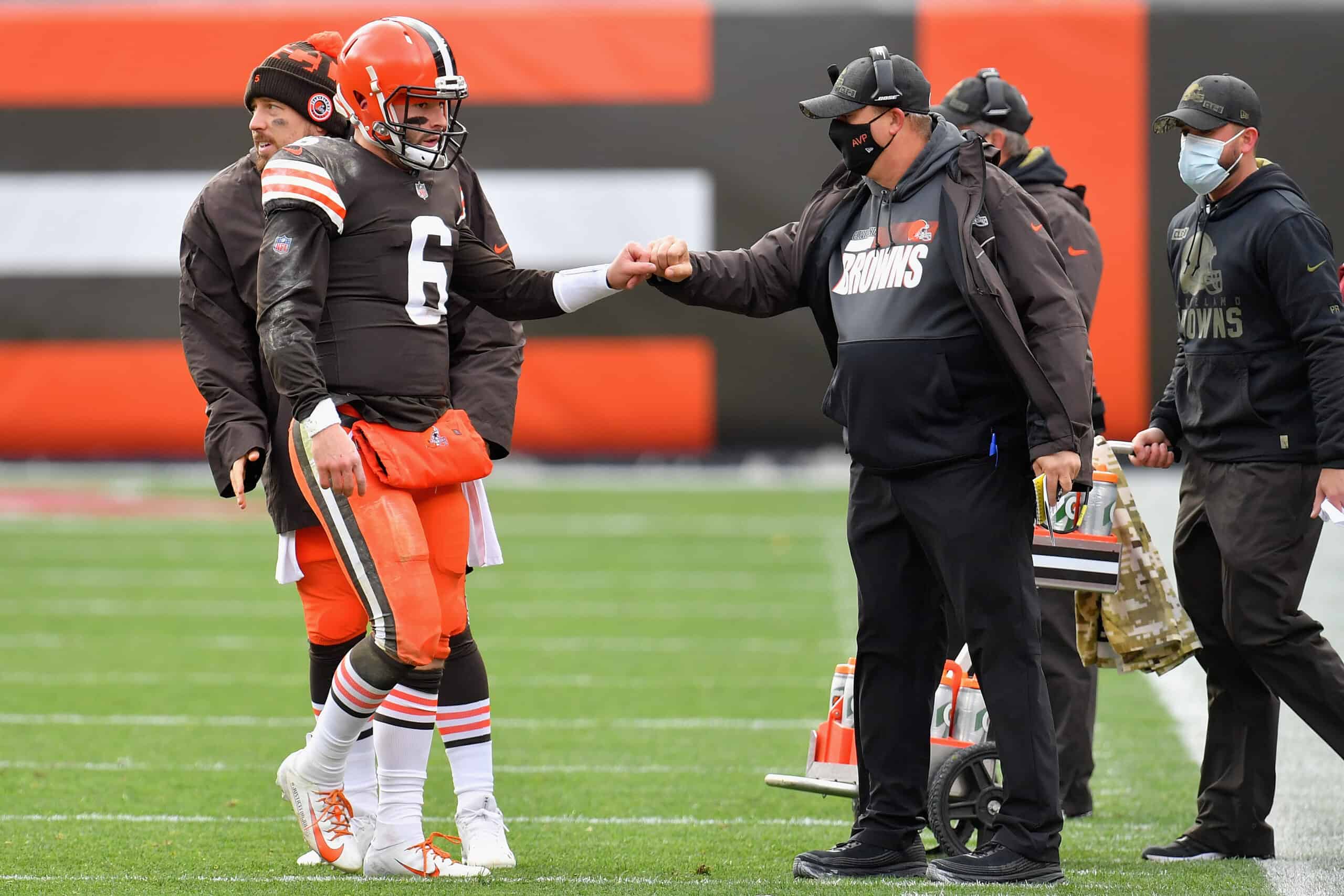 Cleveland Browns Coach Kevin Stefanski has many decisions to make.
While this goes without saying for any NFL coach, Stefanski may have an added dilemma most of his peers do not have.
Should he retain play calling duties in 2021?
Or should he turn over play calling to offensive coordinator Alex Van Pelt?
He should turn over play calling to Van Pelt, and here are the reasons why.
1. That Was The Tentative Plan In 2020
If you recall, Stefanski only retained play calling duties because there was no preseason for Van Pelt to take the reins and see how it went.
Van Pelt is not a rookie; he has been in the college ranks and around the NFL for years.
It is also his second year with the Browns so he had time to work with the offense last season.
He will be able to spend more in depth time with the players at training camp and during the preseason.
Some of that time was lost last year because of COVID-19.
Van Pelt now has the time and experience to work on play calling before the 2021 regular season kicks off in September.
2. He Did Well In His Trial Run
Was there ever a more high profile time to immerse a person into play calling than the first weekend of the playoffs?
Stefanski on Alex Van Pelt calling plays: "AVP has been a huge part of our offensive success, a huge part of play-calling. … He knows the things we believe in. How we play. … I have a ton of confidence in AVP's ability to get the job done." pic.twitter.com/eoEleA4BIq

— Jake Trotter (@Jake_Trotter) January 6, 2021
That happened to Van Pelt last season because Stefanski contracted COVID-19 and had to watch the Browns wildcard game at Pittsburgh from home.
Van Pelt handled the situation well; some would argue he called a better game than Stefanski might have.
Really impressed by the Alex Van Pelt's play calling in this game. As a first-time play caller, he's been smart, calculating and fearless. This is a great resume builder for my former teammate #CLEvsPIT

— Bucky Brooks (@BuckyBrooks) January 11, 2021
#Browns HC Kevin Stefanski on OC Alex Van Pelt's play-calling last night: "Alex was absolutely outstanding last night. He just was dialing them up, great call after great call and the guys were excusing. Not surprised, but really proud of him."

— Keith Britton (@KeithBritton86) January 11, 2021
3. New Spin On The Offense
No one is implying that Stefanski will not have his fingerprints on the offensive playbook if he delegates play calling to Van Pelt.
It would likely be a collaborative effort, and potentially some scripting of plays would be involved at the beginning of games that would have Stefanski's buy-in.
However, it could freshen up an already powerful offense in the sense that opposing teams (especially in Week 1 at Kansas City) may not know completely what to expect because of the new play caller.
It could be a potential competitive advantage.
Conclusion
Coach Stefanski has plenty of work to do.
Being an NFL head coach is a demanding job that requires 24/7 attention during the season.
That is without the play calling duties factored in.
Stefanski has 29 people working for him in coaching, coordinating, or strength and conditioning capacities.
Managing all of those people, keeping the team focused, and establishing priorities and fostering the discipline to work at them are time consuming tasks.
It would be like the CEO of a corporation also acting as the Vice President of Marketing.
It is possible to wear both hats, but it may not be the best use of his time.
We won't have to wait until Week 1 to find out who the play caller is; it is likely we will see the person entrenched in the job during the preseason games.