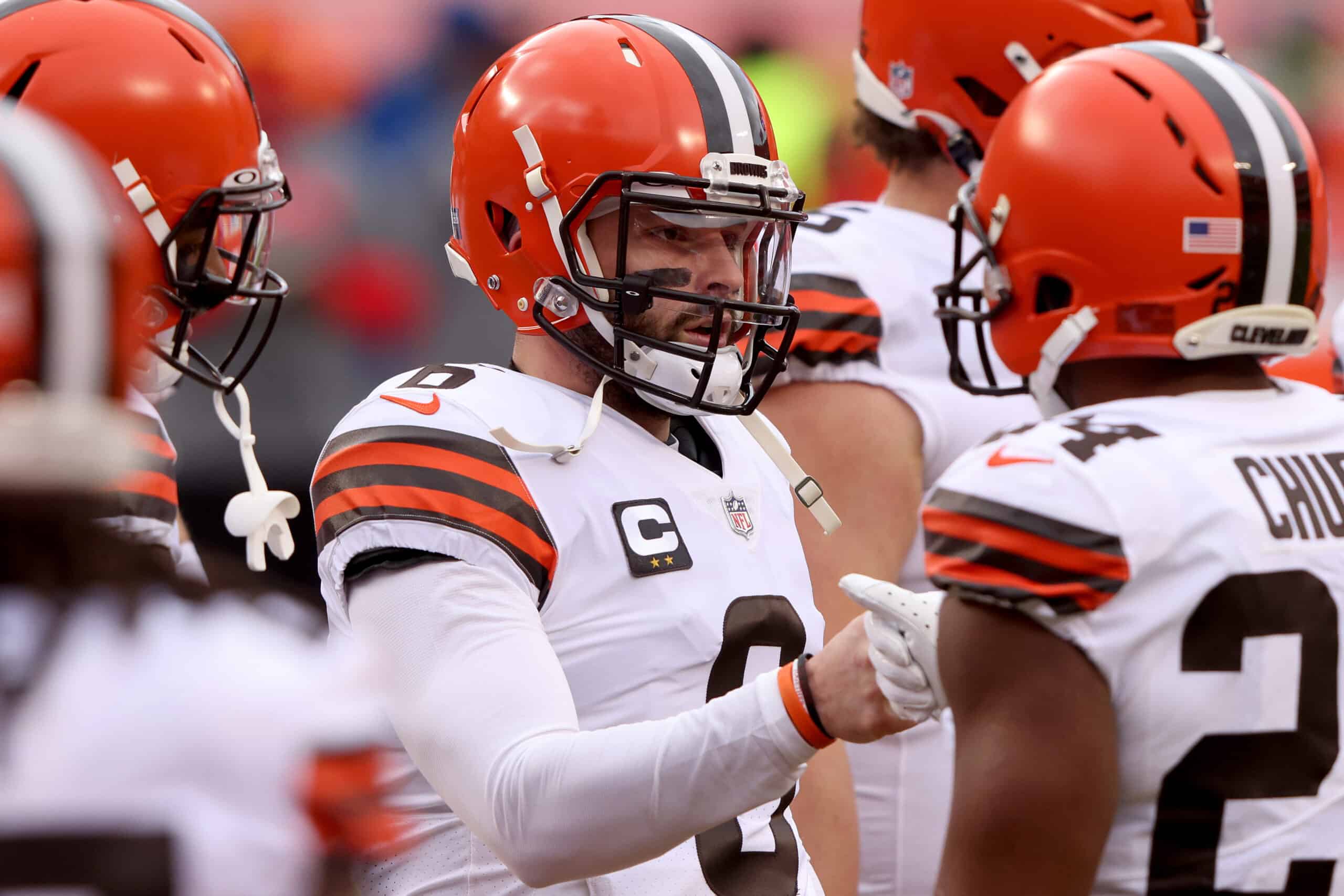 The return of preseason football in the NFL means the regular season is right around the corner.
Even though the results of the preseason don't matter, there are means to an end.
Guys are competing for roster spots, others are getting back into game shape, etc.
Some players omit the preseason entirely, whether that be because of experience or injuries.
Cleveland Browns head coach Kevin Stefanski has already announced that Baker Mayfield will not appear in Saturday's contest with Jacksonville.
#Browns are ruling QB Baker Mayfield OUT for the #Jaguars pre-season game. Won't play him.

— Dov Kleiman (@NFL_DovKleiman) August 11, 2021
That begs the question, should Cleveland's starting quarterback even touch the field during preseason?
Put Him in Bubble Wrap
Even though it's just the preseason, injuries can still happen.
They aren't always just bumps and bruises either.
Odell Beckham Jr. ended up missing 12 games in 2017 after a nasty ankle injury that preseason with the Giants.
That fear of injury would be the primary reason Mayfield doesn't sniff the gridiron until the regular season kicks off.
Cleveland has been searching for a franchise quarterback for as long as I've been alive.
Seriously.
It's easy to see the organization is interested in keeping him injury-free in games that don't count.
While that decision may get mixed reactions from fans wanting to see him back in action, patience is what should be preached.
Myles Garrett walked off the practice field earlier this week with a hamstring concern.
DE Myles Garrett (hamstring) won't practice today. Considered day to day and not considered serious.

— Andrew Gribble (@Andrew_Gribble) August 10, 2021
As the tweet mentions, it's not believed to be a serious issue.
Yet, the top reply under that tweet is one asking the Browns to shut Garrett down until Week One.
The organization and their fans all know this team has a chance to be special in 2021.
Both Garrett and Mayfield will be huge components of that success.
Keeping them healthy, even if it means having them skip all three preseason games, may be in Cleveland's best interest.
Lace 'Em Up!
On the other side of the coin, Mayfield is still a young, developing quarterback.
He took huge strides in the right direction throughout last season.
There's no debate to that.
However, he still may not be in that "elite" category.
Will playing in the preseason help get him into that "elite" group?
Absolutely not.
If he misses the entire preseason and stinks when the real thing starts, the eyebrows will start to raise.
Ultimately, this Browns team hasn't accomplished anything close to their goal yet.
Not to be mistaken, last year was a tremendous campaign for the brown and orange.
A playoff berth and victory over the Steelers was something to celebrate.
It doesn't need to be forgotten entirely, but expectations go beyond a Divisional Round appearance this season.
If the Browns are to get to where they want to go, Baker must be great.
Part of being great, as we've seen with the likes of Tom Brady and others, means putting in the work even after success.
Working out some kinks and rust during the preseason could be beneficial for the 26-year-old Mayfield.
So, Will He Play?
Stefanski hasn't given an answer on whether we will see Mayfield in action before the regular season or not.
If one must assume, it's very possible Mayfield sits the entire preseason.
But, if Mayfield is subpar to start the season, expect some retroactive pushback from some fans on this decision.