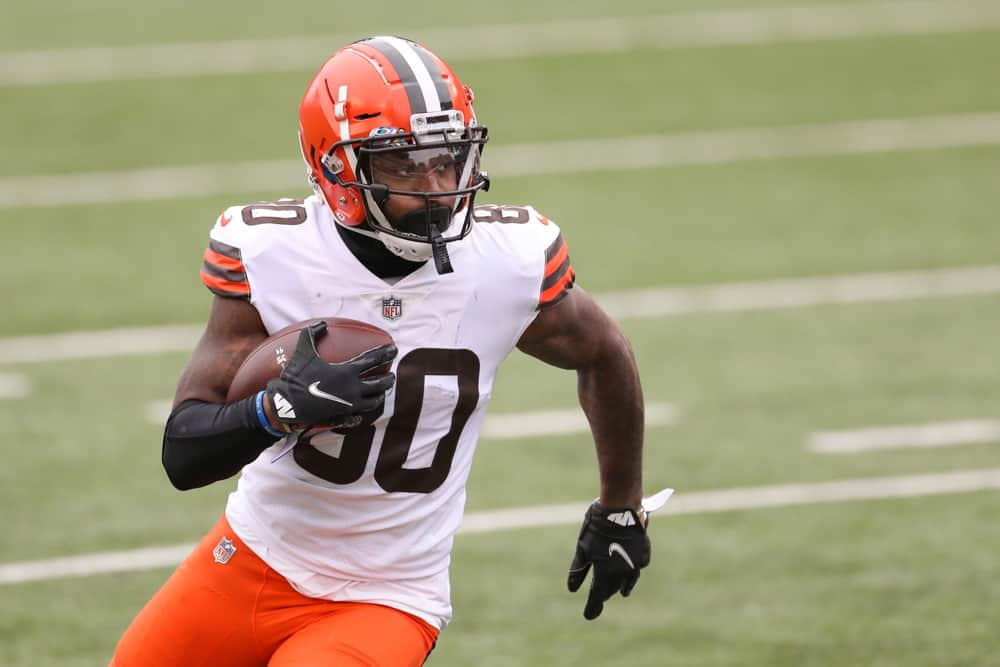 Before Odell Beckham came to the Cleveland Browns, there was Jarvis Landry.
Miami sent a disgruntled Landry to Cleveland in 2018 for a fourth- and seventh-round draft pick.
The Dolphins franchise-tagged their slot receiver after he picked up 112 catches on a whopping 162 targets.
Two years earlier, Landry snagged 110 passes.
The Jarvis Landry debates have taken over Browns Twitter.

Today Andrew Berry spoke glowingly about the impact Jarvis Landry made on and off the field.

Funny how many dismiss the value of a culture Jarvis has helped build, but Berry himself acknowledges its importance. pic.twitter.com/yrQ4IFNQS3

— Nick Karns (@karnsies817) January 20, 2021
He came to the Browns with a one-year, $16 million deal put together just a week before the trade.
Cleveland wasted no time locking up their new star with a five-year, $75.5 million contract.
Landry hasn't matched his productivity of those two banner seasons in Florida.
But he is the leader of the Browns receiving corps, coming up clutch more times than fans can remember.
Beckham's arrival might have knocked Landry from the headlines in Cleveland.
But it did not affect Landry's status or importance in the Browns offense.
With Beckham coming off another serious injury and a roster depleted of receivers, should the Browns extend Jarvis Landry this offseason?
The On-Field Argument For An Extension
Statistics offer important data, but rarely the whole picture.
Landry sports some fine numbers, averaging just about 1,000 receiving yards per season with Cleveland.
Only 840 of those yards came in 2020, with one 100-yard game and a scant 3 receiving touchdowns.
But Landry played in considerable pain most of the season, often needing assistance to get off the field.
And the only reason he missed a game was that he was named a close contact of a Covid-positive player.
#Browns GM Andrew Berry had high praise for Jarvis Landry. pic.twitter.com/EAYXUkT7CL

— Camryn Justice (@camijustice) January 20, 2021
Landry brings more to the Browns than a traditional receiver.
Kevin Stefanski won't hesitate to use his wideout as a passer and a runner at any moment.
In 2020, Landry was a perfect 4-for-4 passing with a touchdown and he ran for a score in the Week 17 victory over Pittsburgh.
Moreover, he is a steadying presence in the huddle, while adeptly deferring the leadership title to Baker Mayfield.
With Beckham's status uncertain, Landry could be the only veteran presence in the wide receiver room.
And that presence will help maintain Mayfield's and the offense's upward trajectory.
The Off-Field Argument Against An Extension
NFL teams face a significantly-lowered salary cap in the post-Covid 2021 season.
Cleveland is in better shape than most, but they still have some challenges.
Multiple players are extension-eligible this year or next, with most of them younger than Landry.
Baker Mayfield, Nick Chubb, Wyatt Teller, and Denzel Ward are among the priority signings ahead.
Donovan Peoples-Jones could be the steal of the 2020 draft, possibly capable of leading the receiving corps down the road.
#Browns avg. yards per route run among 112 WRs with qualifying snaps in 2020:

Jarvis Landry – 2.11 (17th)
Rashard Higgins – 2.04 (23rd) pic.twitter.com/8Hz36otgRy

— PFF CLE Browns (@PFF_Browns) January 20, 2021
And there are two more talent-laden drafts and free-agent classes on deck before Landry's contract ends.
Landry is set to earn a reasonable salary with a minimal dead cap hit of $3 million this year and $1.5 in 2022.
If Cleveland could count on a healthy Beckham next season, it makes more sense to cut Landry.
Extending Landry makes no financial sense unless he agrees to a salary reduction in his remaining two seasons.
And those types of negotiations can quickly temper the mood of a player and a locker room.
Berry and Paul DePodesta should not risk reversing the improved culture and chemistry of the Cleveland Browns.
Unless Landry volunteers to take a pay cut, pay the man as scheduled, and revisit the situation next season.