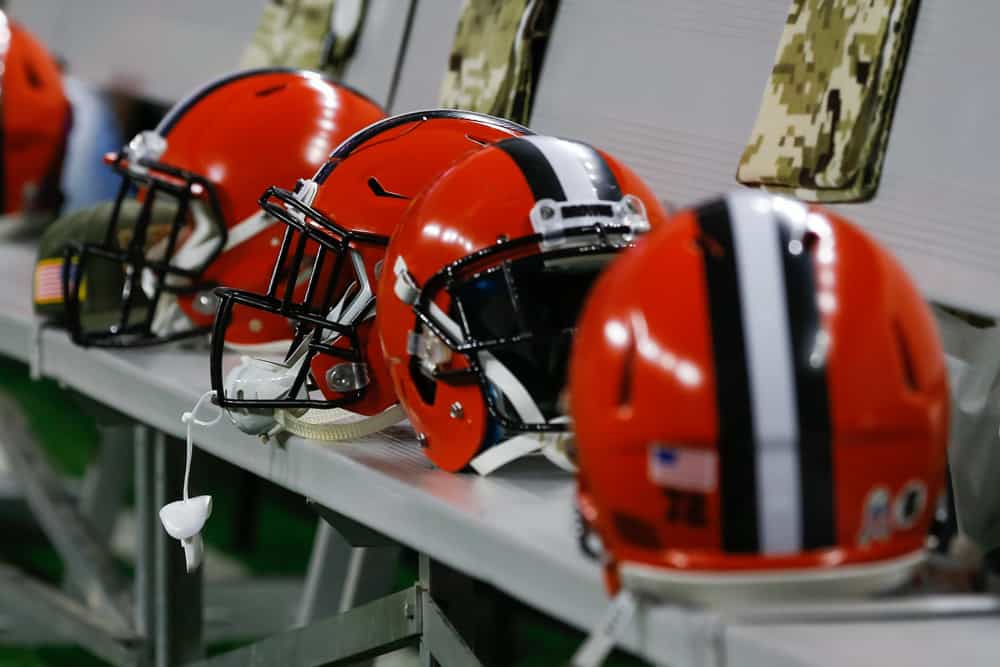 The Cleveland Browns finished an outstanding 2020 season that certainly exceeded the expectations of most.
With a taste of the playoffs, the challenge will now be to improve the roster to continue to compete at high levels and advance further into the playoffs in 2021.
Figuring out the 2021 roster will be a tricky task given the slew of free agents that GM Andrew Berry and Coach Kevin Stefanski will have to figure out how to manage.
With all of that being said, here are three players who are likely not to be Browns in 2021.
1. Andrew Sendejo, Safety
Sendejo is a free agent.
He is 33 years old and has ties to Stefanski from the Minnesota days.
Sendejo wasn't expected to see as much playing time as he did.
Rookie Grant Delpit tore his Achilles in training camp; he was the likely starter.
Assuming he recuperates well, Delpit at safety in 2021 will be a definite upgrade.
Best passer rating allowed when targeted, defenders:
1. Xavien Howard – 46.1
2. L'Jarius Sneed – 47.2
3. Bryce Callahan – 47.8
4. Robert Spillane – 51.4

Worst:
1. Chris Claybrooks – 146.6
2. Antoine Winfield Jr. – 146.1
3. Andrew Sendejo – 145.5
4. Ashtyn Davis – 142.2

— ProFootballReference (@pfref) December 27, 2020
To his credit, Delpit is working hard on his rehab and is looking forward to the 2021 season.
"Injuries can happen to anybody. Look at Odell, look around the league. Guys work as hard as they can all season, but it can just happen to anybody…It really opened my eyes to not take the game for granted. It can be taken away at any time … I took a lot of things for granted, just like walking, the simplest things like that. I definitely have a newfound respect for those things and I just can't wait to get back on the field."
2. Olivier Vernon, Defensive End
Vernon ruptured his Achilles in the Steelers Week 17 game so he never took the field for the playoffs.
From The Aftermath: #Browns pass-rusher Olivier Vernon tore his Achilles and will have surgery. His postseason is over. pic.twitter.com/Pfq7MilQKL

— Ian Rapoport (@RapSheet) January 4, 2021
The 30 year old free agent is now facing at least an eight month rehabilitation period so it puts into question his availability for the start of the 2021 season.
GM Andrew Berry has been noncommittal about Vernon's future in Cleveland.
#Browns GM Andrew Berry said he talked to Olivier Vernon yesterday, heartbroken for him b/c didn't get to play in postseason after suffering ruptured Achilles, added we'll see how it goes when asked whether they would consider re-signing him upon comeback

— Nate Ulrich (@ByNateUlrich) January 20, 2021
Vernon did come on strong in the second half of the season, but there have been questions about his future all season especially when the Browns were considered to be in the Jadeveon Clowney lottery last summer.
3. Larry Ogunjobi, Defensive Tackle
Ogunjobi is a free agent.
At 26 years of age, he has played for the Browns for all 4 seasons of his NFL career.
Though he has been consistent over the years, 2020 was an off year for him.
He had 35 solo tackles in 2019 but only 23 in 2020.
So the question becomes, now that his rookie contract is expired, what is he worth?
Sportrac estimates his market value at $9.3 million.
He made $2.1 million in 2020.
Ogunjobi senses the gravity of the decision for the Browns and is unsure what will happen.
"Your normal emotions, you want to be like feeling a certain type of way, that's just human nature. Uncertainty kind of brings that.  But at the same time, I feel like you can look at uncertainty with optimism. You just never know where you could be, how good it could be for you. I feel like the hard work and dedication and the grind, it's going to all take care of itself."
It will be interesting to see how the Browns handle all of these roster decisions during this offseason.