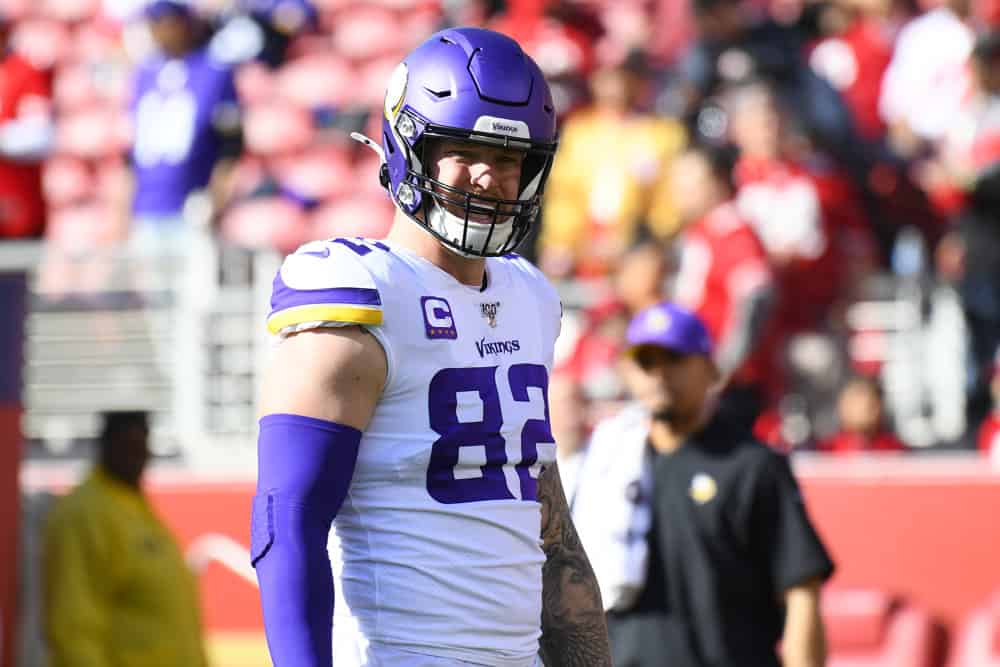 Football players with the last name "Rudolph" haven't been too popular in Cleveland lately.
A recently made-available guy with that same last name could potentially change that sentiment in northeast Ohio.
Kyle Rudolph, the long-time Minnesota Vikings tight end, was released Tuesday by the organization.
Vikings released veteran TE Kyle Rudolph.

— Adam Schefter (@AdamSchefter) March 2, 2021
After a decade in the purple and gold, Rudolph's time in Minneapolis is done.
One connection he made during his decade in Minnesota was Kevin Stefanski.
The two spent the 2011 through the 2019 seasons together with the Vikings.
Mary Kay Cabot of cleveland.com reports that Rudolph "would love to play for Stefanski" according to a source.
Could the long-time Viking make a career resurgence with the Cleveland Browns?

Fitting on the Roster
The Browns tight end situation has been an interesting one in recent years.
After being taken late in the first round in the 2017 draft, many thought Njoku would be the Browns premiere option at the position long-term.
That hasn't panned out for a number of reasons, durability and inconsistency among them.
Austin Hooper was brought in as a free agent last year and, despite some drop issues at times, pieced together a solid season.
In all likelihood, Njoku and the Browns will part ways this offseason.
Njoku's $6.013M fifth-year option isn't fully guaranteed, the last offseason that will be the case

Imagine Cleveland is looking to shop him, but if no suitors emerge, may move on ($0 dead cap) with Austin Hooper and rookie Harrison Bryant in the fold https://t.co/m7plAFo4xj

— Brad Spielberger (@PFF_Brad) February 27, 2021
His fifth year option , worth just over $6 million, is not guaranteed until March 17th.
That's the first day of the league year.
So, the Browns have about two weeks to make a decision on Njoku.
He hasn't sounded like a guy that wants to stick around Cleveland, and reportedly requested a trade from the Browns last season.
#Browns TE David Njoku doubles down on trade request.

He still wants to be traded by the November 3rd deadline, per MKC. pic.twitter.com/D3a6ja624B

— MoreForYouCleveland (@MoreForYou_CLE) October 19, 2020
With the culture change going as well as it has in Cleveland, the Browns would be better off without him at this point.
As much raw ability as Njoku has, he simply hasn't put it all together at the NFL level.
Rudolph is a professional in the truest sense and has contributed at a high level.
He's not in the same tier as a Zach Ertz or a Travis Kelce, but he doesn't need to be that type of guy in Cleveland.

Rudolph's Role
With Austin Hooper still on top of the depth chart, Rudolph wouldn't be tasked with playing a majority of the snaps.
He's always been a reliable pass catcher and is a formidable blocker.
If Hooper needs to take a couple snaps off, Rudolph is the perfect plug-and-play guy.
Harrison Bryant played that role well last season, and would still be available as another option.
Andrew Berry has plenty of cap space to work with this offseason, so Rudolph may well be worth signing.
He's a familiar face to the head coach and a respected veteran.
With Njoku, it seemed like every week there was a new report surfacing about him being unhappy or wanting out of Cleveland.
Whether those stories were exaggerated or not, they became bothersome over the course of the year.
Rudolph didn't produce those kinds of headlines in Minnesota, and I wouldn't expect him to start doing so with the Browns.