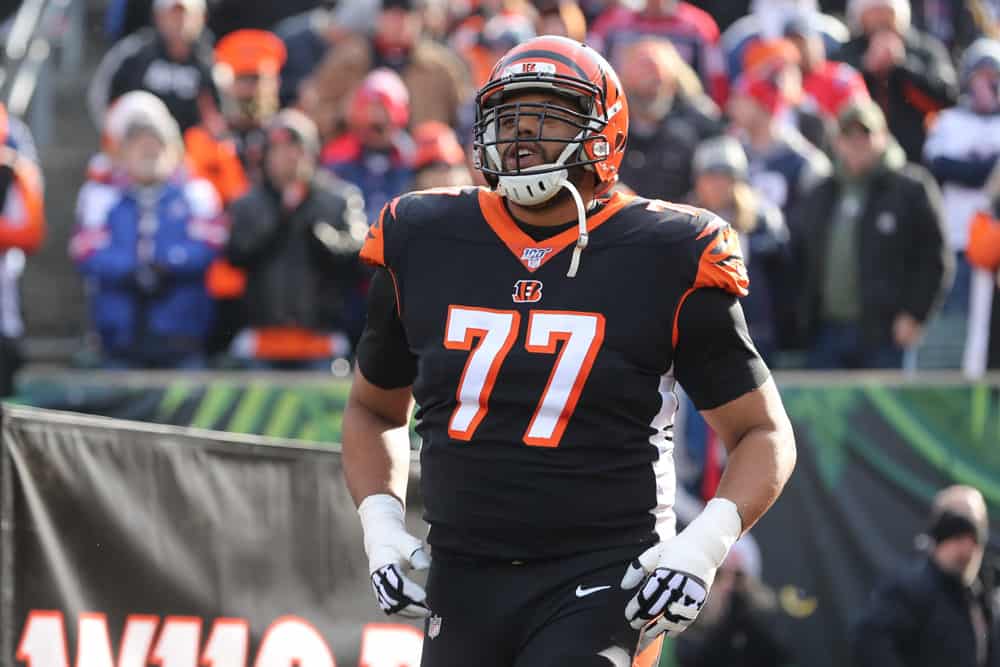 With the 2019-2020 season being a disappointment for the Cleveland Browns, they will need to retool through the draft and free agency.
The most obvious need for the Browns is to get better on the offensive line.
A bad offensive line made life extremely difficult for quarterback Baker Mayfield in 2019
Someone who could help the Browns add some depth on the offensive line could be Cordy Glenn, who was recently released by the Cincinnati Bengals.
Bengals releasing OT Cordy Glenn today, per source. Team looked to trade him but instead will wind up releasing him.

— Adam Schefter (@AdamSchefter) March 13, 2020
NFL Career
Cordy Glenn was drafted out of Georgia with the 21st overall pick by the Buffalo Bills.
Cordy Glenn: 2012, 2nd-round pick. 2016, signed a five-year, $65 million extension.@cordyglenn77 #DawgsInTheNFL / #CommitToTheG pic.twitter.com/VaYIyyaCeb

— Georgia Football (@GeorgiaFootball) April 28, 2017
He went on to spend six seasons with the Bills where he was a vital part of the offensive line.
In his sixth year with the team, Glenn suffered an injury that limited him to only 6 games in the 2017 season.
After 2017, the Bills traded him to the Cincinnati Bengals.
He had a successful first season with the Bengals where he started in 13 games.
The 2019 season was a rough one for Glenn and the Bengals.
He only played in six games before sustaining a head injury that Glenn claimed the team mishandled.
According to a report from ProFootballTalk.com, Glenn got into a heated discussion with a member of the Bengals coaching staff after he felt he was rushed back to return from the concussion.
The team also fined Glenn $200,000, according to the report.
This issue led to a damaged relationship with the team.
In his final season with the Bengals, he had a very efficient season where he didn't have one penalty.
On top of this, he only allowed four sacks.
Pro Football Focus gave Glenn an overall grade of 68.4, a run-blocking grade of 54.6, and a pass-blocking grade of 76.9.
@PFF grades for Cordy Glenn https://t.co/V7SVzo2lHS pic.twitter.com/CnAP6c5ch2

— Ed Franz (@Ed_Franz) March 3, 2020
Interest For Browns
I believe that Glenn would be a great option for the Browns to look at in free agency.
For starters, he is someone who could provide some depth on the offensive line.
Also, the Browns would most likely not have to break the bank to sign him.
The biggest downside of him, however, is that he struggles to run-block.
This is something that will most likely be a key role of the Browns gameplan next year and could lead to possible issues.