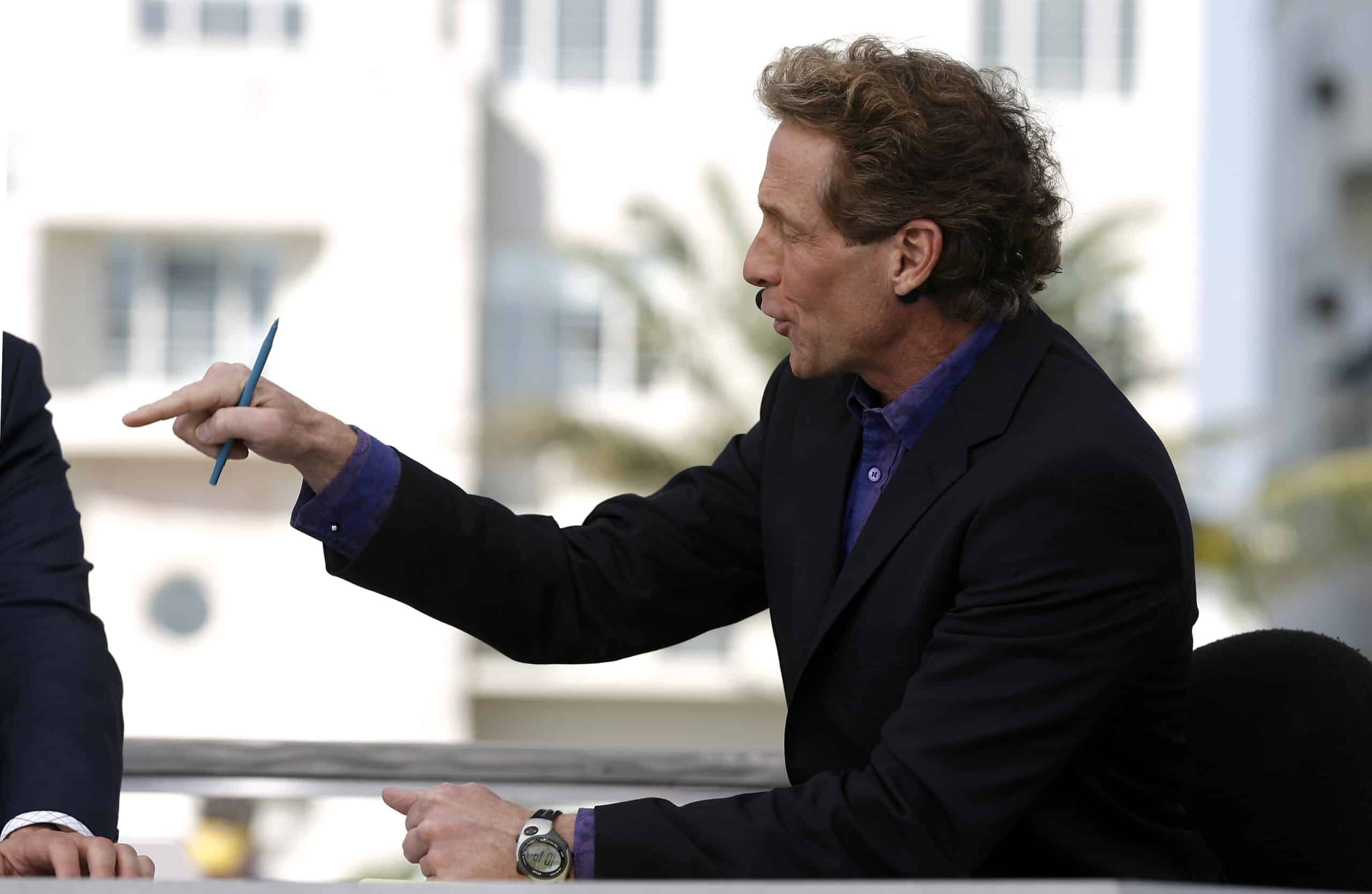 There's a reason why the time between the Super Bowl and Free Agency is called "The Silly Season."
With a dearth of news and moves, pundits are left with conjecture and opinion which leads to silly statements.
FoxSports' Skip Bayless extended the silly season into the legal tampering period with this Cleveland Browns-related gem:
Baker Mayfield has been stuck with Odell Beckham Jr. and Jarvis Landry. Both had to be released. Amari has No. 2 intangibles. Baker still deserves a legit No.-1 receiver.

— Skip Bayless (@RealSkipBayless) March 14, 2022
"Baker Mayfield has been stuck with Odell Beckham Jr. and Jarvis Landry. Both had to be released. Amari Cooper has No. 2 intangibles. Baker still deserves a legit No 1 receiver."
Bayless has made no secret of his admiration of Baker Mayfield.
Back in January, he dared the Browns to release their quarterback and watch him make them pay.
Why I believe the Cowboys just got a little better at receiver… and why Baker Mayfield still needs a No. 1 receiver. Now on @undisputed

— Skip Bayless (@RealSkipBayless) March 14, 2022
Fans of his "Undisputed" show are also painfully aware he is a big fan of the Dallas Cowboys.
Maybe his WR-1 comment means he feels Landry, Beckham, and Cooper are better suited in the slot or as WR-2.
But the inference Baker was held back by this talented trio is, well… silly.
Fact Check: Amari Cooper is Good 
Andrew Berry traded for 6-time Pro-Bowler Amari Cooper this month.
CeeDee Lamb appears to have taken the WR-1 role over in Dallas, making Cooper expendable.
It looks like Michael Gallup and Cedric Wilson will back up Lamb.
And of course, the Cowboys throw an inordinate amount of passes to tight ends and running backs.
TOUCHDOWN COWBOYS!

Amari Cooper showing off that 2nd gear ✌️✌️#WASvsDAL pic.twitter.com/zh6FgmggGD

— FOX Sports (@FOXSports) November 22, 2018
Cooper's "not a WR-1" stat line still read 68/104/865 playing amid the wealth of Dak Prescott targets.
And that was his worst stat line with either the Cowboys or the Raiders.
Drop issues Cooper had in Oakland disappeared in Dallas and he has not lost a step to the naked eye.
Cooper is Mayfield's WR-1 this season, even if Berry drafts a future stud to join the mix.
Fact Check: Beckham, Landry Are Pretty Good
Jarvis Landry was a high-volume, sure-handed slot receiver when Miami jettisoned him to Cleveland.
He caught 70% of the passes thrown to him by the pre-Titans Ryan Tannehill over 4 years.
Odell Beckham came on board a year later off his 4th 1000-yard season accomplishing the feat in just 12 games.
New York rewarded OBJ with a huge extension before shocking fans and teammates with the trade to Cleveland.
LSU to LSU Jarvis Landry throws the touchdown to Odell Beckham Jr. #browns

— the Sports ON Tap (@thesportsontap) October 4, 2020
The duo was supposed to ignite the Browns offense to its greatest heights and into the playoff picture.
Despite Freddie Kitchens, Landry and Beckham each topped 1,000 yards in their initial season together.
They each played through injuries that season, as well as during seasons with their previous teams.
Their subsequent battle wounds don't explain their diminished catch percentages and production in Cleveland.
Can Mayfield Get Cooper The Ball? 
Mayfield's 2022 performance will either win him a huge franchise contract or sentence him to backup status for 2023.
And his connection with Cooper will be one of the biggest determinants.
Beckham has one of the NFL's strongest arms, recording the longest-thrown completion and incompletion in history.
In 2021, he caught fire in the second half, especially on deep balls where he notched the top completion percentage.
Never Forget Baker Mayfield's end of the half hail mary attempt which was the longest NFL pass attempt PFF has ever charted (70+ yards in the air) 👀 pic.twitter.com/95d4lGz5HA

— Footballism™ (@FootbaIIism) February 26, 2022
But overall, Mayfield is among the leaders in throwing uncatchable passes, as measured by Pro Football Focus.
Tight end Austin Hooper enjoyed a 75% receiving percentage in 4 years with Matt Ryan.
He had too many drops last year, but even in 2020, Hooper managed to snag only 65% of noticeably shorter throws.
And if Cooper suffers a similar fate with Mayfield, the question may well be, "who is stuck with whom in the Browns offense?"