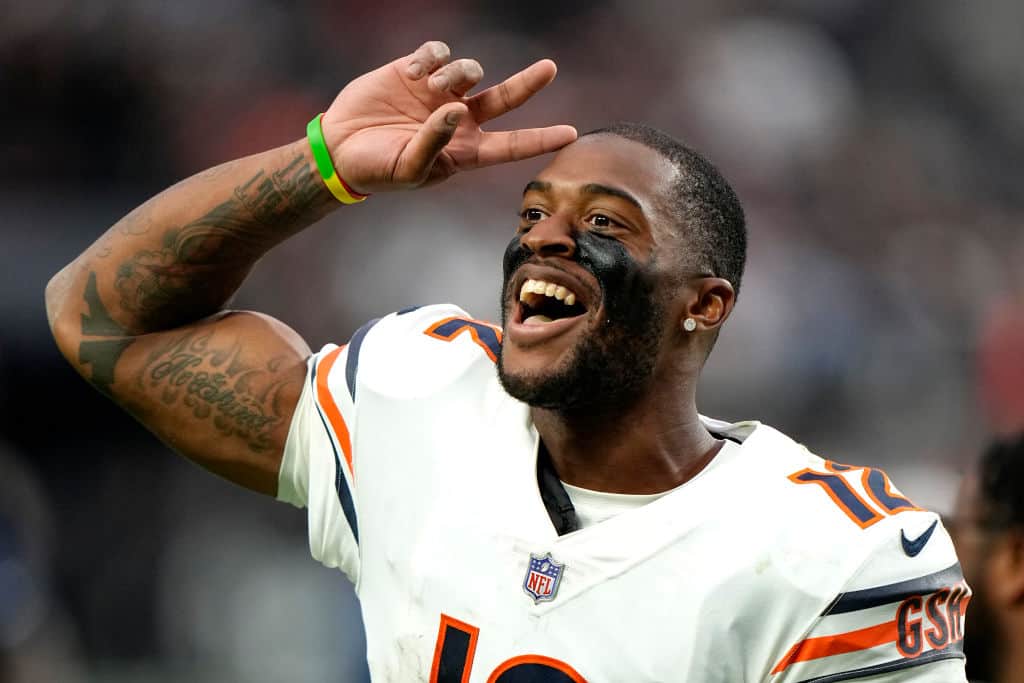 It is that time of year when speculation reaches its pinnacle on what free agents teams will sign.
In the case of the Cleveland Browns, it is a new rumor every day, and most of them involve signing a wide receiver.
It is no secret that the Browns are thin in wide receiver depth especially if Jarvis Landry does not return in 2022.
The latest big-name free agent linked to the Browns is Allen Robinson.
This was in the context of an NFL.com article where Marc Sessler had the dubious honor of pairing one free agent with each AFC team.
Sessler's pairing of Robinson with the Browns makes sense for many reasons.
1. He Appears To Be A Good Fit
Making the leap from the Chicago Bears to the Cleveland Browns is not a culture shock.
Robinson could easily fit into the Browns offense as the obvious WR1 without a lot of fanfare.
He has dealt with a mixture of quarterbacks during his Bears' seasons including Mitchell Trubisky, Chase Daniel, Andy Dalton, Nick Foles, and Justin Fields.
None of these guys were peak performers when Robinson played with them so a healthy Baker Mayfield could be an upgrade.
🗣️ Give Allen Robinson a QB pic.twitter.com/dZuprl6kXA

— PFF (@PFF) March 5, 2022
2. In His Best Years, He Carried The Offense
The Bears have not had a lot of offensive weapons during Robinson's tenure with the team.
He has handled the pressure and been a steady performer for a team when he is often been considered the best player on the field.
If Robinson joined the Browns, he would have a better offensive line and supporting cast to work with so perhaps the burden would not be solely his to be the playmaker.
On the other hand, the Browns may want him to carry that playmaker moniker because behind him, assuming Landry is gone, are a bunch of young receivers that he would have to lead and mentor.
#Bears Allen Robinson Free Agent Profile:
100 Games
495 Receptions
6409 Yards
40 TD
58.3 % Catch Rate pic.twitter.com/5x8IZd0ZWV

— NFL Stats (@myNFLstats) March 9, 2022
Conclusion
The reality is that a lot of teams could use Allen Robinson so Robinson signing with the Browns is far from a done deal.
Which team should sign Allen Robinson in free agency? pic.twitter.com/zRXOP6ORBr

— PFF (@PFF) February 18, 2022
The Browns are an obvious choice, but if the 2022 offseason has shown us anything so far, it is to expect the unexpected.
Andrew Berry is thorough so it is probable that Robinson is on the top of his list, but there are other candidates out there also that can be acquired via trade or the draft.
Ja'Marr Chase hit the ground running as an outstanding rookie wide receiver so it is not hard to envision the Browns drafting a young receiver that can accomplish similar things.
IMO if browns can't get Allen Robinson, Amari Cooper, or DJ Chark…browns might have to go:

WR, DT/EDGE, then WR again in the draft. Yup, 2 WRs within the 1st 3 picks.

— 🟧Manny Maxwell🟧 (@mannymaxwell5) March 9, 2022
That may involve using that No. 13 pick for a WR which is not something the Browns are akin to doing in the first round.
Free agency begins in one week so at least we will not need to speculate about Robinson's future too much longer.