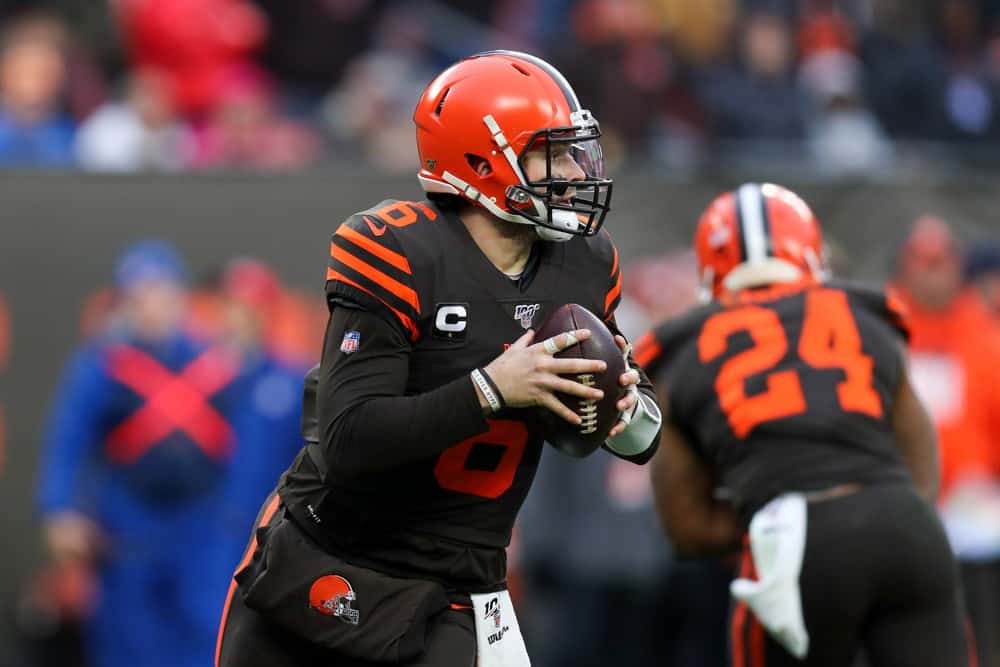 Count ESPN's Stephen A. Smith among the Baker Mayfield doubters of the world.
During a recent episode of First Take, Smith told co-host, Max Kellerman, how he felt about the Cleveland Browns.
Citing Cleveland's strong defense and running game, Smith said,
"I believe this team can make it to the playoffs and they can make a little noise. I just don't believe in Baker Mayfield. That's why I don't view (the Browns) as Super Bowl-quality. I think that somehow, someway, (Mayfield) will mess it up because eventually, some opponent is going to say, 'Let's make Baker Mayfield beat us."
If that isn't harsh enough, Smith said this earlier in the segment:
"No quarterback has done less with more than Baker Mayfield."
Smith went on to compliment head coach Kevin Stefanski for making the best of a bad quarterback situation.
"(Stefanski) should get credit for basically keeping Mayfield contained, utilizing the other assets around him and basically asking Mayfield not to lose the game."
The ESPN pundit was not without any appreciation for Mayfield's 2020 performance.
#Browns  QB Baker Mayfield and #Texans QB Deshaun Watson were the only QB's in the month of November to not throw an Interception.

— Cleveland Browns (8-3) (@browns_updater) December 4, 2020
He gave Mayfield credit for not losing games, specifically mentioning his 17/7 TD/Int ratio as nothing to make light of.
But he went on to argue Mayfield should have better than 2100 yards and a 61-percent completion ratio with the set of skill players he has around him.
Smith Saves the Love for Nick Chubb
Smith specifically mentioned Kareem Hunt, Austin Hooper, and Jarvis Landry as top-notch assets in Cleveland.
But he saved the real accolades for the Browns leading rusher, Nick Chubb.
"You simply can't ignore what (Chubb) brings to the table. During their 3-game winning streak, he is averaging at least 5.7 yards per carry. Nick Chubb is that dude. This brother is something special."
Myles Garrett also earned a second of recognition from the ESPN host.
Smith says the defense is strong and he believes they can get to the quarterback.
He noted that games can be won with a strong defense and a potent rushing attack.
Furthermore, he says these assets travel well in all types of weather.
That is why he believes in the Browns "a little bit" while tempering his optimism for a 2020 Super Bowl appearance.
Early in the segment, Smith said he didn't expect the Browns to make any noise in the playoffs.
Later, he acknowledged they would be a threat behind the running game and defense.
What Does Stephen A Smith Know? 
Everyone is entitled to their opinion.
But hosting a nationally-televised and internationally-streamed podcast doesn't make it more than just an opinion.
Smith downplayed the Browns' 3-game winning streak as a result of lower-level competition.
"Let's pump the brakes before we start thinking there's something special happening in Cleveland," he said.
But the Browns had a winning (5-3) record before the streak started.
As far as winning a Super Bowl with Baker Mayfield behind center, of course it's possible.
Baker Mayfield had a QB rating of 116.7 today, marking the 5th time he's cleared 100 on the season. He did it 3 times all of last year.

Browns are 5-0 in those games this season.

— Andrew Gribble (@Andrew_Gribble) November 29, 2020
Jim McMahon, Trent Dilfer, and Jeff Hostetler led teams to Super Bowl Championships.
And they each had 3 things in common with Mayfield: They had a strong running game, benefitted from a standout defense, and they didn't lose games.
Exactly what Smith says Baker Mayfield is doing in 2020.