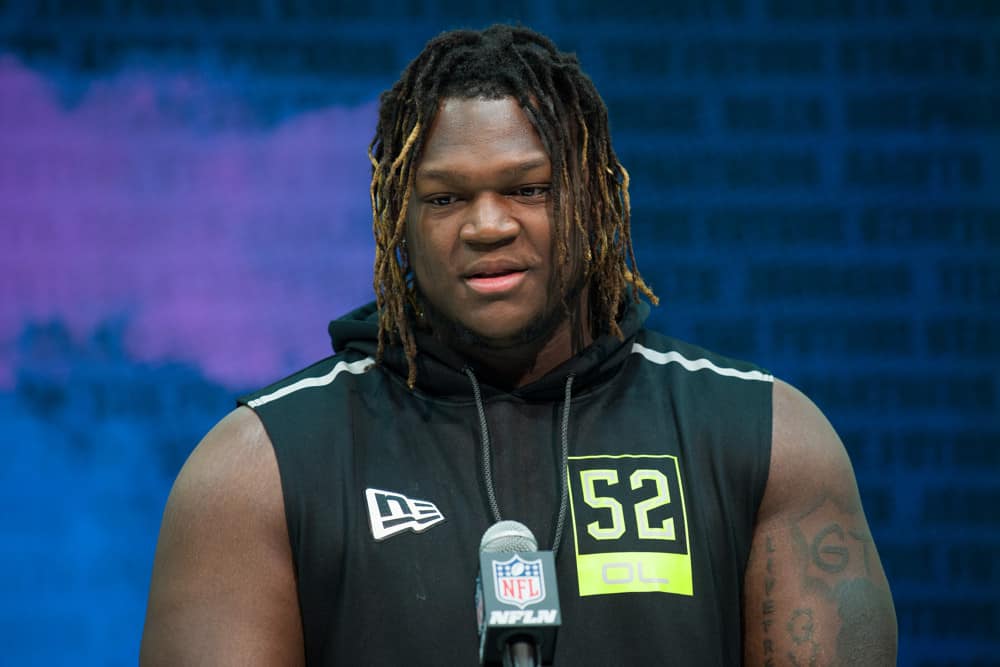 For Sunday's game between the Cleveland Browns and the Tennessee Titans, rookie offensive lineman Isaiah Wilson will not be on the field.
The #Titans have suspended their first-round pick, OL Isaiah Wilson, for Sunday's game against the #Browns for violating club rules.

— Tom Pelissero (@TomPelissero) December 5, 2020
It is not clear what club rules were violated.
The former Georgia Bulldog was the 29th overall pick in the 2020 NFL Draft.
He is a promising young talent provided he can stay out of trouble.
More protection up front for Ryan Tannehill

The Titans draft Georgia OT Isaiah Wilson with the No. 29 pick in the #NFLDraft pic.twitter.com/hLQtZdGsAA

— B/R Gridiron (@brgridiron) April 24, 2020
Not the first hint of trouble with Wilson's conduct
1. Tennessee State Party
Wilson's problems began when he attended a Tennessee State party during the pandemic.
Campus police were called and issued a report.
The part of the report pertaining to Wilson read:
"Isaiah Wilson attended a party at Tennessee State University off-campus apartments on Heiman Street that drew the attention of university police on Aug. 15, prompting Wilson to ponder jumping off a second-story balcony."
He received a trespassing warning from campus police.
"We're aware of the situation at TSU during a no-visitors policy and continue to stress the importance of good decision making as we go outside the facility."
"We've handled it internally."
2. DUI Incident
Days before the regular-season opener, Wilson was arrested for suspicion of DUI.
His car struck a concrete wall at an intersection.
The police report stated:
"Wilson was arrested at 11:29 pm, booked at 12:44 am Saturday morning and bonded out at 1:28 am. Wilson blew a 0.107 and 0.113 at the time he was pulled over."
He was released on $1,000 bond.
The Titans released a statement about the incident.
"We are aware of the situation.  This is not conduct that is indicative of the character of our football team and we are working through details on how to proceed."
3. Reserve/COVID-19 List
Wilson was on the Reserve/COVID-19 list two times in the first five weeks of the season.
It's not clear if that was related to his other issues.
The Titans had a massive COVID-19 outbreak that ultimately led to the cancellation of their Week 4 game against the Steelers.
They played the game in Week 7.
All of these incidents contributed to less practice time for Isaiah Wilson.
When he finally logged a full week of practice in late October, Coach Vrabel said:
"There's always things we like. there's also things we have to improve in all areas…Isaiah is in line with that group…showing signs that we're getting back into it."
Impact his absence will have on Browns vs. Titans game
Wilson only appeared in one game this season.
And that was last week's game against the Indianapolis Colts when he played in three offensive snaps and one special teams snap.
He has not been a consistent presence for the Titans this year because of his off-the-field issues.
As a result, his absence is not expected to be a game changer.
Hopefully, Isaiah Wilson gets his act together before his off-the-field behavior costs him his NFL career.