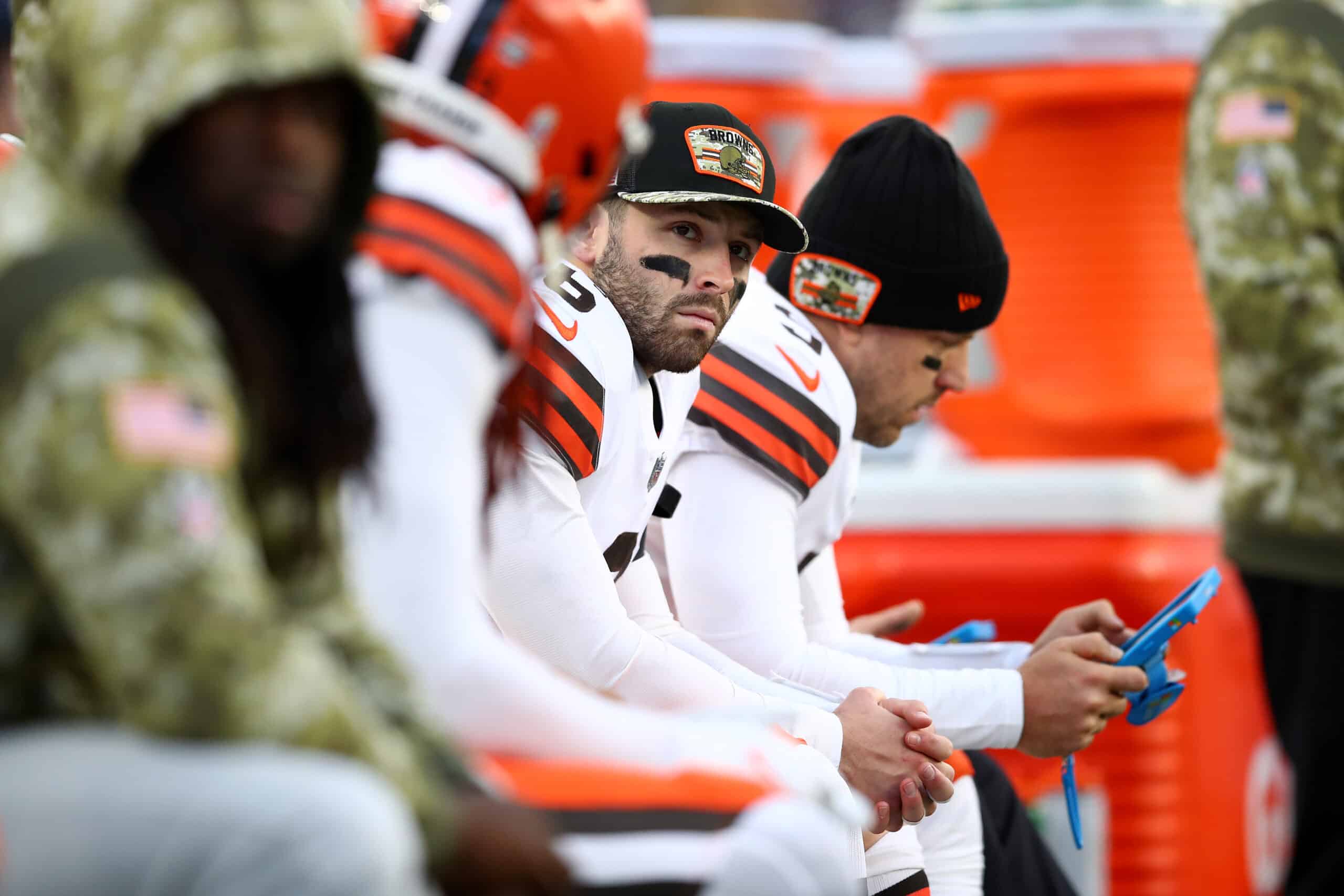 The Week 10 matchup versus the New England Patriots did not go as planned for the Cleveland Browns.
It was a crushing 45-7 loss that brought Cleveland back to Earth.
For a second, the Browns had everyone fooled that they'd be a different team without Odell Beckham Jr. dragging them down.
Sadly, they showed basically no signs of life during Sunday's horrendous loss.
There were a few positives to take from this game, but there is much more to improve upon going forward.
Dud: Baker Mayfield
This game was already tough to watch, but quarterback Baker Mayfield didn't make it any easier.
It's a shame considering Mayfield was playing well over his last few games.
Sadly, that streak ended on Sunday when he faced off against the Patriots defense.
Mayfield completed 11-of-21 passing attempts for 73 passing yards with one touchdown and one interception in the loss.
Unfortunately, that's not a typo as Mayfield finished with a season-low 73 passing yards in this game.
The young quarterback did exit the game due to a knee issue and did not return, which was probably for the best.
Kyle Dugger gets the pick on Baker Mayfield 😤

Pats cashed in with a TD moments later

(via @NFL)
pic.twitter.com/dchlpmAPiI

— Bleacher Report (@BleacherReport) November 14, 2021
Luckily for the Browns, they get to play the winless Detroit Lions next week.
It's assumed Mayfield will play in that contest, but maybe a Case Keenum sighting isn't the worst idea after what we all witnessed on Sunday.
Stud: D'Ernest Johnson
It was an awful game all around for the Browns, but at least running back D'Ernest Johnson played well.
The young back received the start with Nick Chubb and Kareem Hunt both sidelined.
He did everything in his power to keep Cleveland in this game, but it wasn't enough.
Johnson rushed 19 times for 99 yards while showing off some impressive cutting ability.
D'ernest Johnson's vision and cutback ability is legit pic.twitter.com/uMBaiBl44n

— Joe O'Leary (@TheHQNerd) November 14, 2021
He also hauled in a team-high seven receptions for 58 yards in the loss.
Johnson has put together two fantastic performances this season.
The Browns must find a way to get him significantly involved in the gameplan going forward.
This team appears to be heading in the wrong direction, but at least Johnson is a bright spot.
Dud: Donovan Peoples-Jones
The hope was that wide receiver Donovan Peoples-Jones would step up without OBJ on the roster.
Last week, DPJ hauled in two of his three targets for 86 yards and one touchdown.
It wasn't exactly a superstar performance, but he appeared to be trending in the right direction.
A week later, Peoples-Jones was basically invisible and a complete disaster against the Patriots.
The young wideout hauled in one of his five targets for 16 yards in the loss.
It was partly his fault and some of the blame falls on Mayfield as well.
Neither of them could get on the same page and it hurt the Browns on Sunday.
Where pinpoint accuracy is vital. Should have been caught but should have been easier for Donovan Peoples Jones #Browns pic.twitter.com/nizjScuNfm

— Matt Waldman (@MattWaldman) November 14, 2021
Luckily, both Peoples-Jones and Mayfield will have a great chance to rebound against the Lions next week.
These two need to figure things out otherwise it could be a long season for the Browns.
Hopefully, this was just a fluke and everything went wrong for the Browns on Sunday, so we'll see what happens in the must-win matchup against Detroit next week.