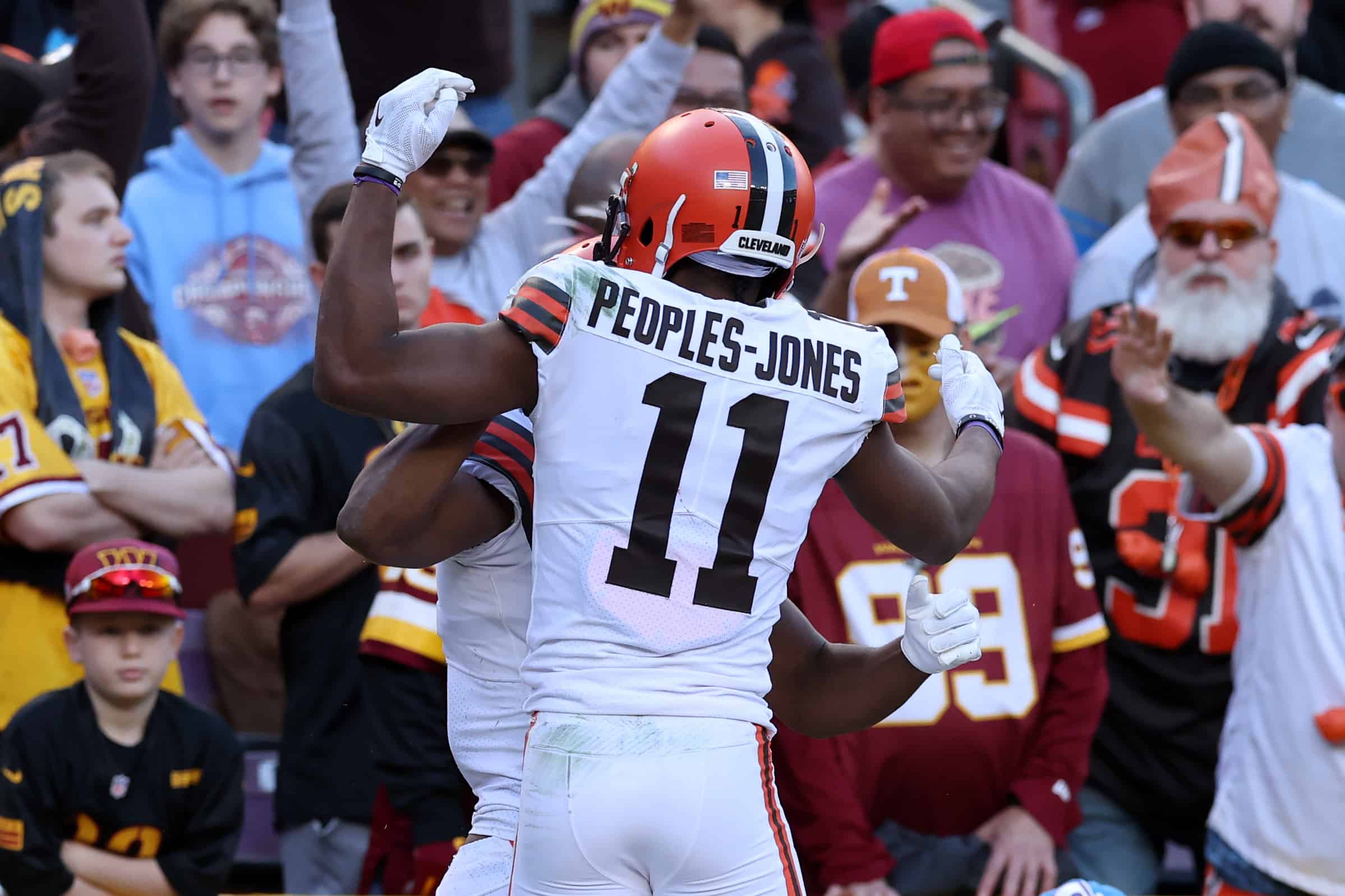 Sunday's win in Washington for the Cleveland Browns didn't start pretty.
But, some big plays in the second half helped lead the Browns to a 24-10 victory over the Commanders.
While Cleveland's chances at the postseason ended last week, they get to play the role of spoiler this week.
With their loss to Cleveland and Green Bay's win over Minnesota, the Commanders are officially eliminated from playoff contention.
Apparently, that's something their head coach Ron Rivera didn't realize until after the game.
Ron Rivera had no idea that they could be eliminated from playoff contention tonight with a Packers win.pic.twitter.com/5eLov5Emxm

— Scott Abraham (@Scott7news) January 1, 2023
Cleveland put their pride on display with their effort in the second half of Sunday's win.
Here are the studs and duds from Week 17.
Stud: Amari Cooper
Amari Cooper turned his Sunday from one of a dud to a stud with his incredible second half.
He finished the first half with zero catches, but essentially won the game after the break.
His two touchdown catches jump-started the offense after struggling most of the game.
turned the corner and took off for 6️⃣

📺: #CLEvsWAS on FOX
📱: Stream on NFL+ pic.twitter.com/M2lQkfz1xC

— Cleveland Browns (@Browns) January 1, 2023
The second scoring catch for Cooper would prove to be the dagger late in the fourth quarter.
season-high 3 tuddies for DW‼️

📺: #CLEvsWAS on FOX
📱: Stream on NFL+ pic.twitter.com/ylwoL3YKDE

— Cleveland Browns (@Browns) January 1, 2023
Cooper finished the game with 105 receiving yards on three catches.
Those 105 receiving yards are his third-highest total of the campaign.
Seeing Cooper and Watson develop chemistry week-by-week should give fans some hope on what the offense could look like next season.
Dud: David Njoku
Last week's late-game drop for David Njoku cost the Browns in a major way in the loss to New Orleans.
Njoku had a bit of a slow day Sunday as well, but somewhat made up for it with a huge catch on 2nd and 19 in the second half.
Still, Njoku had a couple of drops Sunday and was targeted numerous times despite finishing with just one reception.
The past two weeks have been a part of the consistency issues that Njoku has struggled with his entire career.
He's been better most of the season, but it's still not great to see old habits return.
Stud: Grant Delpit
What a day for safety Grant Delpit. His two interceptions helped Cleveland's defense complete what was a mostly dominant performance against Carson Wentz.
The Grant Delpit INT #Browns pic.twitter.com/1q1vGvtymP

— Browns fan UK (@brownsfanuk) January 1, 2023
From this angle, this looks like a terrible decision by Wentz to throw to Dotson. 3rd INT of the game pic.twitter.com/3nMnRaYLPF

— Mark Bullock (@MarkBullockNFL) January 1, 2023
Not only did Delpit make big plays in coverage, but he stepped up against the run as well.
Grant Delpit was straight-up balling today. #Browns https://t.co/38Ux8q6E8f pic.twitter.com/Zs3HXFPvQy

— Roberto Shenanigans (@Rob_Shenanigans) January 1, 2023
Delpit's had his hurdles in Cleveland but has risen to the occasion a number of times this year.
Way back in Week One he helped the Browns win a thriller against Baker Mayfield and the Panthers.
He played a major role in Sunday's win too.
Dud: Kareem Hunt
It may be time for number 27 to quit seeing touches.
He had an almost entirely silent Sunday, after gaining zero yards on two carries and losing one yard on one reception.
Hindsight is always 20-20, but it seems the Browns may have been better off trading him earlier in the year.
They could have gotten some sort of return for his value, but ultimately it looks like he'll just walk away once this season is over.
It's a shame to see his time in Cleveland potentially come to a close with games like he had in Washington.