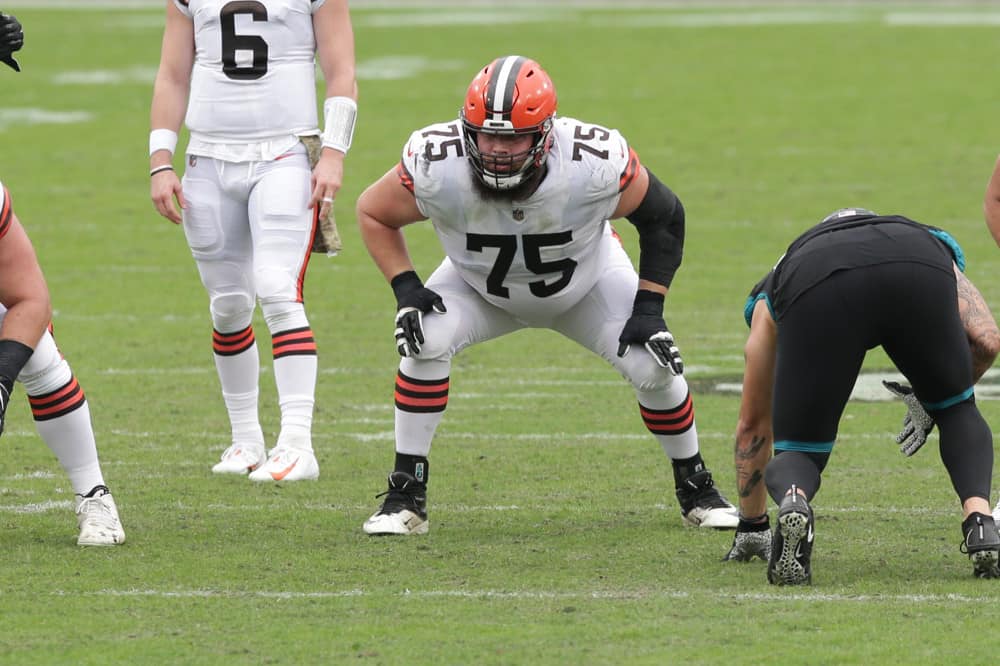 It wasn't easy, but the Cleveland Browns were able to pull off the win against the Jacksonville Jaguars.
The one-win Jags put up a good fight, but the Browns came away with a narrow 27-25 victory.
It was a battle, but the Browns have now improved their record to 8-3 on the year.
To be fair, the Browns were without Myles Garrett and Denzel Ward for this game.
Despite that, multiple players stepped up to help Cleveland come away with the victory.
Stud: Baker Mayfield
Finally, quarterback Baker Mayfield was able to break his three week drought without a passing touchdown.
He completed 19 of 29 passing attempts for 258 yards and two touchdowns in the win over Jacksonville.
Mayfield played mistake free football against the Jaguars defense, which to be fair shouldn't be that difficult.
He has now played four straight games without throwing an interception.
.@bakermayfield hasn't thrown an interception in his past 123 consecutive passing attempts, spanning five games. During that stretch, he has 7 passing TDs, 0 INTs, a 106.9 rating, 1 AFC Offensive Player of the Week award and the Browns are 4-1.

— Dan Murphy (@DMurph_BrownsPR) November 30, 2020
Yes, it was against the Jaguars awful defense, but at least Mayfield is finally playing well.
It'll be interesting to see if he can carry over that momentum against the Tennessee Titans next week.
Dud: Rashard Higgins
Sadly, Rashard Higgins has not looked the same since his Week 7 performance against the Cincinnati Bengals.
He posted a 110-yard performance in that game and has 142 total receiving yards since that game.
To be fair, he has been tasked with big shoes to fill with Odell Beckham Jr. done for the season.
Higgins has been unable to show he is capable of being a reliable second weapon for an offensive unit.
He hauled in one reception for 15 yards in the win over Jacksonville.
Higgins was only targeted twice, but he looks like non-factor in the offense right now.
Stud: Nick Chubb
Honestly, Browns fans should get used to seeing running back Nick Chubb on this list weekly.
It appears the injury has not slowed him down whatsoever, which is great news.
Chubb has put together three straight performances of 100 rushing yards or more since returning from injury.
He looks as explosive as ever and absolutely destroyed opposing defenses.
Nick Chubb tossed that man 😳

(via @thecheckdown) pic.twitter.com/4fo4r0oFKs

— SportsCenter (@SportsCenter) November 22, 2020
Chubb rushed 19 times for 144 yards and one touchdown in the win over the Jaguars on Sunday.
The Browns would not be at 8-3 on the year without the performance by Chubb on the field.
Hopefully, he'll continue running through defenses and remain a weekly addition to this article.
Dud: Olivier Vernon
There was high expectation for defensive end Olivier Vernon after what he did to the Philadelphia Eagles defense.
Last week, Vernon came away with three sacks against the horrendous Eagles offensive line.
The organization was hopeful that he'd be able to carry that momentum into this matchup with the Jaguars.
Sadly, Vernon finished with two tackles and zero sacks in this game.
It appears Vernon has come back down to Earth, which was expected to happen sooner rather than later.
Fans shouldn't keep their expectations too high against the Tennessee Titans in Week 13.
Hopefully, Myles Garrett can get back on the field for that one.
Stud: Jarvis Landry
Of course wide receiver Jarvis Landry was going to land on this list after what he did on Sunday.
Landry has struggled lately, but came alive against the Jaguars defense.
He hauled in eight of his 11 targets for a season-high 143 yards and one touchdown in the win.
Landry got a ton of separation in this one and destroyed the Jaguars secondary.
.@bakermayfield finds @God_Son80 for SIX!

📺: @NFLonCBS pic.twitter.com/AbOZs3L53l

— Cleveland Browns (@Browns) November 29, 2020
Hopefully, this is a turning point for Landry who eclipsed his first 100-yard performance of the season here.
The Browns desperately need Landry to keep playing like this without OBJ available.
Landry was the star of this game and hopefully, he'll be able to carry that momentum into next week versus the Titans.