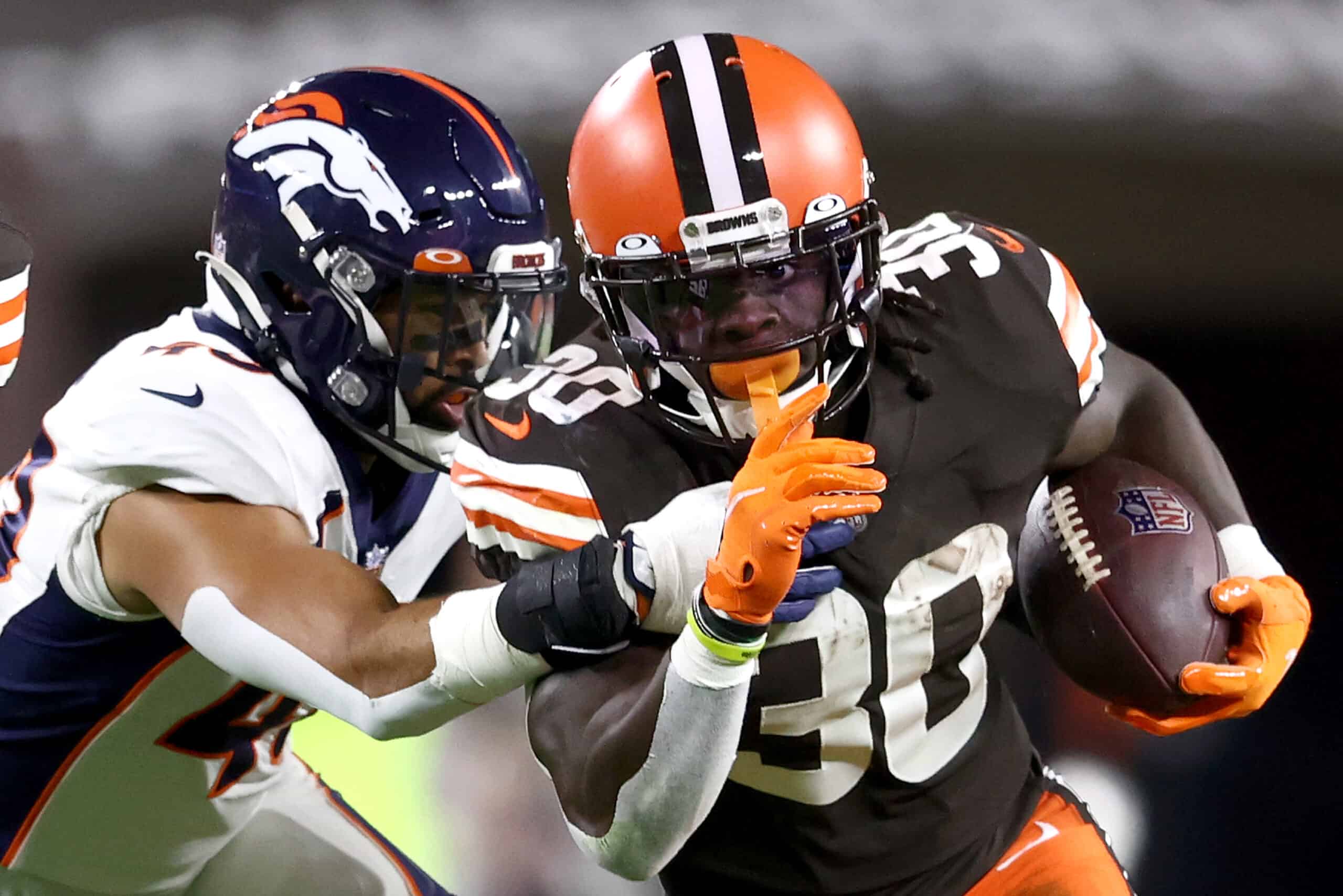 The Cleveland Browns defeated the Denver Broncos in Week 7's Thursday Night Football by a score of 17-14.
The Browns came out blazing in all facets of the game and played as good of a first-quarter as they have all season.
Backup players looked up to the task.
Play calling and in-game decision making were vintage 2020.
This game has two studs on the offensive side of the ball, one defensive dud, and one overall dud.
Stud: D'Ernest Johnson
Stories like D'Ernest Johnson are why we love football.

Undrafted, unsigned, spends 2018 fishing for mahi mahi in Key West. Joins AAF then Browns as STer in 2019.

Tonight, plays out of his mind in 1st NFL start on national stage securing that his moment will last longer.

— Cameron Wolfe (@CameronWolfe) October 22, 2021
Johnson made his first NFL start a memorable one.
A former fisherman in Key West, Florida, Johnson was determined and resilient.
The Broncos could not stop him, and he just kept living up to his nickname, "Slow Grind."
Johnson had 22 rushes for 146 yards and 1 touchdown.
He averaged 6.6 yards per carry.
Though he was not integral in the passing game, he did catch both passes targeted for him for 22 yards.
He was disciplined at the end of the game to stay in bounds and keep moving the chains to put this game away.
Johnson deserves the game ball without a doubt.
Stud: Browns O Line
An inspired performance by the Browns offensive line, Bill Callahan and by D'ERNEST JOHNSON.

VICTORY FRIDAY!!!!!!!!!!!!!!!!!!!!!!!!!!!!!!!!!!!!!!!!!!!!!!!!!!!!!!!!!!!!!!!!!!!!!!!!

— Ken Carman (@KenCarman) October 22, 2021
Speaking of vintage 2020, the Browns offensive line, even without Jack Conklin, looked its best so far in 2021.
Holes and running lanes were created.
Keenum had time to throw.
Jedrick Wills looked much better so the ankle injury must be in the rearview mirror.
Dud: Browns Goal Line D
#Browns still have a lot of injury concerns. The defense still struggled to get off the field tonight even against Pat Shurmur's stunted Broncos offense. But this was a true team win that they really needed to get to 4-3. Now they've got 10 days to rest up &
heal.

— Adam Copeland (@exiledclevelndr) October 22, 2021
Thankfully, the Browns' goal line stand was not the determinant of the game.
After playing great in the first half, the defense seemed to lose steam and give the Broncos opportunities.
Allowing that late touchdown to make the score 17-14 was nerve wracking for all fans who have watched close ones slip away to the Kansas City Chiefs and the Los Angeles Chargers already this season.
Dud: Browns Strength And Conditioning Staff
To begin with, there are a ton of injuries.
However, the pregame surprise about Donovan Peoples-Jones being questionable was flooring.
He got hurt during pregame warmups.
Source: #Browns WR Donovan Peoples-Jones suffered a groin injury during warmups.

— Brad Stainbrook (@BrownsByBrad) October 22, 2021
Someone needs to evaluate what this staff does or does not do and what can be improved.
If this was a failing segment of a business, it would be evaluated and revamped.
Maybe further evaluation will result in no wrongdoing by the staff.
It could be a more broad issue about offseason conditioning, and who is dictating it; players and their teams or coaching staffs.
Watching Denzel Ward, Odell Beckham Jr., and Jarvis Landry get banged up again just reaffirms that the Browns need to review what is happening with their strength and conditioning program.
Conclusion:
You are wondering where Case Keenum is.
He was 1/2 stud.
His level of play definitely dropped after the first quarter.
He was a stud early in the game, had a few shining moments after that, but he was largely a game manager.
Keenum did not make costly mistakes and kept the Browns in it.
However, D'Ernest Johnson did the heavy lifting.
Mayfield was probably on the sidelines chomping at the bit to get back in the game with the healthier offensive line and a running game that spanned all four quarters of the game.