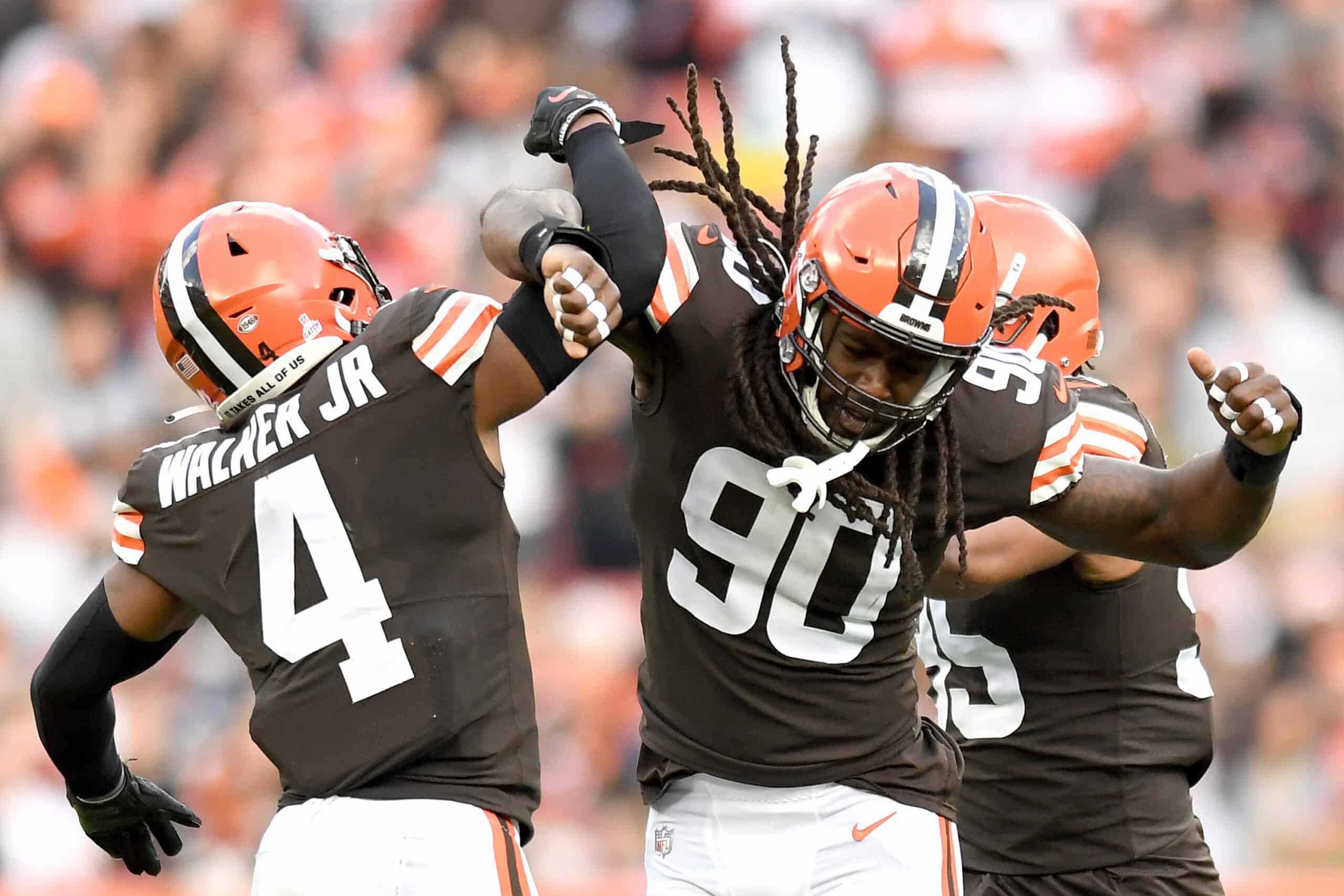 The Cleveland Browns have a gigantic challenge in front of them tonight on Thursday Night Football.
Against the Denver Broncos, the Browns will be digging down through the depth chart to fill key positions like quarterback and running back.
Here are 3 Browns players who need to step up to give the team a chance to go to 4-3 after tonight's game.
1. Myles Garrett
Myles Garrett is the best pass rusher in the NFL #CaptainObvious @Flash_Garrett pic.twitter.com/LwoZzxAqXk

— Joe Thomas (@joethomas73) October 21, 2021
The Browns defense has not been as effective.
It has been weeks since we have seen the dominating performance against the Chicago Bears.
Caught flat footed, out of position, and unprepared, this defense needs to step it up.
The lifeblood of the defense is Myles Garrett.
He looked as dejected as anyone after the beat down by the Cardinals.
Garrett had a players-only defensive meeting earlier this week that should certainly rally the troops.
If he gets on a roll, so does the entire defense.
2. Case Keenum
Keenum was named the starting quarterback just a day ago.
He did not flinch.
Said he was born ready.
#Browns QB Case Keenum on starting vs Denver tomorrow night: pic.twitter.com/H6lSyXRQBF

— Brad Stainbrook (@BrownsByBrad) October 20, 2021
That's good news because he is lining up with a backup backfield and a banged up offensive line.
He needs to be accurate and not hold the ball too long because the offensive line that was once a brick wall has a few bricks missing this year, for whatever reason.
3. D'Ernest Johnson
The Browns running game even with Nick Chubb and Kareem Hunt has not been as successful in 2021 as it was in 2020.
Those two had to work for every yard to the point of getting injured.
The big holes and long runs are fewer and further between.
This is a big opportunity for D'Ernest Johnson in his first NFL start.
He has been in the background of the Chubb and Hunt talk.
Johnson can establish himself with a good game tonight.
D'Ernest Johnson has averaged 5 yards per carry in his 40 career carries. Not bad for a 3rd string running back. He's also been working & waiting for this day for a LONG time.

I expect he'll have a big day tomorrow. #browns #TNF #DENvsCLE

— Kelsey (@kelseydyoung) October 20, 2021
Here is what else a good game from Johnson does.
It takes the pressure off of Keenum.
The defense stays off the field.
The Browns are able to move the ball, grind the clock, own the time of possession, and hopefully score multiple touchdowns.
Honorable Mention – Coach Stefanski
Coach of the Year Kevin Stefanski feels like such a distant memory. Play calling on offense has been such a disaster. Getting the ball out quick when your down both starting tackles should be priority #1. Oh, and your QBs shoulder is toast that should probably factor in too🙄🙄

— Brittany Lytton (@BrittanyLytton7) October 19, 2021
Because he is not in pads and on the field, Coach Stefanski gets an honorable mention.
He needs to call a good game.
Keep it basic.
Run high percentage plays.
Do not go for it on fourth down.
Be happy with field goals just to have points on the board.
Some would argue the officiating needs to step it up too.
The NFL simply must take a top to bottom review of officiating this offseason.

The product is better & smarter than it's ever been, and officiating really seems to be going in the other direction. It's just maddening.

— nick wright (@getnickwright) October 18, 2021
That is true every week in the NFL.
Watch the Browns at 8:20 PM EDT tonight.