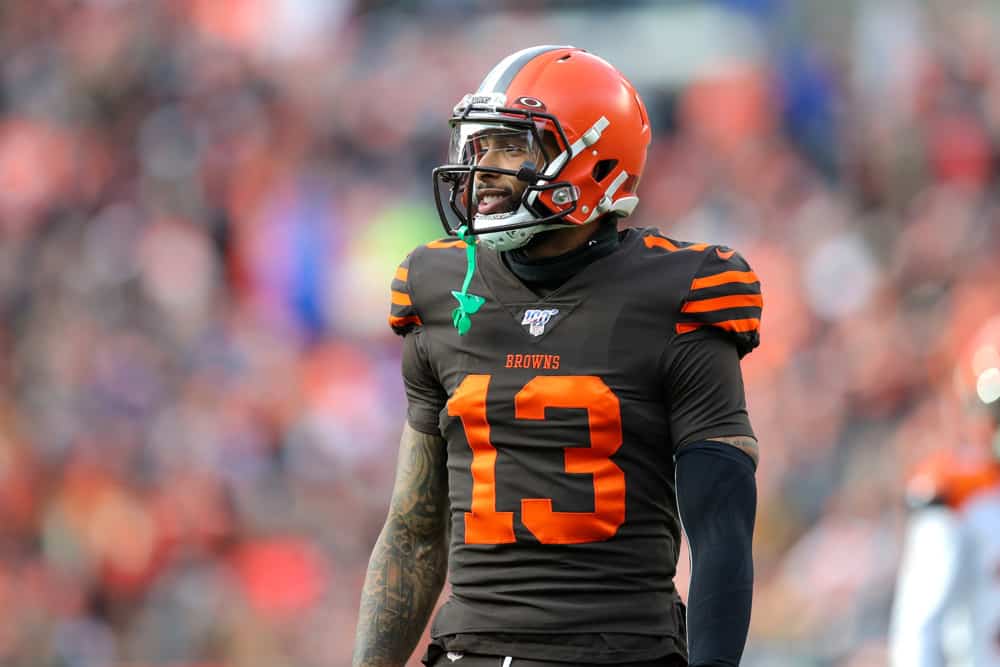 Wow, as expected the Cleveland Browns and Dallas Cowboys had a shootout in Week 4.
The Browns were able to pull away with the 49-38 victory in Dallas.
It was a wild game where the Browns actually almost blew the game in the fourth quarter.
Dallas crawled back into the game scoring 24 points in the final quarter and making it a single-digit game.
The Browns were able to get the victory and push their record to 3-1 on the season.
Sadly, not everyone on the roster played great in this one, but the team rallied together at the end.
There were a few players who shined brightly and helped Cleveland pull off this huge victory.
Stud: OBJ
It really should go without saying that Odell Beckham Jr. was the star of this game.
He hauled in five receptions for 81 yards and two touchdowns in the victory.
One of those scores was on an incredible pass by wide receiver Jarvis Landry.
JARVIS LANDRY TO ODELL BECKHAM JR.❗️

📺: @foxsports pic.twitter.com/79gnFPgL99

— Cleveland Browns (@Browns) October 4, 2020
That wasn't all, Beckham also had two carries for 73 yards on the ground.
He put the dagger in Dallas with a 50-yard score on a reverse play.
Browns fans have to be truly happy seeing Beckham playing like a superstar again.
Stud: Baker Mayfield
No, Mayfield did not throw for over 500 yards like Cowboys quarterback Dak Prescott.
However, Mayfield did play like the franchise quarterback the Browns are hopeful he can become.
Mayfield threw for 165 passing yards with two touchdowns and zero interceptions in the win.
He was able to make some impressive throws that many weren't sure Mayfield was capable of actually completing.
Baker's accuracy was crazy on this throw 🎯 @bakermayfield @Browns pic.twitter.com/QfhM1JG4Wp

— The Checkdown (@thecheckdown) October 4, 2020
Don't let the stats fool you, this was a solid performance by Mayfield.
He looked like a game manager out there and was able to limit his mistakes.
On paper, Mayfield's performance doesn't blow you away by any means, but it's more than just stats.
He was able to take care of the ball and put the Browns in position to win this football game.
Dud: Andrew Sendejo
It really shouldn't surprise anyone that safety Andrew Sendejo is on the dud list.
Honestly, it's shocking that the Browns continue to trust Sendejo on defense.
The veteran safety looks clueless sometimes and makes Browns fans question why he is even on the field.
What was #Browns Andrew Sendejo doing on this touchdown?pic.twitter.com/5LbjJIF16Y

— Dov Kleiman (@NFL_DovKleiman) October 4, 2020
Sadly, the Browns don't have great depth in the secondary and need to lean on Sendejo.
He continues to be a liability on defense, but maybe he'll turn it around.
Sendejo was able to get 10 tackles during the Week 2 victory over the Cincinnati Bengals.
However, he has basically been a ghost on the field since that game.
It'll be interesting to see how much longer of a leash they give Sendejo before going another route.
Dud: Karl Joseph
There weren't too many duds this week, but safety Karl Joseph does belong on the list here.
To be fair, Joseph has been solid throughout most of the season, so he does deserve a break.
However, he looked awful versus the Cowboys on Sunday.
Joseph appeared to have no interest in tackling any ball carriers throughout this game.
He deserves plenty of the blame for the huge touchdown scored by wide receiver CeeDee Lamb.
Browns opt not to cover CeeDee Lamb at all, which I argue is a mistake (via @NextGenStats) pic.twitter.com/xGPBgLgRKl

— Jake Trotter (@Jake_Trotter) October 4, 2020
Everybody has bad games, so maybe Joseph deserves the benefit of the doubt.
Although, this was a brutal game from Joseph and is something that cannot happen again.
The Browns defense has already been decimated by injuries early on in the season.
This team cannot afford to have sloppy play by their defense and expect the offense to bail them out every game.
Improvements need to be made if the Browns plan on continuing the winning streak versus a tough Indianapolis Colts defense in Week 5.
At the end of the day, the Browns pulled off the win over Dallas, but the defense will need to make major adjustments going forward.