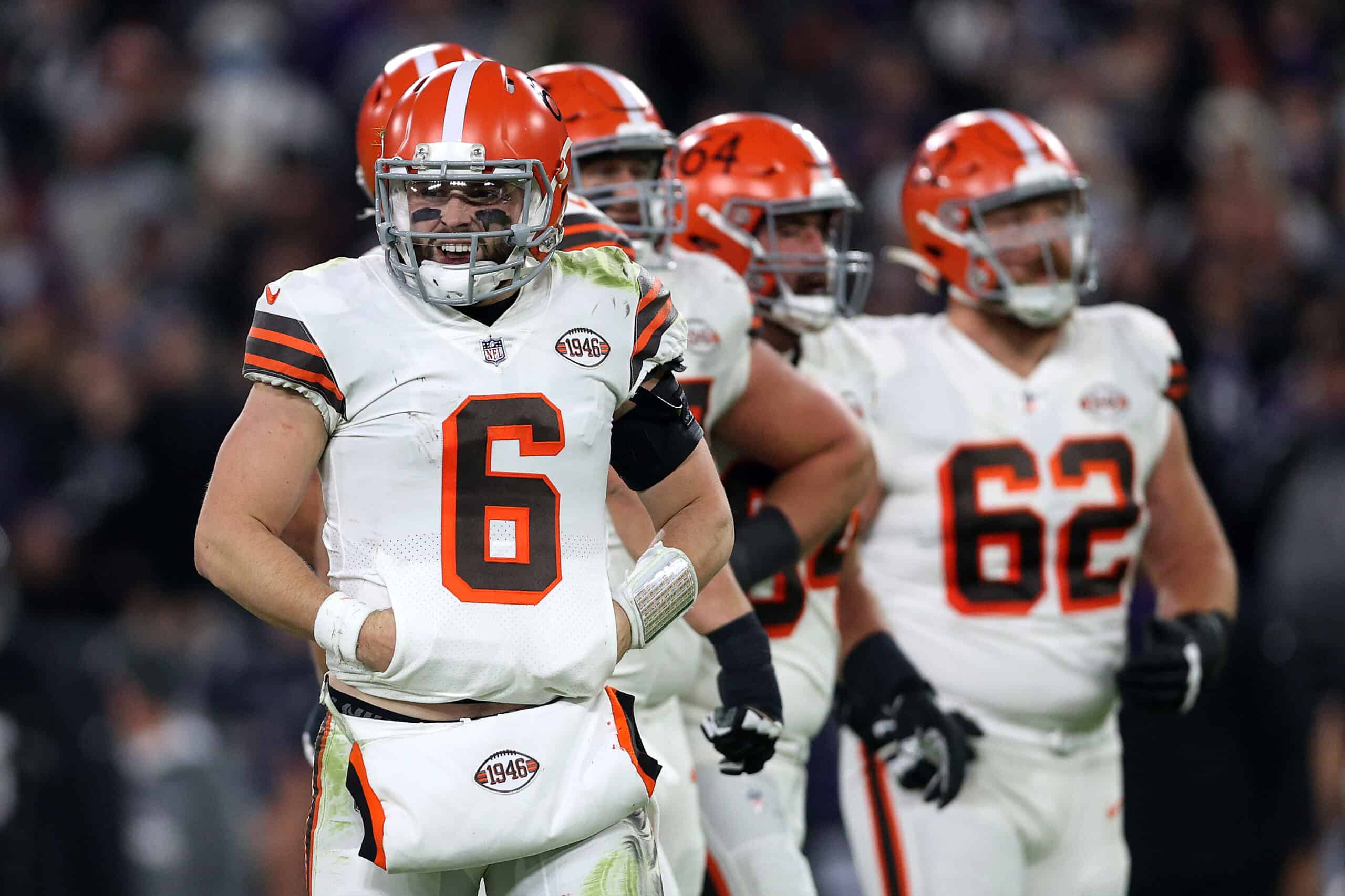 Sometimes, you just have to tip your hat and accept you did the best you could… and got beat.
Myles Garrett did just that after the Cleveland Browns edge rusher finally got a piece of Lamar Jackson.
Garrett and Jadeveon Clowney harrassed the Ravens' quarterback all night, and Garrett got a good piece of him.
Thanks to Garrett stopping the motion of Jackson's throwing arm, his pass floated instead of zipped downfield.
FINAL. pic.twitter.com/GlH71Wkqvw

— Cleveland Browns (@Browns) November 29, 2021
And tight end Mark Andrews caught it anyway for the first touchdown of the game.
All Garrett could think to do in the moment was congratulate Jackson, while Clowney slammed his helmet down.
Both defenses came to play last night, and both offenses found the going rough from start to finish.
But in the end… well, here are the studs and duds from the Browns' 16-10 loss to the Ravens.
Studs: Myles Garrett and Jadeveon Clowney
Much to the chagrin of Browns fans, Joe Woods did not dial up a bunch of blitzes to harass Lamar Jackson.
Earlier this season, Miami used an aggressive frontal attack to make life miserable for the Ravens' star.
And Cleveland's most memorable defensive game came when Troy Hill blitzed effectively against Cincinnati.
But Woods opted to play the contain game, counting on shadows and boxes to keep Jackson in check.
DOWN GOES LAMAR!! pic.twitter.com/1udo6wFJfX

— Cleveland Browns (@Browns) November 29, 2021
And it almost worked, thanks largely to Myles Garrett and Jadeveon Clowney.
We can find fault in the lack of imagination and maybe even the abuse of making the pair chase Jackson all night.
But they had the elusive and speedy Jackson scurrying most of the night, chasing the passer sideline to sideline.
And even if they only had one sack, 3 hits, and 2 deflected passes to show for it, they played inspired ball.
Duds: Donovan Peoples-Jones & Austin Hooper 
Baltimore became the latest team to use a loaded box against the Browns vaunted offensive line and running game.
They consistently put 8 players between the tight ends, disguising who would actually rush.
It made for a long night for the linemen and Baker Mayfield, but it left Cleveland's receivers in man coverage a lot.
And against a diminished secondary, Mayfield's top tight end and WR-1 caught 2 of 8 targets for 10 yards.
#Browns Donovan Peoples-Jones struggling on this opening drive.

— Camryn Justice (@camijustice) November 29, 2021
DPJ was a game-time decision with a groin injury, and it looked like a bad call to let him play on the first drive.
The player many hoped would make fans forget about a certain Rams receiver looked slow and tentative.
In his defense, he did draw the best cornerback in the league in coverage.
But neither DPJ nor Hooper helped Mayfield very much, failing to find holes or break free from coverage.
Stud AND Dud: Baker Mayfield 
Once again, Baker Mayfield limped and shuffled around the field in obvious distress telling everyone he was fine.
For sure, even a two-legged (or 2-heeled?) Mayfield would have been under duress against this defense.
Baltimore used the Miami system Browns fans wanted Woods to use and flustered the Browns attack.
At each snap, it was anybody's guess which of the 6-8 defenders in tight would actually rush the passer.
CHIEF SPIKE!

📺: #CLEvsBAL on NBC
📲: Browns mobile app pic.twitter.com/JvgLpAnpsM

— Cleveland Browns (@Browns) November 29, 2021
And they over-committed to a series of run blitzes and crowded lanes to shut down the run.
Mayfield constantly kept fans gasping by throwing off his damaged heels while back-pedaling from Ravens defenders.
But he hit about half of those ill-advised throws and took only 2 sacks, making him a stud candidate.
Despite that, he never got a handle on things, and his turnovers at the end of the first half make Mayfield a dud, too.
Studs: Harrison, Walker, & JOK 
Joe Woods' contain and harass plan only worked because the defenders in the middle kept Jackson in check.
He went with 3-safety sets for most of the game and put his linebackers in position to make plays.
And it was hard to see whose job it was to contain Jackson sometimes because everyone had a moment.
But Ronnie Harrison (14 tackles) and Jeremiah Owusu-Koramoah (12) made the most big plays.
Ronnie Harrison with a Interception 🔥pic.twitter.com/8BY79EcU9U

— Alabama DieHards (@DiehardsAlabama) November 29, 2021
And when they didn't stop the play short of the goal line, Anthony Walker was there to wrap things up short.
With 38 combined tackles, this trio made sure Garrett and Clowney weren't running around for nothing.
Closing off the middle left Jackson with no choice but to deal with the Browns' edge rushers.
It might not have been the concept fans looked for, but JOK, Harrison, and Walker made it work.
The Biggest Dud: Kevin Stefanski 
Cleveland has no offensive identity this year, a running team that eschews the run too early.
Maybe Stefanski was told he has to modernize his attack with more passing and verticality.
But even that is no excuse for leaving Nick Chubb and Kareem Hunt out of the fray for most of this game.
#Browns Nick Chubb (20.4 percent) and Kareem Hunt (17.4 percent) are 1st and 3rd in explosive run rate, respectively, while the #RavensFlock DEF has allowed the 3rd-highest explosive run rate in 2021 (14 percent).

Time to eat, fellas.

— Cody Suek (@CodySuek) November 28, 2021
Good running teams can run when the opponent knows it's coming.
They wear defenses down and make them pay with a fatigued 4th quarter defense and susceptibility to play action.
The first quarter is almost over and Kareem Hunt and Nick Chubb have a combined 3 touches #Browns

— MoreForYouCleveland (@MoreForYou_CLE) November 29, 2021
What good running teams don't do is run the ball only 15 times while calling 40 pass plays.
Could the Browns have imposed their rushing will as the game went on?
We'll never know because Stefanski waved the white flag early and put the ball in the hands of his flawed passer.