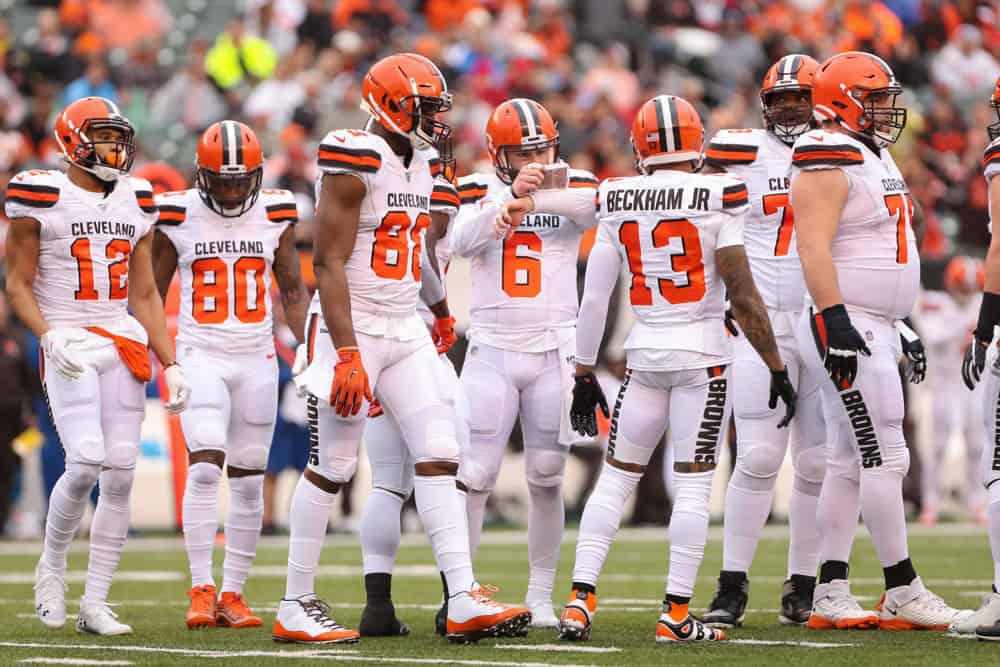 Things are shaping up for an interesting Cleveland Browns season.
But Browns fans hope "interesting" means more positive analysis than negative in 2020.
Cleveland was the talk of the league heading into the Freddie Kitchens´ reign.
No one needs to be reminded of everything that went wrong in that 6-10 campaign.
The memories serve to temper expectations in Kevin Stefanski´s first year at the helm.
Even though things seem on track for the Browns´ first winning season in a long time,f ans are understandably hesitant to predict success with total confidence.
Words like "should, if, and assuming" expose the hesitancy fans didn´t have heading into 2019.
But no one can easily argue this squad has a better chance to make some hay than last season´s.
Win or lose, there are players and situations that bear watching.
They could make or break a season, or even some careers.
Here are three of the top storylines that will follow the Browns throughout 2020.
1. Is Baker Mayfield the Franchise Quarterback? 
Baker Mayfield splashed onto the scene in 2018 to lead the post-Hue Jackson resurgence.
There was a rookie touchdown record, but it was Mayfield´s winning emotions that propelled the team.
That emotion served him poorly the following season.
As things started to unravel around him, Mayfield´s bewildered and sullen face mirrored the team´s mood.
Oh no pic.twitter.com/pILGPTzAK4

— Mike Ryan (Ruiz) (@MichaelRyanRuiz) November 4, 2019
His own performance was nothing to shout about, especially his interceptions.
But Freddie Kitchens´ play-calling left the coach open to second-guessing and created a bigger scapegoat.
Gameday and lockerroom antics making headlines as Kitchens lost the team early.
It didn´t help that John Dorsey sabotaged the offensive line, leaving Mayfield to scramble for his life.
But Mayfield gets another chance, with another head coach and coordinator in 2020.
Stefanski says he believes in Mayfield and will tailor a game plan for his success.
GM Andrew Berry agrees, but he brought in a viable "Plan-B" veteran just in case.
Mayfield says he is on board and appears to be working and conditioning more than last offseason.
Baker has a wealth of Pro Bowl-caliber skill position players around him.
Arguably the best offensive line coach in the NFL will mold an improved collection of players upfront.
It is almost completely up to Mayfield to find success with and for the Cleveland Browns.
Cleveland Browns head coach Kevin Stefanski still believes in former Oklahoma Sooners quarterback Baker Mayfield despite the 2019 season's struggles: "There's a reason he went No. 1 overall."https://t.co/lBRKl7b9TJ pic.twitter.com/4KANBTv6tZ

— 247Sports (@247Sports) May 17, 2020
But Mayfield has to buy into the new offense.
Even if the quarterback isn´t the main man in that game plan.
Kirk Cousins enjoyed his most efficient season last year under Stefanski.
But he didn´t rank among the leaders in yardage or points.
Cleveland has the runners to be a ground-and-pound team that passes sometimes.
Winning will probably be enough for Mayfield if things go well.
But If losses come early, Mayfield must stay positive and focused to win the right to lead the 2021 Browns.
2. Is Odell Beckham Jr Slipping or Splitting? 
Odell Beckham Jr played through a painful injury in 2019.
He caught passes from a bewildered quarterback who was usually scrambling for his life.
Those plays were called by an unimaginative and overwhelmed head coach.
And Beckham still hauled in over 1,000 yards of receptions as the team´s second receiver.
It seems ludicrous to question Beckham´s ability or promise for 2020.
Odell Beckham's first season with the Browns was better than a lot of people give it credit for, and I argue that he's still a top five wide receiver.

Here's a thread on his 2019 season. pic.twitter.com/dPAbr5xhKS

— Johnny Kinsley (@Brickwallblitz) May 19, 2020
But there are concerns.
Beckham, fairly or not, has a reputation for subtle acts of protest when things don´t go well.
At least when they don´t go well for Beckham.
Last season´s accusation that he asked teams to trade for him during games is still just that.
But there was also sneaker-gate, the cell phone, and probably things that went unnoticed.
It follows the pattern he showed in his days with the New York Giants.
Kevin Stefanski has the means to keep Beckham engaged and occupied.
But there is no guarantee he will do it.
Stefon Diggs complained last season about a dearth of targets as Stefanski´s Vikings ran and ran a lot.
Stefanski tried to appease Diggs with longer passes, even as his target count stayed restricted.
The wide receiver finished with 1120 yards on 63 catches while barking around the clubhouse.
And now he is a Buffalo Bill.
How will Beckham react to a diminished role in the offense?
With Landry, Hooper, Njoku, Hunt, and Chubb to work with, Beckham could see fewer targets.
And Browns fans saw enough of rookie Mayfield-to-Rashard Higgins to know there are other options.
If Beckham doesn´t like his role, he could be dealt before the trading deadline.
3. Does Alignment Mean Longevity in the Front Office?
Make no mistake about it.
Fans and pundits might be muted in their enthusiasm this time around.
But Jimmy Haslam and the rest of the new front office expect immediate success.
Haslam pays millions of dead dollars each year to former coaches and general managers.
He let John Dorsey talk him out of turning to analytics geniuses in favor of Kitchens last year.
But after that train derailed in the station, Haslam was on board with Paul DePodesta´s guidance immediately.
Now the Cleveland Browns have a 37-year-old head coach and a 32-year-old general manager.
If ever there was a chance to have a celebrated and entrenched unit in Cleveland, it is the current front office.
The Cleveland Browns couldn't ask to be in a better situation right now. The board fell perfectly for them. Excited to see what Andrew Berry and Kevin Stefanski do.

— Jordan Reid (@JReidNFL) April 24, 2020
Berry and Stefanski can spend the next 20-30 years with the Browns if they follow through on expectations.
But at what point will the threat of a Haslam rebuild wane?
Nobody, including the Browns owner, will argue how great the Browns´ prospects look right now.
So what happens if rookie tackle Jedrick Wills takes the better part of a season to find his lefty groove?
What if Mayfield looks more like his 2019 self than his 2018 presence?
Stefanski isn´t expected to call plays, but what if he steps in to help a struggling unit?
Fans and pundits largely ignore the defense, but we saw how a key injury or suspension can affect things.
Until the Browns face some diversity without a Haslam house-cleaning, there will be a concern.
One way to avoid such talk is for the Browns to play up to their hype for years to come.
And that will be the biggest storyline of all.