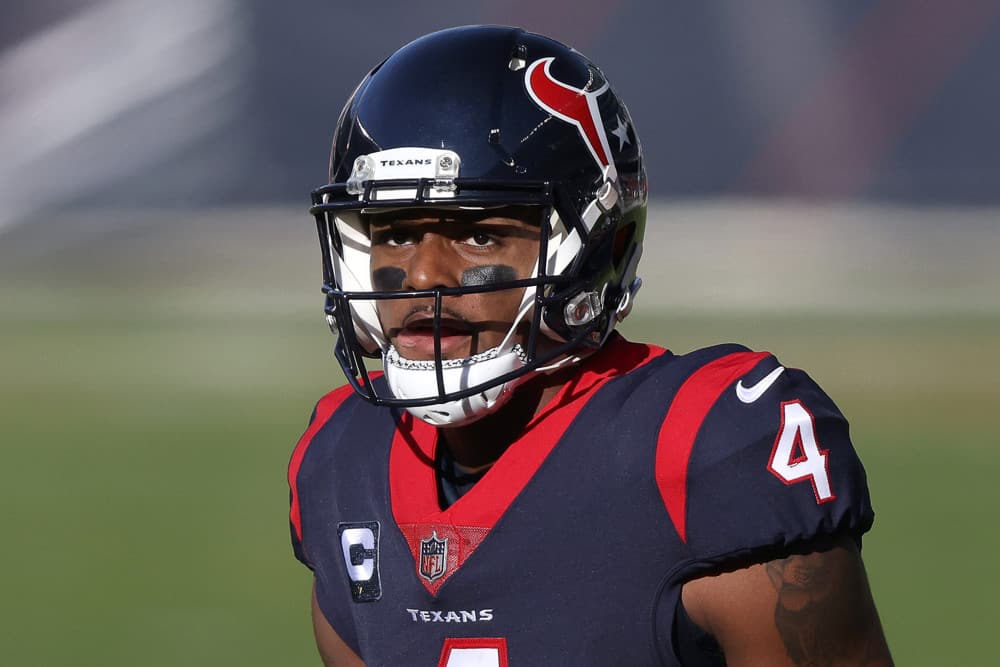 The alleged nasty breakup between the Houston Texans and QB Deshaun Watson has led to a lot of speculations and "what if" situations.
Consider this theory as one of the latest in the hypothetical "what ifs".
What if the Texans approached the Cleveland Browns with a trade offer for Deshaun Watson?
Would the Browns entertain such an offer?
I can't speak for what the front office would do, but I think they should say "no thanks" and move on.
Here's why.
1. The Browns Would Not See An Immediate Improvement
Deshaun Watson and Baker Mayfield are both 25 years old.
Watson has played in 54 career regular season games; he has thrown for 14,539 yards, 104 TDs, and 36 INTs.
Mayfield has played in 46 career regular season games; he has thrown for 11,115 yards, 75 TDs, and 43 INTs.
Over his career, Watson has rushed for 1,677 yards and an additional 17 TDs.
Mayfield rushed for 437 yards and 4 TDs.
Watson's numbers are better; that is a fact.
They had to be because the offensive talent supporting him on the Texans has been so-so meaning it's been up to him to carry the team.
Mayfield is established in Cleveland, had a great first year in Stefanski's system, and has an offensive line and running game to support him.
The disruption to the Browns offense to pick up Watson would hardly be worth it.
Mayfield is the man, especially while on his rookie contract.
2. The Asking Price Would Most Certainly Be Too High
What on earth would the Texans ask for in return for their star quarterback?
I picture the package to be something like the Hershel Walker Cowboys to Vikings trade.
The Texans would want a slew of draft picks to essentially build a team.
Dallas became a dynasty in the 90s because of the Vikings' draft picks.
3. Money Would Be An Issue
Watson just signed a new contract with the Texans before the 2020 season.
If the Browns are unsure if they want to pony up money to Mayfield at this point, they would have to be all-in on Watson because his contract is a five year deal worth $156 million and about half of that sum is fully guaranteed.
Note: that I am not saying that Deshaun Watson is a bad player.
Quite the opposite is true, he is a great player.
Most passing TDs of 30+ yards since 2018

🚀 Patrick Mahomes – 28
🚀 Deshaun Watson – 23
🚀 Aaron Rodgers – 22 pic.twitter.com/6rMFLMGzzT

— PFF Fantasy Football (@PFF_Fantasy) January 23, 2021
It just doesn't seem that the Browns are the right fit for either party.
It's safe to say this whole conversation is purely speculative and fun to consider but likely not to happen because there are a lot of teams in a more urgent need for a starting quarterback of Watson's caliber than the Browns.
Deshaun Watson's top two choices for trade destinations, per @ArmandoSalguero

* Jets
* Dolphins

(@brgridiron) pic.twitter.com/hxJCOgKESQ

— Bleacher Report (@BleacherReport) January 23, 2021
However, it's an entirely different conversation if the Texans were calling with a J.J. Watt offer.
On the defensive side of the ball is where it appears the Browns need to focus in this offseason.
It is interesting to note that not everyone thinks Watson is handling his conflict with the Texans well.
Former Super Bowl Champion Coach Dick Vermeil commented on the situation.
"Nowhere in his contract does it say that he's involved in making the decisions of who coaches or who leads the organization…He's a great NFL football player and always has been a great kid, but I think he just shuts his mouth and becomes a better football player and lead the football team and let the leaders of the organization lead him."
Will other head coaches feel the same way?
Could that affect his future?
Time will tell.