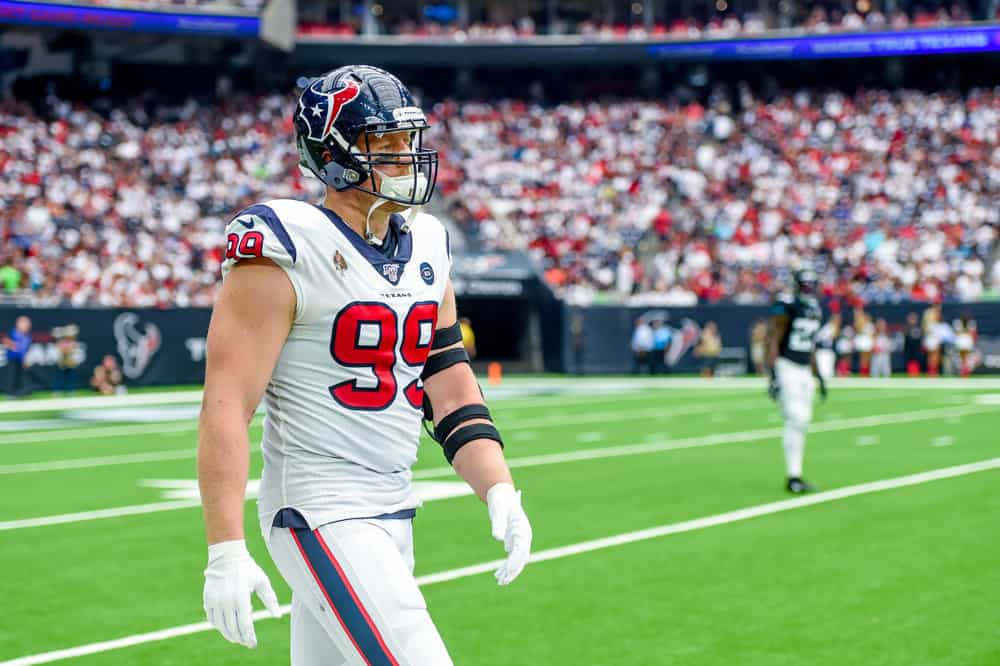 It's not often that an iconic player like Houston Texans defensive end J.J. Watt becomes available on the trade market.
However, the front office has made this an unattractive franchise and is frustrating their star players.
Superstar quarterback Deshaun Watson is expected to be moved this offseason and Watt could be next in line.
Been out of pocket all day doing family stuff, but catching up on texts from sources:
Texans are leaning toward accommodating J.J. and he'll likely be moved. And Deshaun is, in fact, legit alienated.
"Pretty much irreparable," I'm told.
Also: "You'll hear from J.J. next."

— John P. Lopez (@LopezOnSports) January 16, 2021
The Houston roster is in shambles, so it wouldn't be surprising to see them trade their handful of valuable assets for future draft picks.
That being said, the Cleveland Browns could be interested in acquiring Watt from Houston.
Watt To Cleveland?
It does seem quite insane to think that the Browns could really land a superstar player like Watt.
Not too long ago this team went winless, but now they might be able to acquire a five-time Pro Bowl player.
Watt isn't exactly getting any younger, so going to a contending team would be ideal for him.
The 31-year-old has one year left on his contract for $17.5 million.
The Browns wouldn't be forced to commit to anything long term and do have a need for another defensive end.
Veteran Olivier Vernon has likely taken his last snap as a member of the Browns as he's expected to be a free agent this offseason.
Cleveland doesn't have anyone that is ready to fill that role, so Watt could be an option.
Is Watt Worth It?
The Texans are obviously headed towards a rebuild, which is why they plan to trade away their valuable assets.
They aren't going to give them away for free and will want top tier draft picks as compensation.
However, the Browns do have the assets available to acquire an elite player such as Watt.
Although, is Watt really worth losing all those draft picks?
Yes, assuming the Browns are ready to win, then Watt is the perfect fit for the Browns.
How much do teams still have to game plan for @jjwatt? Here are all the RB runs in the second half of the Titans game in 59 seconds. pic.twitter.com/bbjkNyHJ9t

— Seth C. Payne (@SethCPayne) January 22, 2021
He is on a one-year deal, which is both positive and negative for a team like Cleveland.
The good thing about it is that Cleveland can still have a majority of their future cap space available to extend their young players.
Although, the bad part would be giving up all those future draft picks for only one year of Watt.
The only way this deal would make sense is if the Browns front office believes this team is ready to win.
This is the kind of move you make when you're going for a Super Bowl run.
Watt is a perfect addition if you believe you're ready to go for it all, otherwise Cleveland should not pull the trigger on a deal like this.