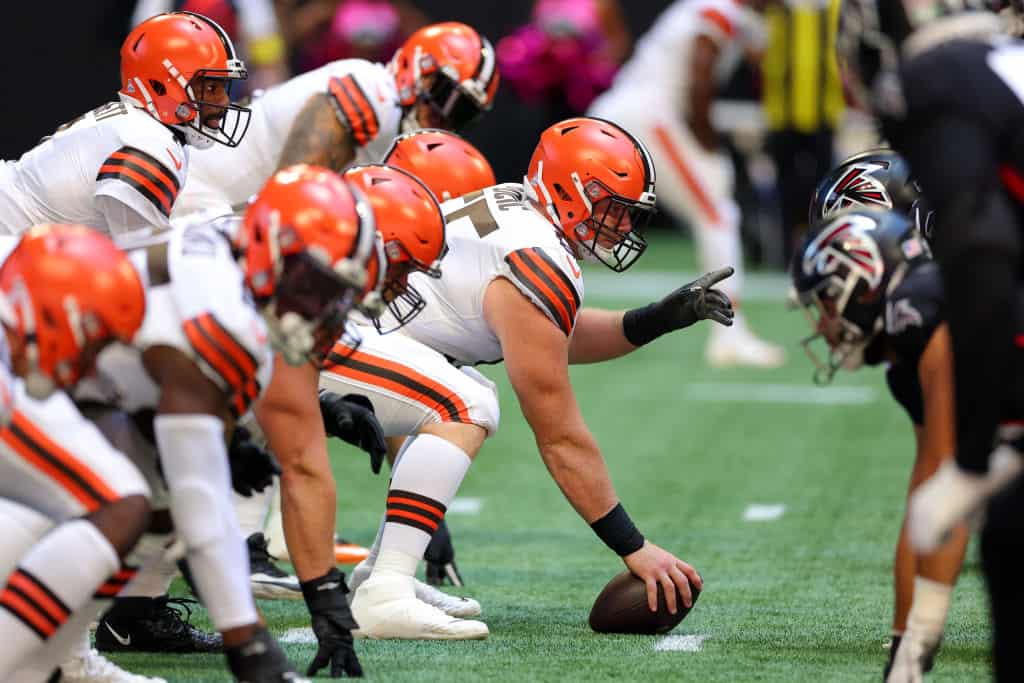 Andrew Berry's first free agent tampering effort pulled one of his own off the market.
As reported by Mary Kay Cabot, center Ethan Pocic will sign a 3-year deal with the Cleveland Browns.
According to the NFL Network, the deal is worth $18 million.
This is the second consecutive year that Berry made the former Seattle Seahawks center his first priority.
It's a 3-year deal for #Browns center Ethan Pocic, source tells clevelanddotcom. Good re-signing for the Browns

— Mary Kay Cabot (@MaryKayCabot) March 13, 2023
Pocic signed a 1-year minimum deal last time around to back up Nick Harris.
But a season-ending knee injury in the preseason handed Pocic the starting role.
Pocic went on to earn one of PFF's top center rankings.
And he was motivated to return to work under coach Bill Callahan.
Browns Strengthen Their Interior 
Pocic earned ESPN's fifth-highest score on pass block win rate (96.2%).
And even though his run block rate (74.6%) was lower, it was the fourth-best in the NFL.
When he took over for the younger and more mobile Harris, Cleveland initially altered their blocking plans.
Head coach Kevin Stefanski was enamored with Harris' speed and mobility and planned to use it.
I swear Nicholas Jamal Chubb sees & hits a hole before it even opens up. Is there a RB in the league with better vision? By the way, the #Browns should sign Ethan Pocic to an extension. Nice block to spring Chubb for a big chunk play. pic.twitter.com/5OxaiGgTzZ

— Roberto Shenanigans (@Rob_Shenanigans) January 17, 2023
Pocic presented as a more traditional center with more strength and sufficient agility.
But he proved to be more than adequate as a pulling center and all-around effort player.
And his solid play pushed aside any thought of starting over with the Harris plan.
Meanwhile, Harris can build strength, and he is a better backup than the converted guards used last year.
Price Is Right For The Browns  
Pocic told the Browns press he wanted to return to the team after his first year under Bill Callahan.
But as the top center in free agency, there was a chance he would be priced off of the team's expensive line.
His $6 million AAV is a bargain given some of the other contracts offered to offensive linemen.
And it might just save the Browns from having to lop salary cap dollars from the unit next season.
An obvious candidate for the #Browns to resign
Center Ethan Pocic

79.2 Run Blocking Grade

71.5 Pass Blocking Grade

Nick Chubb's ypc w/ Pocic- 5.6
w/o- 3.78

If you're still not convinced watch him take this Steelers DL for a ride, opening a TD

— Mac🦬 (@tha_buffalo) January 11, 2023
Wyatt Teller has a team-friendly cap hit in 2024 and still could be an ex-Brown if money is tight.
But meanwhile, the Browns keep the band together for at least one season.
Even though the offense is expected to look radically different, the starters' familiarity is important.
And now the Browns can go to work building a roster for defensive coordinator Jim Schwartz.