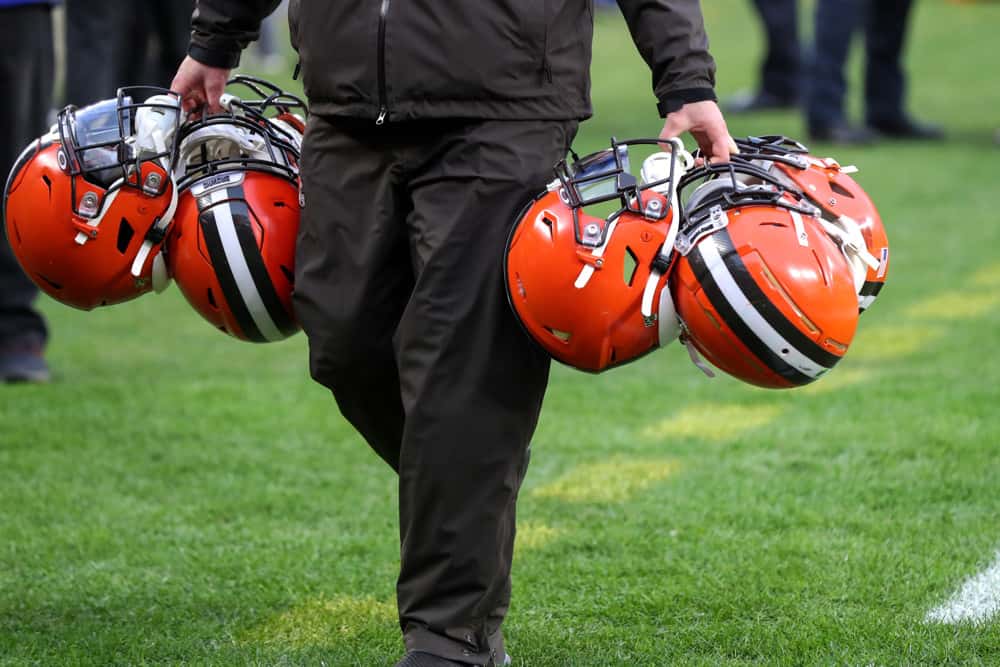 The Cleveland Browns had a few position battles in camp that were decided during these cuts.
Most of the cuts aren't too surprising as a lot of them are undrafted players or players who really had no shot at making the roster.
However, the Browns did make a couple of surprising cuts during their 53-man roster trim.
3. Damion Ratley 
In 2018, the Browns selected wide receiver Damion Ratley during the sixth round.
He hauled in 13 receptions and 114 receiving yards during his rookie season.
Ratley played a little better during his second year, but was unable to climb himself up the depth chart.
It's a bit of a surprise that the Browns gave up on Ratley this quick.
The Browns don't have many experienced receivers, but dropped both Ratley and Taywan Taylor.
Browns have cut WRs Taywan Taylor and Damion Ratley, per sources

— Jake Trotter (@Jake_Trotter) September 5, 2020
The 25-year-old showed some promising signs, but was never really given a fair chance.
Ratley didn't really have a real shot at winning the No .3 receiver role, but he was decent depth.
Sadly, he was injured early on during camp, which might have hurt his chances.
The Browns also have a new coaching staff that felt they were better off without Ratley.
He was likely never going to be a starter, but has enough talent to be on an NFL roster.
2. A.J. Green
It's never easy for undrafted players to make an NFL roster, especially without any preseason games.
However, Oklahoma State defensive back A.J. Green had a real shot at making the team during camp.
The Browns gave Green the highest signing bonus for an undrafted player in history.
Clearly, Cleveland liked what they saw from Green, but not enough to keep him on the roster.
The team has plenty of depth at defensive back, but Green could've been a developmental piece.
Cleveland can always bring him back to the practice squad, assuming no one claims Green.
It does seem like a waste of money, but the Browns need to do what they feel is best for the team.
Hopefully, Green goes unclaimed and returns to Cleveland because there is some potential there, but we'll see what happens.
1. Chad Thomas
The biggest surprise cut was 24-year-old defensive end Chad Thomas.
At the beginning of camp, Thomas was projected to be one of the backup defensive ends.
He was seeing a significant amount of reps with Myles Garrett resting due to a hamstring issue.
Clearly, the Browns weren't impressed enough to keep Thomas on the roster going forward.
#Browns DE Chad Thomas has been waived, per source

— Mary Kay Cabot (@MaryKayCabot) September 5, 2020
The Browns took Thomas during the third round of the 2018 NFL Draft.
He didn't do anything his rookie season, but saw some action last year.
Thomas finished with 26 tackles, six tackles for loss, and four sacks through 16 games (eight starts) last season.
He probably wasn't ever going to be a starter, but there was some potential there.
Sadly for Thomas, defensive end Porter Gustin stepped up during camp and took his spot on the depth chart.
Sometimes teams have to make tough decisions when trimming the roster and this is one of those times.
The Browns felt that Gustin was capable of taking over the backup defensive end role, so Thomas will look to play elsewhere.
It's quite surprising that Cleveland gave up on Thomas that easy, but maybe Gustin is a better fit for the team.