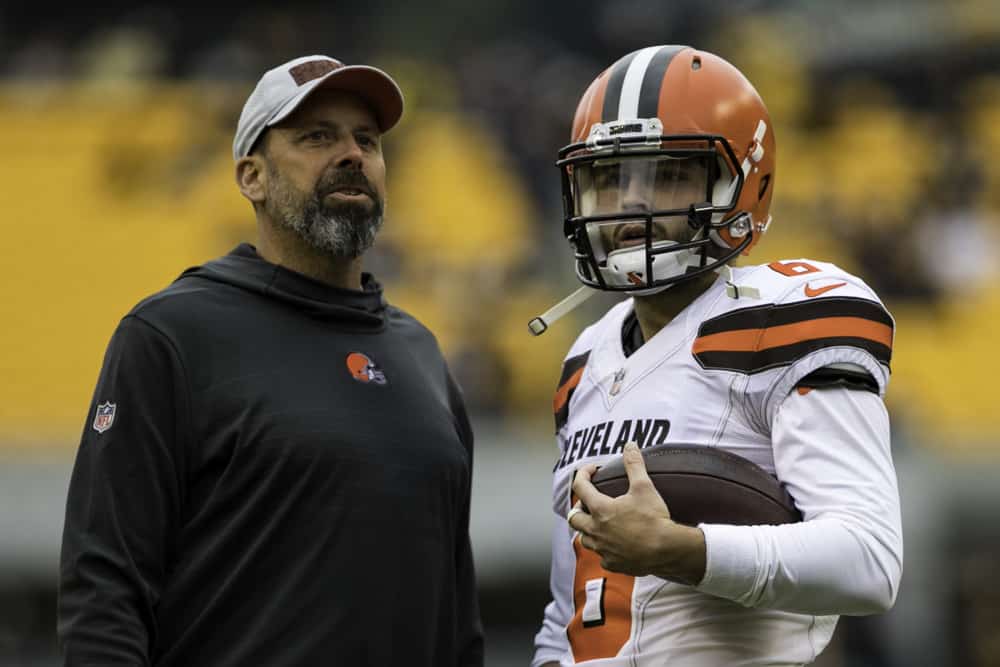 Former Cleveland Browns' offensive coordinator Todd Haley offered sharp criticism of the lack of discipline in Cleveland this season. Haley places the blame firmly at the feet of head coach Freddie Kitchens.
"When you allow stuff like this to go on – I'm not saying taking somebody's helmet off and hitting them with it is going on – but I've been on those fields in Cleveland," Haley said.
It's important to remind readers that Haley was fired eight games into his only season in Cleveland, long before Kitchens started running practices.
Haley continues, "Part of the frustration is you see things happening and going on that shouldn't be allowed to be going on because you're practicing bad habits, you're practicing lack of discipline, you're practicing lack of self-control. That's what practice is for – to continue to press the players on how they need to play and practice, showing up on time, all those little things that add up to discipline are what needs to be going on full time. Because if you're not coaching it, you're allowing it to happen."
"When I watch the Cleveland Browns, I see a lot of stuff being allowed to happen…clown shoes, visors…Myles Garrett hitting the QB low, hitting the QB in the head. It's happening too much, it's not just a fluke"

– Todd Haley reacts to the brawl last night

⬇️AUDIO⬇️ pic.twitter.com/FNDN3ZZ0zy

— SiriusXM NFL Radio (@SiriusXMNFL) November 15, 2019
Certain aspects of Haley's criticism ring true. The Browns lead the NFL with 87 penalties, on track to rival the single-season record at 158.
Adding up their season-altering penalties and turnovers, it is clear the Browns are an undisciplined team.
Does responsibility for the Browns' lack of discipline fall solely on Freddie Kitchens, as Haley suggests, though?
Granted, the head coach is ultimately responsible for the performance of his team, but these players are professional athletes; grown men with one job in life – to play football. Part of the responsibility falls on them.
When talking about high school or college athletes, Haley's point might be true, but these players are professionals, paid millions of dollars to perform one duty on the football field.
If the average worker underperforms, who is to blame? It is the boss's fault? No, the worker faces the burden of his or her underperformance.
Do offensive linemen need to be told to not jump offside? Do professional defensive backs need to be taught how to not get called for pass interference?
These professionals have been doing this job for years, most of them since before high school. They know the game, and they know the rules. It's time they take some accountability for their failings.
However, there are some areas of discipline that fall back on the head coach.
Haley highlighted that, saying, "And when I watch the Cleveland Browns, I see a lot of stuff being allowed to happen, whether it's clown shoes, visors, whatever it may be, Myles Garrett hitting the quarterback low, hitting the quarterback in the head, it's happening too much. It's not just a fluke."
Haley is correct about the non-football infractions. Unfortunately, sometimes the head coach does need to be the one to say, "Odell, you can't wear that visor," or, "Odell, the shoes don't meet the uniform code." If that isn't Kitchen's job, then it is the responsibility of someone on his staff.
The head coach has to have those difficult conversations with his players, especially the stars. If he's trying to appease the notably-difficult OBJ, then he's lost all authority in the locker room. Someone has to be in charge, and it's supposed to be the head coach.
What about Myles Garrett? It was noted in the aftermath of Thursday's bludgeoning of Mason Rudolph that he's been flagged several times for late hits this season. This is evidenced by the quick forgiveness of his tackle that tore ligaments in the ankle of New York Jets' quarterback Trevor Siemian.
That grace is now gone, but before his explosion on Rudolph's head, he was on pace for the NFL's Defensive Player of the Year award, something he coveted.
It was his ability to toe the line between physicality and penalties that gave him an edge against his opponents. He toed the line between aggressive and dirty to near perfection, and his stats prove that.
Either way, Garrett's actions in the dying seconds on Thursday night's victory over the Pittsburgh Steelers are inexcusable, violent even within professional sport's most violent game.
"We have to understand that at the end of the day, we are all professionals."

The FOX NFL Kickoff crew addresses the Steelers-Browns incident at the end of the game on TNF. @RobGronkowski | @TonyGonzalez88 | @MichaelVick | @CharlesWoodson pic.twitter.com/H8HC2Ggz1i

— FOX Sports: NFL (@NFLonFOX) November 17, 2019
That rush of blood to the head was not the fault of poor coaching or an undisciplined organization. Garrett takes all of the blame for that.
It's time the rest of the team takes more responsibility for their actions on the field, as well.