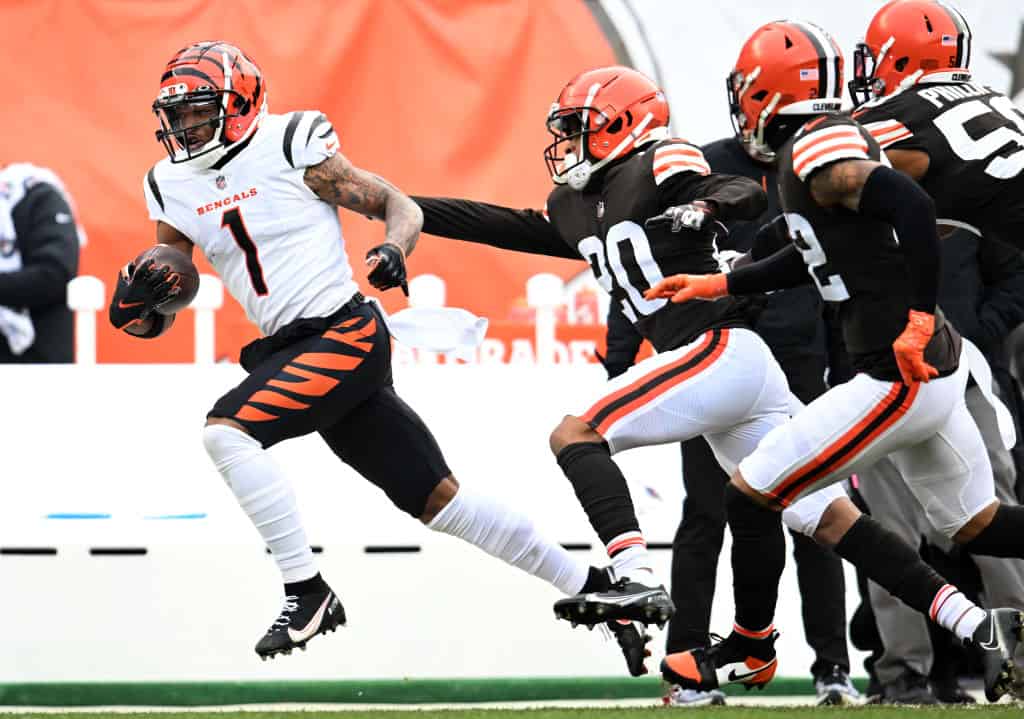 The Cleveland Browns will start the season with a divisional clash vs. the Cincinnati Bengals.
Needless to say, there's a lot at stake as it is, as both teams share one of the toughest and most competitive divisions in the game.
Notably, Bengals star WR Ja'Marr Chase wanted to make things even more interesting by disrespecting the Browns ahead of the season opener.
He didn't want to hear anything about his team's struggles vs. Cleveland, and then took a slight shot at the Browns by pretending to forget their name and then stating that he almost called them the "elves" instead.
That's why ESPN Cleveland host Tony Rizzo didn't let those comments slide and reminded him that he's actually 1-4 against the Browns in his career.
"You know your ass is 1-4 against the Browns," – @TheRealTRizzo responding to Ja'Marr Chase's Browns comments 🫢 pic.twitter.com/nk7ziDgMNP

— ESPN Cleveland (@ESPNCleveland) September 8, 2023
The Browns have owned the Bengals in their head-to-head matchups recently.
They've beaten them five out of six times since 2020, with the Bengals' only win coming in their most recent matchup.
Of course, the Bengals are one of the strongest teams in the league, and the Browns shouldn't overlook them by any means.
But if someone should be talking smack, perhaps it should be the team that has gotten their number as of late.
The Browns need to hit the ground running from day one, as they'll have three divisional clashes in the first month of the campaign, followed by their bye week.
Chase will continue to do a lot of talking, and it'll be up to the Browns defense to show him what's what when they take the field on Sunday.