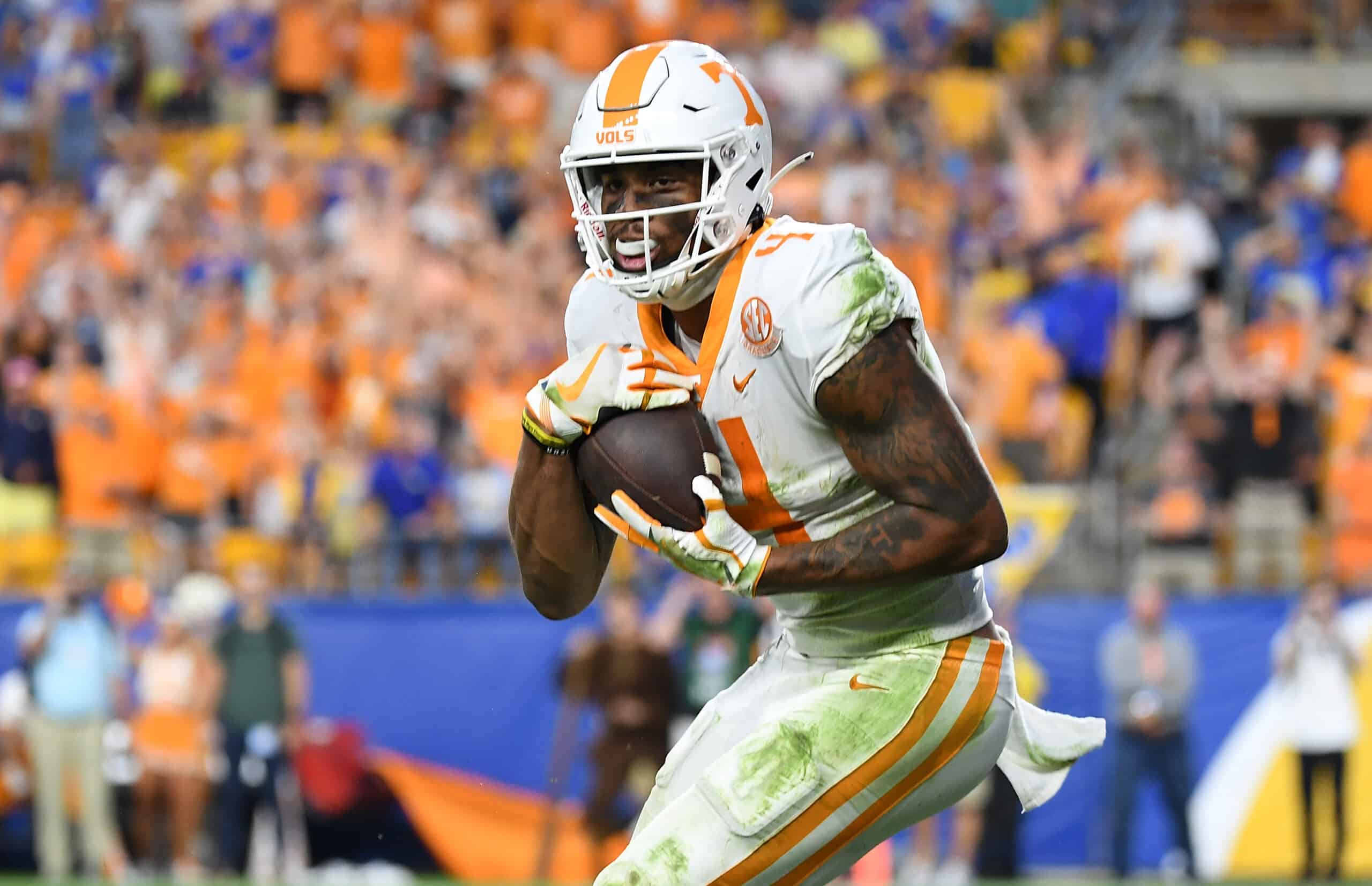 The NFL Draft has yielded some high-impact wide receivers and raised some standards in the past 2-3 seasons.
But when the Cleveland Browns wait until the mid-to-late rounds, should expectations be different?
Andrew Berry got some warranted praise for snagging a serviceable X-receiver in the sixth round of 2020.
Donovan Peoples-Jones can cement his credentials with a 1,000-yard season.
We have signed WR Cedric Tillman to his rookie contract.

📰 » https://t.co/zU7LJ6gIxx pic.twitter.com/YnTRltcTQY

— Cleveland Browns (@Browns) May 16, 2023
But his steady and reliable play to date doesn't lift the opinions of Berry's subsequent wideout selections.
Not many expect a third-year breakout from Anthony Schwartz or even that he makes the 2023 roster.
Injuries might derail Michael Woods II and the jury remains out on last year's third-round pick, David Bell.
With that in mind, what are realistic expectations for Cedric Tillman?
What Cleveland Has In Tillman 
Most pre-draft scouting reports agreed that Tillman is an eventual starting-caliber player.
And some believe if Tillman was not injured last year, he could have been a late-first or second-round pick.
But that does not mean he is ready to take on a leading role just yet.
Tillman has size at 6-foot-3, big hands, a wide catch radius, and deceptive speed.
Quick first look at #Browns WR Cedric Tillman at rookie camp today. pic.twitter.com/cWi2yHxxKW

— Camryn Justice (@camijustice) May 12, 2023
He uses his size, strength, and above-average body control to win position and come down with contested passes.
In other words, Berry drafted a slightly larger version of Peoples-Jones.
Exclusively used on the right side by Tennessee, Tillman needs to master more routes covering the whole field.
But his skill set and attributes should allow him to get up to speed quickly.
Rookie Tillman Versus Veteran Tillman 
Peoples-Jones is not going anywhere this season and will start opposite Amari Cooper.
But a big season in the Browns' new pass-happy offense could price DPJ out of Cleveland next year.
This is the most obvious reason for drafting another version of Peoples-Jones.
Tillman can find a niche in this offense as a rookie and will almost certainly be a preseason darling.
#Browns QB Dorian Thompson-Robinson to WR Cedric Tillman pic.twitter.com/nkVkEIqPvF

— Brad Stainbrook (@StainbrookNFL) May 13, 2023
But Cooper, DPJ, Elijah Moore, and possibly Bell are higher on the depth chart.
If Tillman generates excitement as a rookie, he could prompt trade deadline talk involving DPJ.
But he is more likely to slide into the X-role next season with about 20-30 NFL targets under his belt.
And he'll have the fortune of a second contract coming due after Cooper and others are off the books.