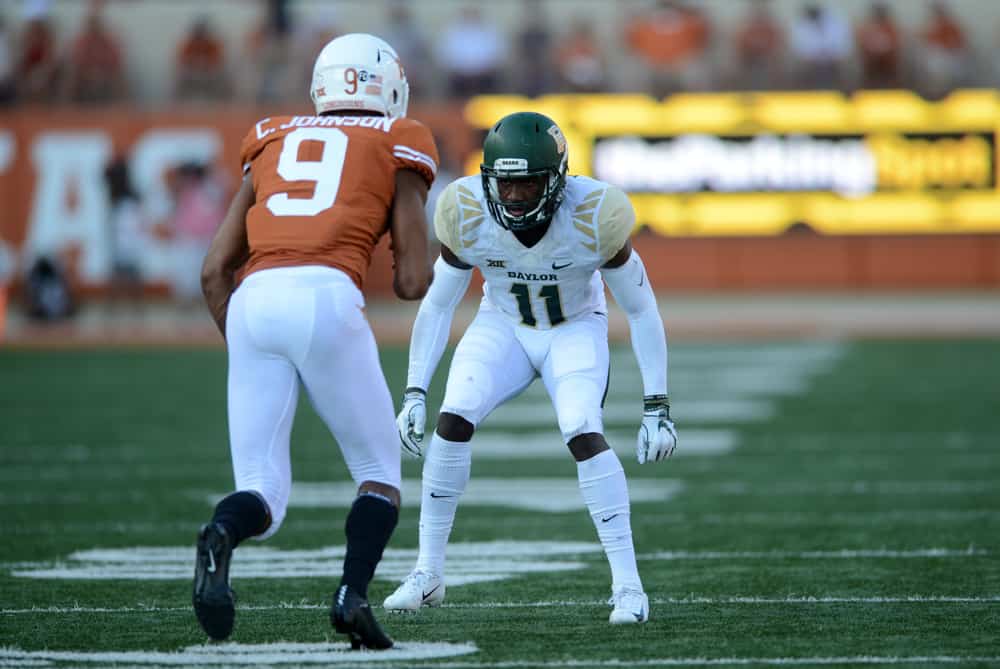 On April 25, the Cleveland Browns signed undrafted free agent Jameson Houston.
#Browns sign Baylor DB Jameson Houston.

— Dov Kleiman (@NFL_DovKleiman) April 25, 2020

Houston, who redshirted in 2015, majored in health, kinesiology, and leisure studies at Baylor.
The cornerback, who is 5-11 and 200 pounds, played four years with the Bears in college.
He was First-Team Academic All-Big 12 during his senior season.
He grew up in Austin, Texas, and will be playing in Cleveland for the first time.
Jameson Houston's Early Years at Baylor
After redshirting, Houston played his first season with Baylor in 2016.
In just eight games, he made an impact for the 7-6 Bears.
He had 15 tackles and defended four passes.
During that season, he also forced the only fumble of his collegiate career.
Even with just a .500 regular-season record, the Bears made the TicketCity Cactus Bowl against the Boise State Broncos.
Houston played in the 31-12 blowout victory, but he had just one tackle in the contest.
Overall Houston had a strong freshman year, but the next two seasons were not as successful for him.
He played 23 games over the course of those two years.
Houston amassed 27 tackles, one tackle for loss, and four passes defended combined in 2017 and 2018.
At the end of his junior season, Baylor was successful in yet another bowl game.
The Bears once again were 6-6, as they headed into the Texas Bowl against the Vanderbilt Commodores.
Baylor won, 45-38, but Houston had just one tackle in the contest.
Houston's Senior Season at Baylor
Heading into the 2019 season, Houston's draft stock was not rising.
He then made a big jump in his senior year, and the Browns are hoping that he continues this momentum into his rookie year.
Baylor head coach Matt Rhule, who is now coaching the Carolina Panthers, had confidence in Houston.
Rhule named Houston a team captain for the season opener against Steven F. Auston on August 31.
He went on to start all 14 games of the 2019 season.
Houston, who had 42 tackles in his first three college seasons, had a whopping 44 tackles in his final one.
He also ranked in the top 10 in the Big 12 with eight passes defended in 2019.
Continuing the theme of defense in this game, how about this rep by Baylor CB Jameson Houston? Lock down coverage throughout and a nice hands play at the end to knock the ball away. Big play for the Senior CB on third down as he builds on an already strong Senior year.#WNSFilm pic.twitter.com/hWiRWntjbX

— Mark (@HeaneyNFLDraft) November 5, 2019
His strong senior year led to an All-Big 12 honorable mention.
On October 31, the No. 12 Bears moved to 8-0 behind a strong defensive performance, including Houston's only career interception.
Houston was responsible for the only interception of the game.
On January 1, 2020, the 10-3 Bears faced off against the No. 5 Georgia Bulldogs in the Sugar Bowl.
The No. 8 Bears were overpowered and lost, 26-14, but Houston was one of the best defensive players that game.
He had five tackles and one pass defended in the contest.
The Browns' Expectations for Houston in 2020
Fortunately for Houston, his expectations will not be high in 2020.
As an undrafted free agent, he will have to work hard to make an impact though.
While Houston will not be a starter, he will be able to get some reps during the preseason, which begins August 15.
Browns fans will give him some time to get acclimated, but in regular-season games, they will be expecting Houston to continue his strong 2019 performance.
Houston was one of the best cornerbacks in the Big 12 during his senior season, and he hopes to continue his strong performance in the NFL.