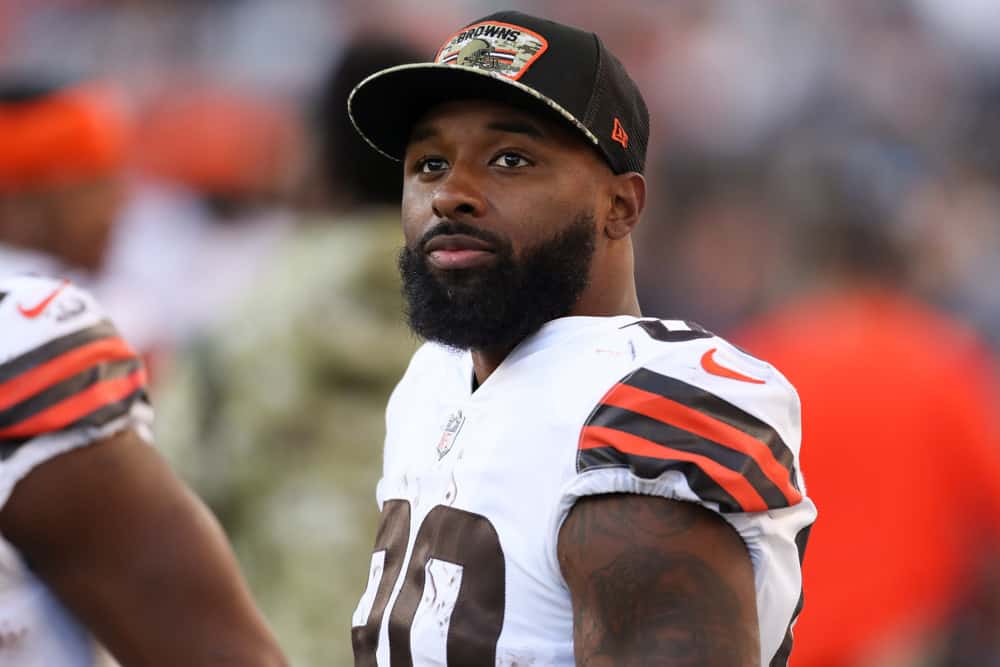 Jarvis Landry's minute-and-a-half rant on Hard Knocks back in 2018 stunned fans.
Landry clearly had intentions to change the culture within the Cleveland Browns organization.
No longer would rolling over and accepting losing be tolerable.
A couple years later, that rant continues to serve as the spark for the shift in Cleveland.
As Landry and others have noted, those 90-seconds made all the difference in the world.
Now the Browns have major decisions to make with Landry.
With one more year left on his current contract, Landry's salary for 2022 sits at $15.05 million.
The Browns could save all of that in cap space if they cut him before June 1st.
Would cutting Landry for the sake of salary make the most sense for the Browns?
As of now, the odds of Landry returning in 2022 doesn't look great.
A Goodbye from Berry?
Earlier this month, Browns general manager Andrew Berry spoke to the media and touched on Jarvis.
Berry did not get into specifics on Landry's future, nor his contract.
However, his words on the receiver sounded more like a "thank you and goodbye", rather than "we'll see him next year".
"I think everybody on this call knows how much respect we have for Jarvis Landry and really what he has meant for our team and organization over the past several years. He has been a productive player for us really since the day that we traded for him, and he has been really a key piece in terms of how the team and organization has evolved over the last several years," said Berry.
It's high praise, but praise that seems to foreshadow a near departure.
Financial Facts
Saving over $15 million in cap space with one move is a dream for many GM's.
When it comes at the cost of a beloved locker room figure, the decision becomes much tougher to make.
That's where Berry is at with Landry.
Most fans would agree that Landry isn't a $15 million per season type of player anymore.
At 29-years old, his body has already taken a beating since coming to the NFL.
Playing through injuries wins over fans and teammates but can shorten careers.
Cleveland needs a true number one at wide receiver on top of other roster adjustments.
Landry is not that number one, and his salary really handcuffs front office flexibility.
Receiving numbers across the board have trended downward for Jarvis the past two seasons.
He is not a bad receiver by any stretch of the imagination.
As I mentioned in another article about Donovan Peoples-Jones, poor quarterback play and inept offensive play doomed the receivers from the jump.
At his salary, he simply isn't what Cleveland needs at that spot on the depth chart.
Jarvis Landry, Cleveland Legend, the heart of the locker room for the #Browns!!

Stats
2018- 81 rec, 976 yards, 4Tds
2019- 83 rec, 1174 yards, 6tds
2020- 72 rec, 840 yards, 3tds
2021- 52 rec, 570 yards, 2tds

PFF grades
2018- 74.7
2019- 78.2
2020- 84.1
2021- 66.3 pic.twitter.com/B8GPd05lTS

— Down With The Browns Podcast (@DWTB_) January 25, 2022
Any Shot at a Return?
"Never say never" is what most Jarvis fans are hoping for right now.
Likely, the only way Landry makes a return to Cleveland next season is via pay cut.
Maybe that happens, but it probably doesn't.
Besides, some felt Landry became upset with the subpar play of Baker Mayfield.
Would he take less money to come back to a situation he's unhappy in?
That doesn't seem likely.
Again, never say never, but expect to see Landry in another uniform next season.
We'll have an official answer to this equation by June 1st.