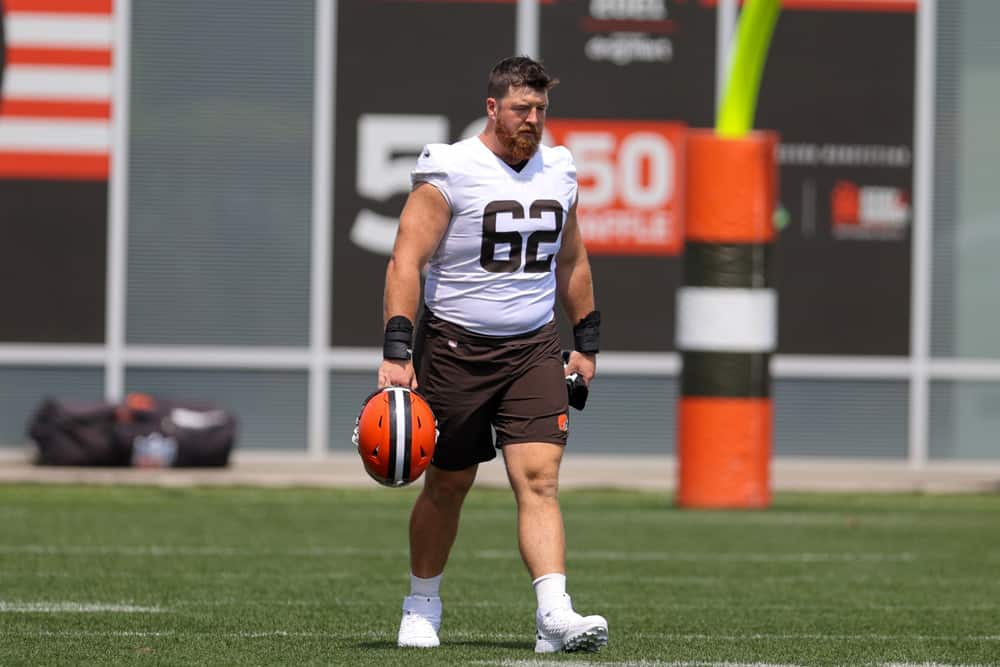 The Cleveland Browns offensive line took a hit this week that could impact the rest of the season.
Right tackle Chris Hubbard who had been dealing with a triceps injury is now out with season-ending injury.
Left tackle Jedrick Wills has been trying valiantly to play with an ankle injury that has plagued him for weeks; it definitely has impaired his movement.
Wills has been ruled out for the Week 5 game against the Los Angeles Chargers.
#Browns LT Jedrick Wills Jr. has been downgraded to out for the #Chargers game. With Chris Hubbard set to undergo season-ending triceps surgery, Blake Hance or James Hudson will start https://t.co/jrkUr4VFES

— Mary Kay Cabot (@MaryKayCabot) October 9, 2021
In the spirit of "next man up" which propelled the Browns to a lot of success in 2020 in the midst of injuries and COVID-19 absences, let's take a look at Blake Hance and James Hudson who could see a lot of playing time against the Chargers and beyond.
What does each bring to the Browns offensive line?
Blake Hance
Hance, 25, is a 2019 undrafted free agent out of Northwestern who has not found a permanent home in his two previous NFL seasons.
He was on four teams' practice squads in those two seasons.
Signed by the Buffalo Bills in 2019, he was also a member of the Washington Football Team, Jacksonville Jaguars, and New York Jets.
The Browns signed Hance on January 2, 2021.
Hance got into the action quickly during the wildcard playoff game with the Steelers.
He was the player Baker Mayfield referred to in the postgame press conference after the wildcard win.
Mayfield called him "a guy named Blake who I literally introduced myself to in the locker room before the game."
Hance has played on 29 offensive snaps during the first four games, and he has appeared on special teams also.
What Hance brings is a little continuity after coming in at a critical time in the 2020 postseason.
It is also encouraging to know that he got first-team practice reps this week.
Source: With #Browns starting LT Jedrick Wills Jr. listed as out for Sundays game vs #Chargers and not practicing, Blake Hance spent the majority of this week getting first team reps at LT.

James Hudson, who saw action last week vs #Vikings, also will be available to start.

— Brad Stainbrook (@BrownsByBrad) October 9, 2021
James Hudson
James Hudson isn't Wills, but he has the potential to be a competent stop gap. https://t.co/Fg6DGFlLKz

— CJ Errickson (@CJErrickson_NFL) October 9, 2021
A rookie out of Cincinnati, Hudson was the fourth-round pick (110th overall) for the Browns in the 2021 NFL Draft.
Hudson is an Ohio native who played defensive tackle in high school.
He is capable of playing both left and right tackle.
When he transitioned from defensive to offensive tackle, he watched footage of his idol, Browns legend, Joe Thomas playing the position.
After the draft, Hudson talked about his similarities to Thomas.
"He was a very athletic tackle, like I am. He goes all out every time he gets onto the field, and I feel like that relates to me."
Hudson played 21 offensive snaps in the Week 4 game against the Vikings so today's game would not be his NFL debut.
Conclusion
Blake Hance or James Hudson lll 🤔 https://t.co/I8vzK3WNmW

— Tyler Johnson (@T_johnson_TJ) October 8, 2021
OL coach and guru Bill Callahan will need to coach both guys well to deal with the likes of 3-time Pro Bowler and Ohio State alum Joey Bosa.
People underestimate how incredible this is… that's not a human, that's a jungle cat in a 97 jersey.

Joey Bosa cleared 15 yards, in less than 3 seconds, with a 320lbs Right Tackle in his path. His ability to close distances is hard to comprehend.pic.twitter.com/fVK83dk6As

— Rich Ohrnberger (@ohrnberger) October 5, 2021
Bosa has already logged 2.5 quarterback sacks this season.
He is capable of playing either on the right or left side, but the Browns can expect him to key in on the absence of Wills.
Hance and Hudson must keep Bosa at bay while protecting a banged up Baker Mayfield's blind side.